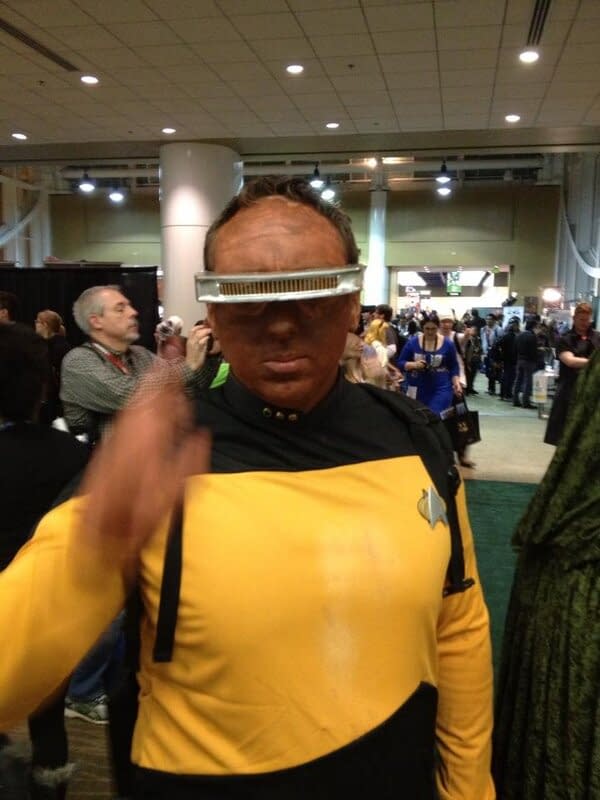 Geordi La Forge cosplay at ECCC…
somebody let blackface geordi laforge at eccc know i'm coming for him, and hell's coming with me

— david brothers (@hermanos) March 3, 2013
This year's ECCC had, for the first time, streaming video for many panels. Which meant every word, every inflection wasn't just performed for the present gathering of people but for the whole world. Which means when someone said something that might be considered newsworthy or unfortunate, I received several emails almost instantly. There was one story we ran specifically around one individual's contentious statements, that were reported, word for word, in context. However the person he spoke about denied the story, it all went a little batshit crazy. The publisher in question requested that I remove the story, which I did because they asked so nicely. With camphones, wifi and all manner of new technology, this kind of event may occur more and more. Naturally there needs to be more care for the speaker when his audience can be worldwide, rather then twenty people in a room. But also there has to be understanding that people are people, and may showboat, exaggerate or just speak out of turn when there's an audience.
So anyway, what have people been reading this week?
Top Twenty Traffic Stories Of The Week
Ten More You May Prefer
And Yet Ten More From ECCC
Enjoyed this article? Share it!