AMC's Ultimate "Breaking Bad" Marathon Includes "El Camino" TV Premiere, Ushers in "Better Call Saul" Season 5 [SCHEDULE]
Fans of Vince Gilligan and Peter Gould's Breaking Bad prequel/sequel/parallel series Better Call Saul have been waiting patiently to find out when Bob Odenkirk's Saul Goodman/Jimmy McGill would be hanging out his shingle for a fifth season – and now they know to save Monday, February 23, 2020, for the show's return.
But how does a proper Better Call Saul fan get themselves ready for the series' return? By taking part in AMC's upcoming five-week ultimate Breaking Bad marathon – leading to the world television premiere of sequel film El Camino: A Breaking Bad Movie on Sunday, February 16 and helping usher in the return of Saul/Jimmy the following week. The marathon features all of the episodes from all five critically- acclaimed original seasons, kicking off on Sunday, January 19, and airing over five consecutive Sundays.
"The world of Breaking Bad remains iconic and AMC is the destination for all of its brilliant stories – from the place where it all began, Breaking Bad, to the gripping tale of Jesse Pinkman's continued journey in the feature film El Camino and the next chapter of 'criminal' attorney Jimmy McGill's transformation in Better Call Saul's upcoming fifth season. We are beyond proud to be the home for Vince Gilligan and Peter Gould's incredible vision and are endlessly in awe of the insanely talented actors that bring the vision to life."

– Sarah Barnett, President, AMC Networks' Entertainment Group and AMC Studios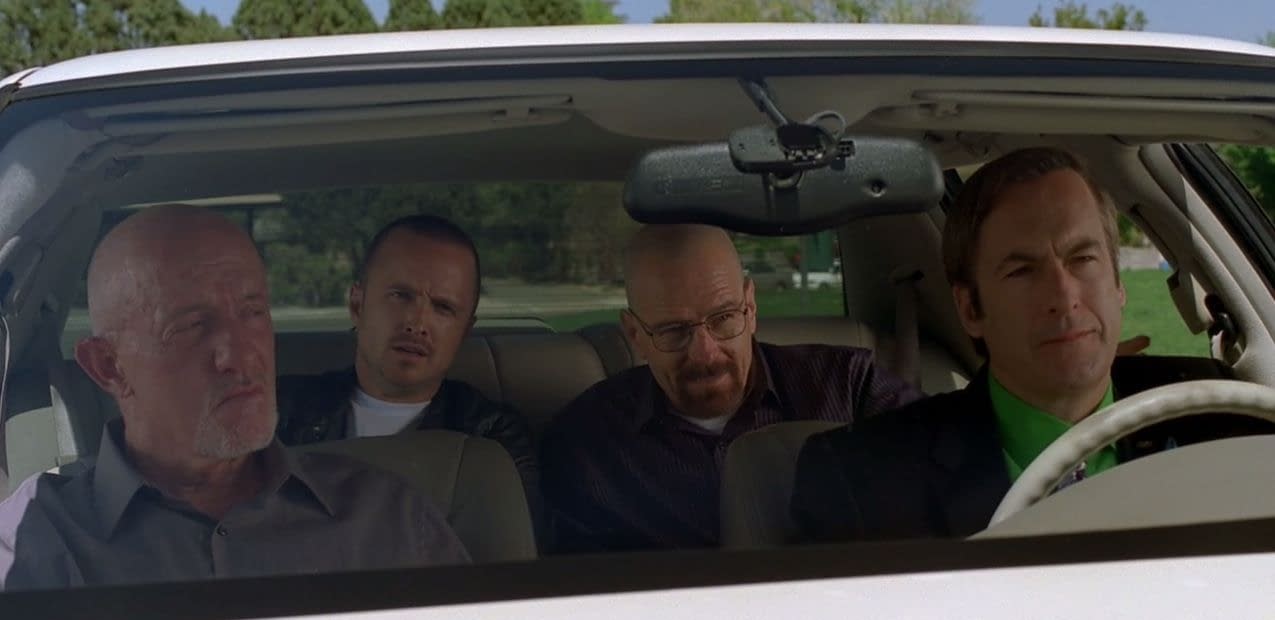 Here's a look at how the calendar plays out for AMC's ultimate Breaking Bad/Better Call Saul marathon:
Sunday, January 19
Breaking Bad season one (4 p.m. ET/3 p.m. CT)
Sunday, January 26
Breaking Bad season two (8 p.m. ET/7 p.m. CT)
Sunday, February 2
Breaking Bad season three (8 p.m. ET/7 p.m. CT)
Sunday, February 9
Breaking Bad season four (8 p.m. ET/7 p.m. CT)
Sunday, February 16
Breaking Bad season five (1:30 a.m. ET/12:30 a.m. CT)
El Camino: A Breaking Bad Movie (world television premiere – 8 p.m. ET/7 p.m. CT)
Sunday, February 23
Better Call Saul season five (10 p.m. ET/9 p.m. CT)
Monday, February 24
Better Call Saul season five premiere (encore – 7:45 p.m. ET/6:45 p.m. CT)
Better Call Saul season five, episode two (9 p.m. ET/8 p.m. CT)