Posted in: Netflix, Preview, TV | Tagged: black mirror, charlie brooker, preview, Season 6, trailer
---
Black Mirror Creator Charlie Brooker: ChatGPT-Written Ep Was "S***"
Black Mirror creator Charlie Brooker was no fan of what ChatGPT spewed out when he asked it to write an episode - here's why...
---
In only nine days, viewers will be returning to the world of Netflix and Charlie Brooker's Black Mirror for a sixth season, with "Joan is Awful," "Loch Henry," "Beyond The Sea," "Mazey Day," and "Demon 79" set to offer some twistedly thought-provoking tales that hit at the heart of some key societal issues. But for this update, the focus shifts to Brooker, who shared what his experience was like working with an AI program – in this case, asking ChatGPT to "write" an episode of the anthology series. It didn't go well – and Brooker explained why it didn't work. In addition, Brooker shares what he did learn about the series overall from the experience and offers some insight into what fans can expect from the Aaron Paul & Kate Mara-starring episode, "Beyond The Sea."
Brooker Won't Be Hiring AI for a Writers' Room Anytime Soon: "I've toyed around with ChatGPT a bit. The first thing I did was type 'generate Black Mirror episode,' and it comes up with something that, at first glance, reads plausibly, but on second glance, is shit. Because all it's done is look up all the synopses of 'Black Mirror' episodes and sort of mush them together. Then if you dig a bit more deeply, you go, 'Oh, there's not actually any real original thought here.' It's [1970s impressionist] Mike Yarwood — there's a topical reference."
But Brooker Did Learn One Thing from His AI Experience: "I was aware that I had written lots of episodes where someone goes 'Oh, I was inside a computer the whole time!'", he chuckles. "So I thought, 'I'm just going to chuck out any sense of what I think a 'Black Mirror' episode is.' There's no point in having an anthology show if you can't break your own rules. Just a sort of nice, cold glass of water in the face."
On "Beyond The Sea" Being Set in a "Sort of Dystopian Past, Present and Future: "I had the plot idea first, and then, at one point, I thought [adopts the voice of a TV-making moron], 'What if I set this in the late '60s?' That'd be, like, disruptive and cool! And then when you actually come to write it, you realise, 'Oh, hang on, if this is a different time and everyone in it is from that time, that actually informs how the characters are thinking and behaving.' But I don't think there was a deliberate rejection of nostalgia, so much as it was just a fun thing to do."
A Look at Netflix's Black Mirror Season 6
With an all-star season cast that includes [takes a deep breath] Aaron Paul, Anjana Vasan, Annie Murphy, Auden Thornton, Ben Barnes, Clara Rugaard, Daniel Portman, Danny Ramirez, Himesh Patel, John Hannah, Josh Hartnett, Kate Mara, Michael Cera, Monica Dolan, Myha'la Herrold, Paapa Essiedu, Rob Delaney, Rory Culkin, Salma Hayek Pinault, Samuel Blenkin, and Zazie Beetz, here's a look at what you need to know about the five chapters:
"Joan is Awful": Directed by Ally Pankiw and starring Salma Hayek, Annie Murphy, Michael Cera, Rob Delaney, Ben Barnes, and Himesh Patel. An average woman learns that Hayek is portraying her in a streaming series based on her life (vibes The Truman Show).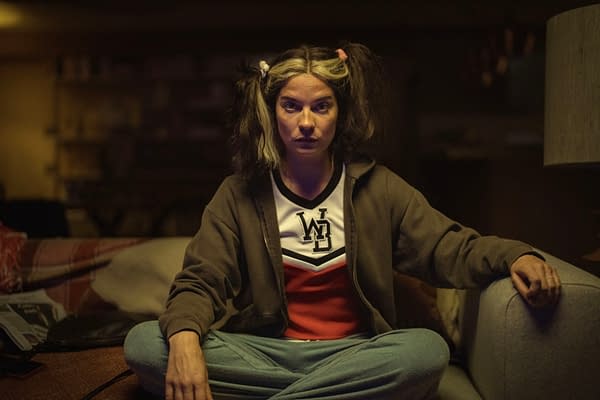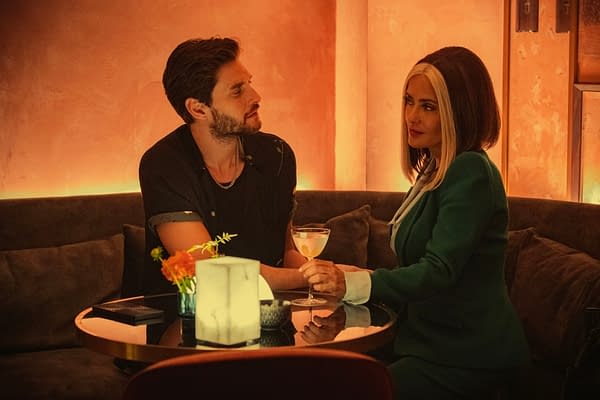 "Loch Henry": Directed by Sam Miller and starring Samuel Blenkin, Myha'la Herrold, Daniel Portman, John Hannah, and Monica Dolan. A young couple, a Scottish town, and a twisted story of the town's past leads to some very unexpected results.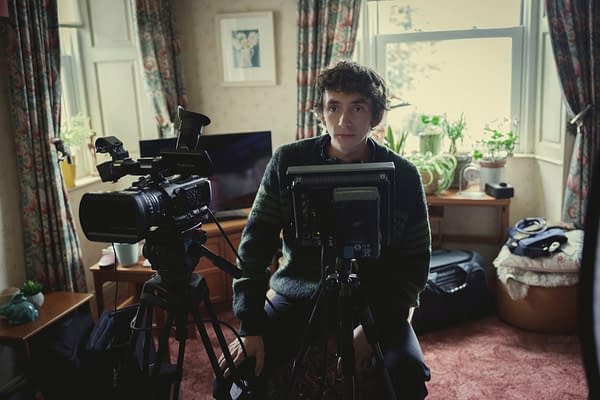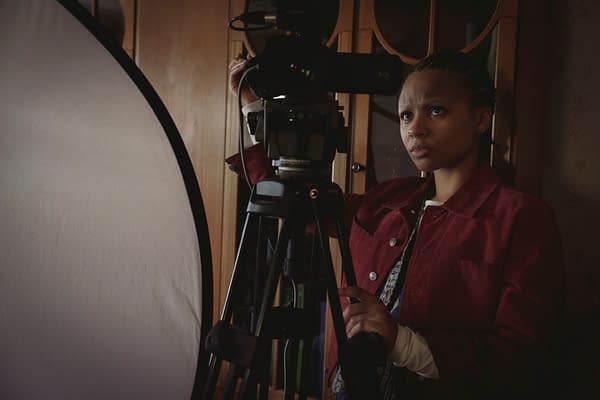 "Beyond the Sea": Directed by John Crowley and starring Aaron Paul, Josh Hartnett, Kate Mara, Auden Thornton, and Rory Culkin. Set in a 1969 that's not quite like ours, two men face the fallout from an "unimaginable tragedy" while on a dangerous high-teach mission.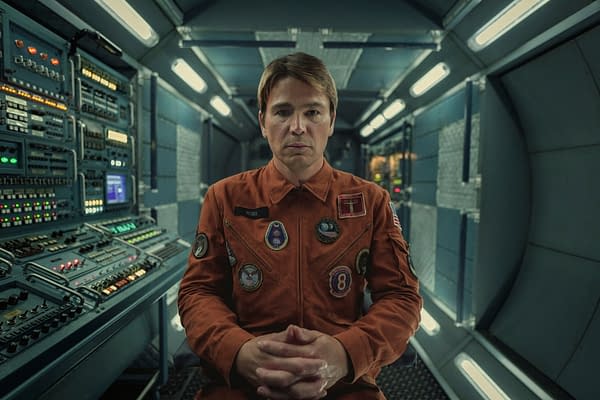 "Mazey Day": Directed by Uta Briesewitz and starring Zazie Beetz, Clara Rugaard, and Danny Ramirez. Dealing with the paparazzi is tough enough as it is. But if you're a celebrity looking to clean up a hit-and-run incident? Ouch…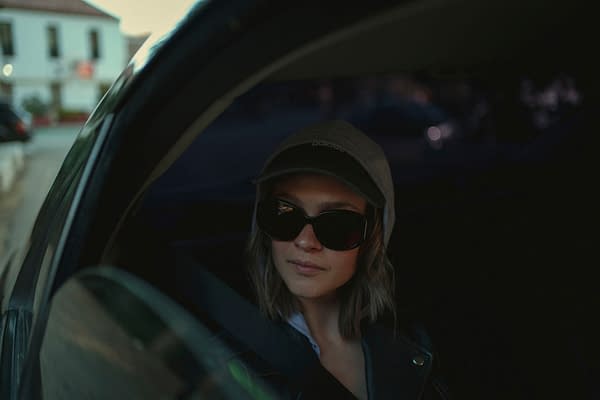 "Demon 79": Directed by Toby Haynes, co-written by Brooker & Bisha K. Ali (Ms. Marvel), and starring Anjana Vasan, Paapa Essiedu, Katherine Rose Morley, and David Shields. Taking place in 1979 Northern England, the episode sees a sales assistant being instructed to take some horrible steps to prevent an impending disaster.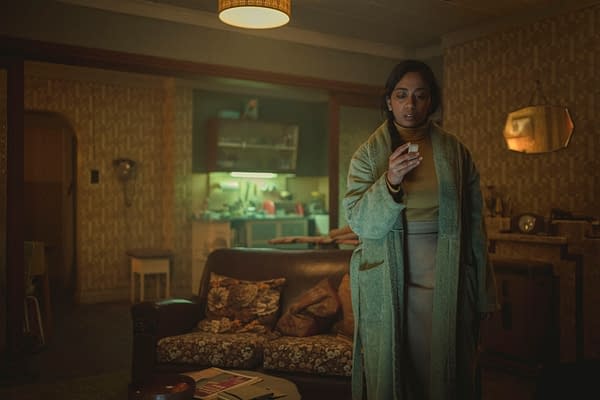 ---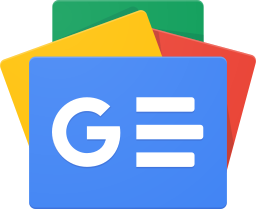 Stay up-to-date and support the site by following Bleeding Cool on Google News today!