Colin Kaepernick, Ava DuVernay to Develop Series on EX-NFL QB's Life
While it still remains to be seen if former superstar NFL quarterback Colin Kaepernick will ever get a chance to return to the football field, there's no denying the societal and cultural impact his 2016 kneeling protest during the national anthem against police brutality has had over the years. In light of the killing of George Floyd by four Minneapolis police officers and the worldwide protests resulting from it, many (including the NFL) are finally coming around to the tragic realities of Kaepernick's message. One person who's supported Kaepernick from the start is award-winning filmmaker Ava DuVernay (When They See Us, 13th, upcoming DMZ), and now the two are teaming up to bring Kaepernick's early years to the small screen. The six-part Colin in Black & White will focus on his early football, basketball, and baseball successes in Turlock, California, and highlight the influences and circumstances that developed the social and cultural conscience of a young man adopted by a white family.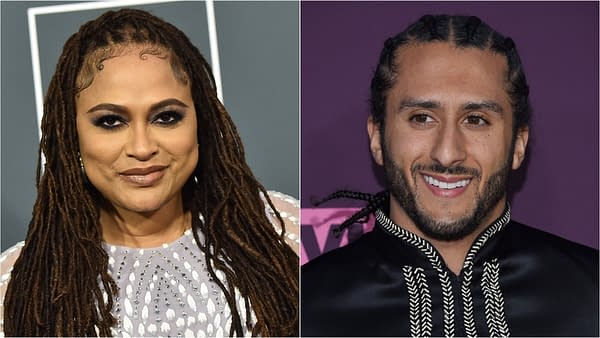 For DuVernay, Kaepernick's story is one that has inspired and will continue to inspire the change we're seeing now: "With his act of protest, Colin Kaepernick ignited a national conversation about race and justice with far-reaching consequences for football, culture and for him, personally. Colin's story has much to say about identity, sports, and the enduring spirit of protest and resilience. I couldn't be happier than to tell this story with the team at Netflix." For Kaepernick, it was about having someone of DuVernay's skills telling his story through a proper racial lens: "Too often we see race and Black stories portrayed through a white lens. We seek to give new perspective to the differing realities that Black people face. We explore the racial conflicts I faced as an adopted Black man in a white community, during my high school years. It's an honor to bring these stories to life in collaboration with Ava for the world to see." Kaepernick is set to narrate and executive produce the Michael Starrbury-penned limited series, alongside DuVernay and Starrbury. The project is looking for a fall production start, with Netflix and DuVernay's ARRAY producing.