"Holey Moley" S01, Ep02: "The Thunderdome of Mini-Golf" (SPOILERS)
Twelve new contestants enter the Golfstacle Course of Holey Moley on ABC, the single most whacked out hour of mini-golf on network television. If Hunter S. Thompson created a mini-golf show, this would be it.
First up: Evan squares off against Robin. Robin is one of the best female putters on the planet. Robin goes up first on Slip N' Putt. First golfer to the top of the glacier tries to putt between a polar bear statue's legs, then put back down to the bottom.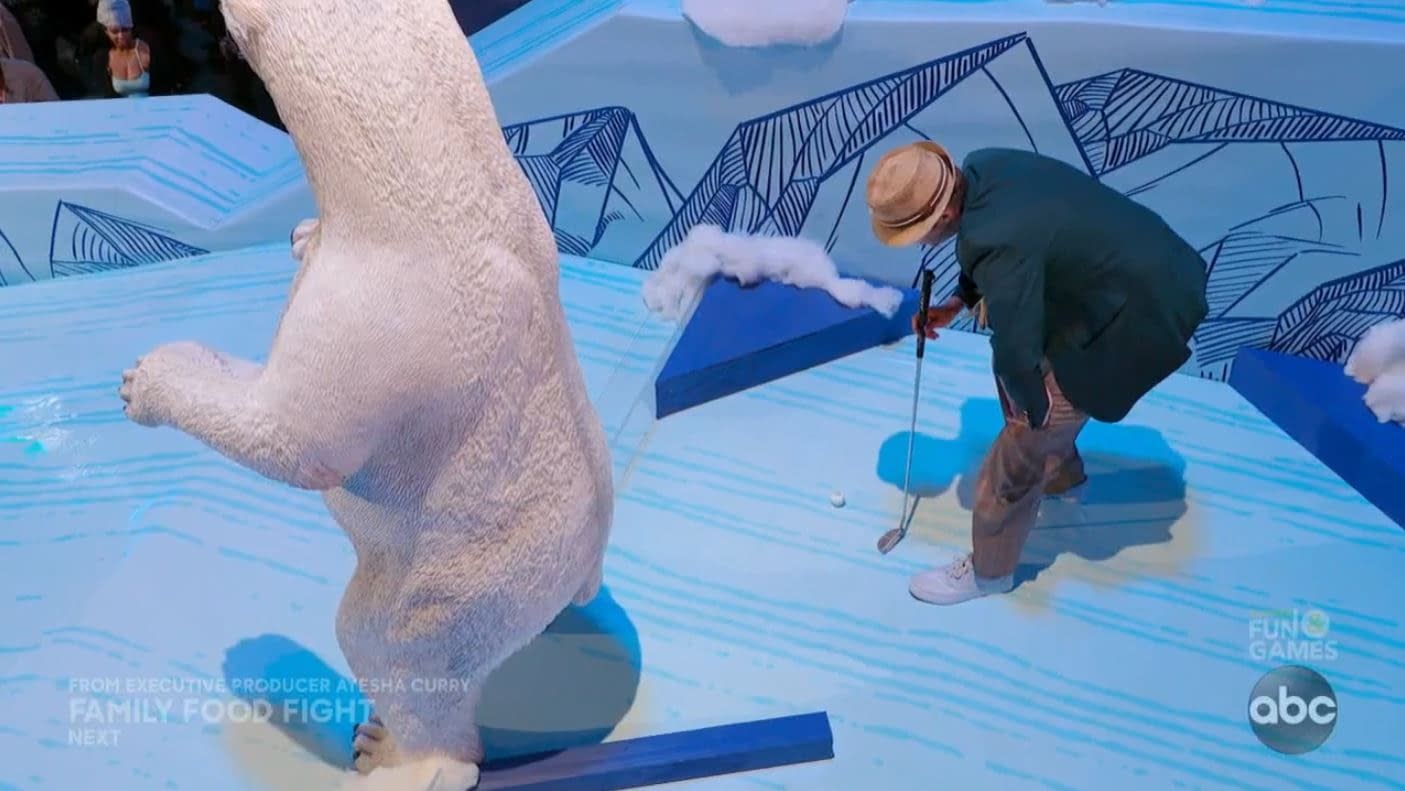 Evan falls face first on the glacier, but makes it up to the top first, then helps Robin get to the top. Evan also has a bloody nose from his face plant. Evan's putt goes wide, while Robin manages to hit a backward putt off of the top of the wall and ends up right next to Evan.
Side note- both contestants are excellent sports, and appear to be rooting each other on. It's awesome.
Robin gets the ball in on her second putt, Evan misses. Robin goes on to the second round.
Next up: It's the Arc D' Tri-Golf, which I haven't seen yet. There's a guillotine. I'm in love. David faces off against Pancho. David is up first, putts right up the curved incline, then falls into the water course. He also appears to have lost his glasses. Pancho overshot the hole, and David moves on to the second round.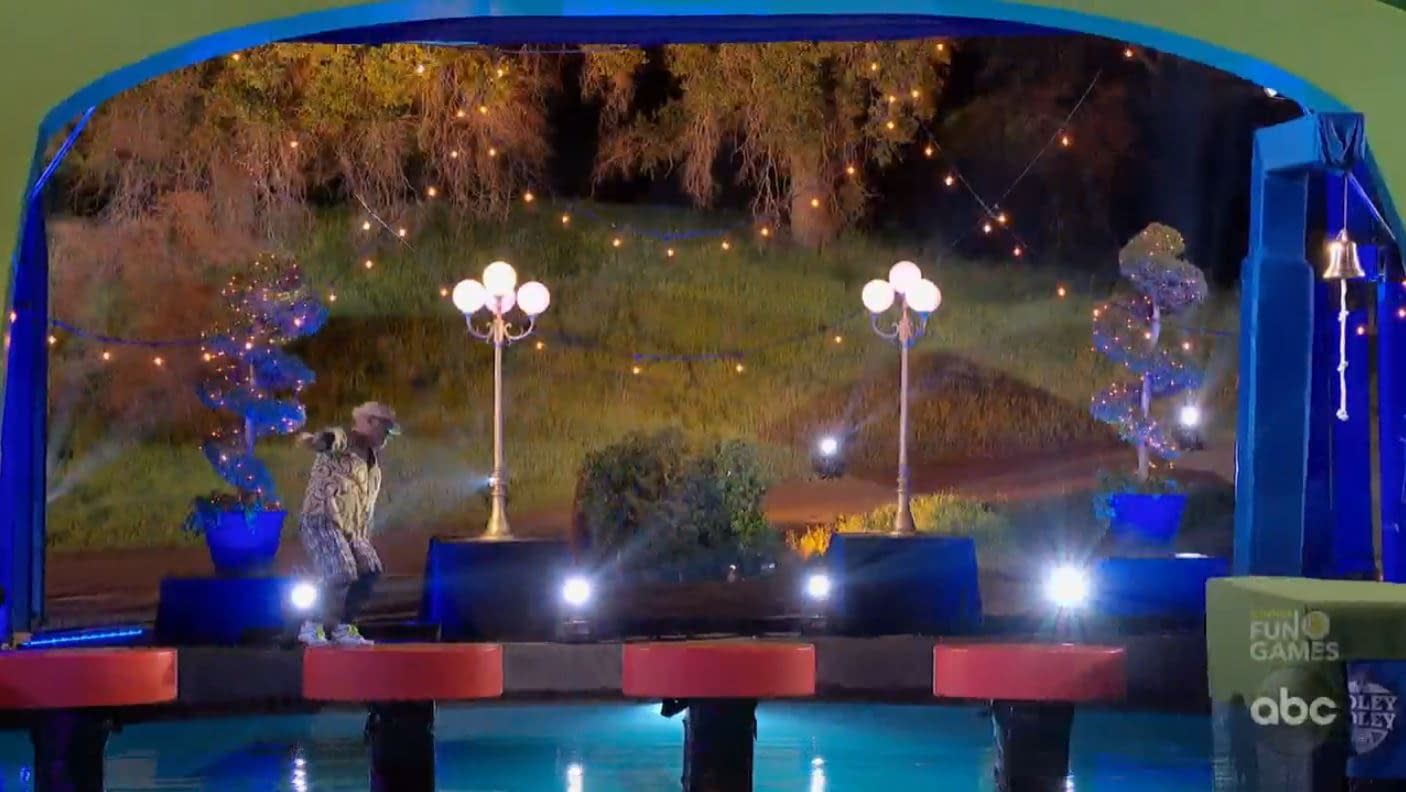 The only thing that would make this show better is a sudden death round with Joey Fatone.
Dutch Courage finds Scott up against Jimmy, and both brought caddies. Scott goes first, and makes a safe putt and dash to the middle windmill. His second putt makes it through to the final green. Jimmy outts straight through to the green on his first try, then dives through the windmills. Both golfers miss their second attempts, with Jimmy sinking his putt and moving to the second round.
Host Stephen Curry shows up for Caddy Smack. Sierra and Morgan face off, with Morgan losing out to Sierra on the first putt. Sierra chooses Curry to make the 55 yard drive to the recessed green. Morgan gets the robot to putt, and it drives the ball right outside the middle of the green. Morgan advances to round 2.
Yes, I am totally grooving on a show that puts an NBA pro head to head with a golfing robot.
Round 2 starts off with David facing off against Jimmy on The Distractor. What fresh hell will lie on the other side of the rotating wall? Oh, it's just Sgt. Putton, who yells at the golfers while they try to focus. David putts short, and Jimmy overshoots. So far, Sgt. Putton seems more distracting than Kenny G. was last week! Jimmy makes his second putt, and makes it to the final round.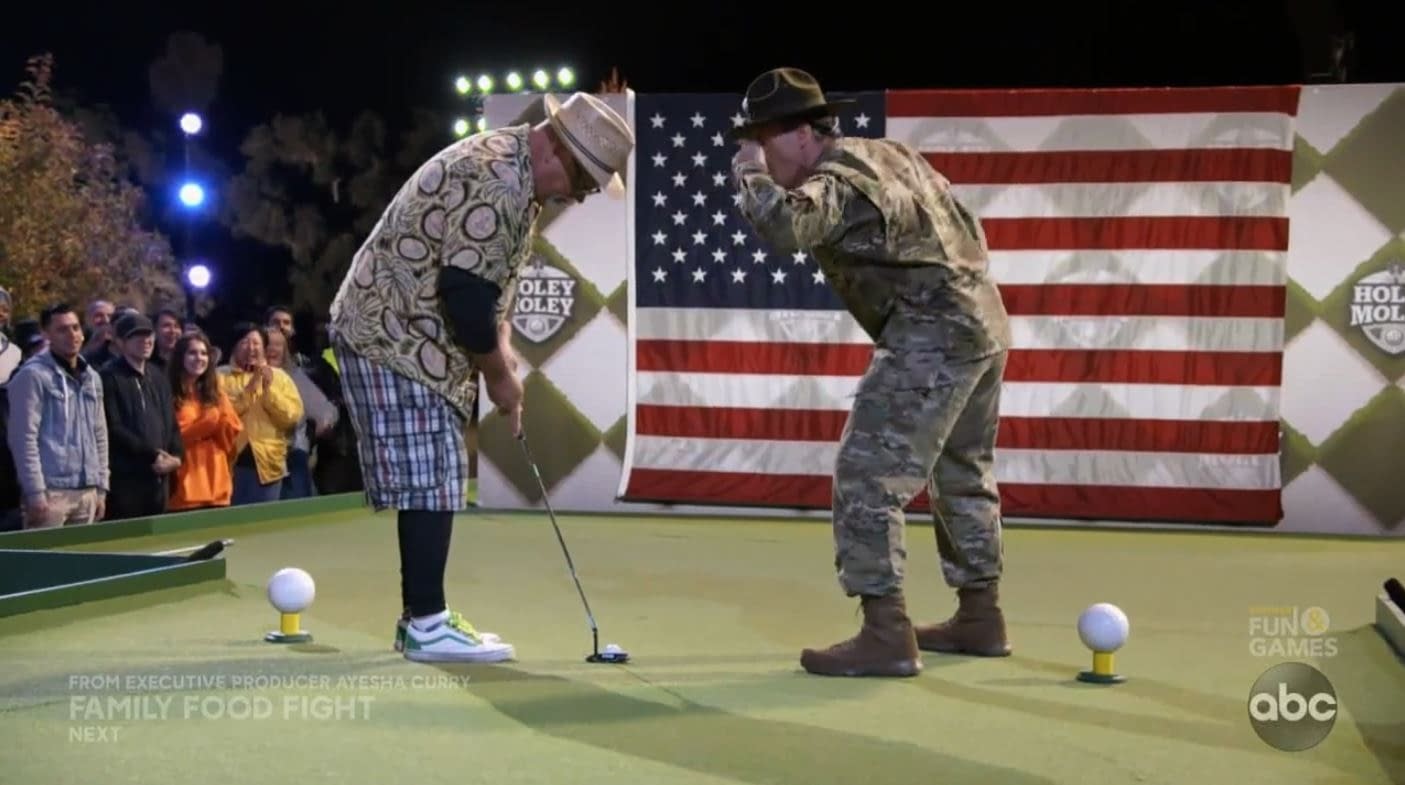 The energy on this episode of Holey Moley is pretty steady, and that sincerity that I love so much is holding strong. Everyone knows what they're in for, and they're clearly having a blast… except Evan, who I think really hurt his nose in the first round.
Next up: Morgan wins out over Jalleh on Log Roll.
The last sudden death contest is Evan vs. Robin, the self-described "Queen of Mini-Golf". Robin goes first, and misses her putt. Evan takes his putt, and makes it. Robin gets dunked by the trap door, and Evan moves on to the final.
Mount Holey Moley finds Evan, Jimmy, and Morgan facing off. Evan makes the second smallest hole, and lands the dismount off of the zipline. Jimmy hits the small hole, and sticks his landing off the zipline. Morgan hits a gutter ball, and ends up in the sand. Jimmy has the clear advantage.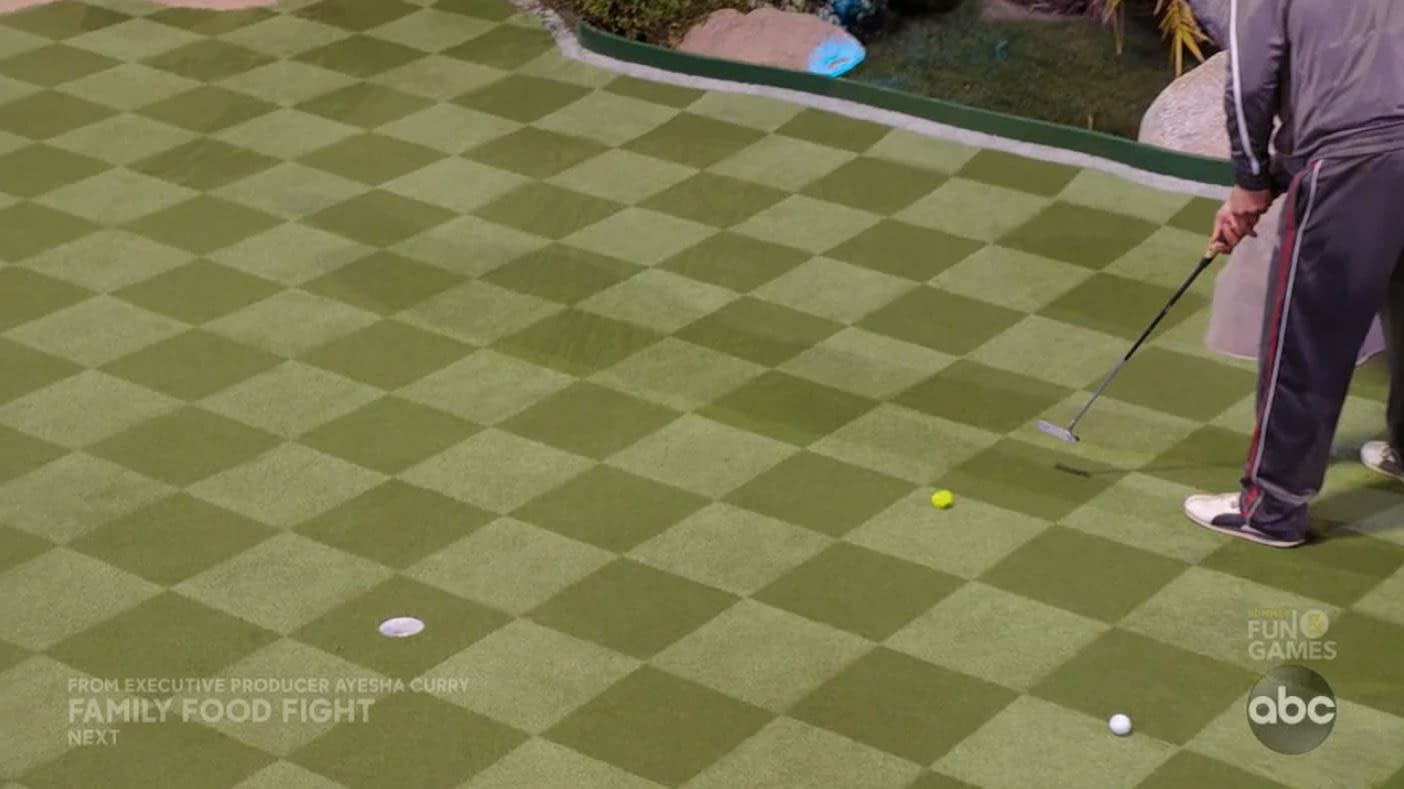 Morgan putts out of the sand trap, then misses the hole on her third putt. Evan misses his second putt, and Jimmy sinks his second putt and claims the win.
It's still one of the goofiest shows on television, but I really can't take my eyes off of it. Holey Moley manages to strike a strange balance between snark, sincerity, and left field weirdness that I need in my life right now.
We'll see you next week for more Holey Moley action!