Quantum Leap Season 1 Ep. 11 Images: Will Things Go Nuclear For Ben?
With the NBC series set to return next week, here are the preview images & promo for Quantum Leap Season 1 Episode 11 "Leap. Die. Repeat."
---
Riding high off the news that it will be returning for a second season, next week's return episode of NBC's Raymond Lee-starring series revival of Quantum Leap vibes like a cross between Happy Death Day, Groundhog Day & 13 Days in all the best ways possible. Except there's one destructive difference because it looks like Ben (Lee) has only five chances to prevent a nuclear explosion. Oh, and did we mention that Project: Quantum Leap has been compromised, so Ben can't be sure who to trust? Here's a look at what's ahead for next week…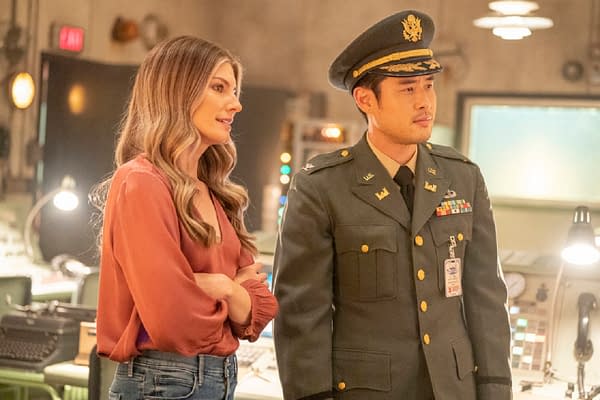 A Look at NBC's Quantum Leap Season 1 Episode 11 "Leap. Die. Repeat."
Quantum Leap Season 1 Episode 11 "Leap. Die. Repeat.": When Ben leaps into one of five people in an elevator at a 1962 nuclear reactor, he must figure out which one triggers a bomb that kills them all. Each time the bomb goes off, he leaps into another one of them an hour earlier, and the scene resets on a loop. Now, here's a look at the preview images and promo for the season's return episode:
It's been nearly 30 years since Dr. Sam Beckett stepped into the Quantum Leap accelerator and vanished. Now, a new team, led by physicist Ben Song (Lee), has been assembled to restart the project in hope of understanding the mysteries behind the machine and the man who created it. Everything changes, however, when Ben makes an unauthorized leap into the past, leaving the team behind to solve the mystery of why he did it. At Ben's side throughout his leaps is Addison (Caitlin Bassett), who appears in the form of a hologram only Ben can see and hear. She's a decorated Army veteran who brings level-headed precision to her job.
At the helm of the highly confidential operation is Herbert "Magic" Williams (Ernie Hudson), a no-nonsense career military man who has to answer to his bosses, who won't be happy once they learn about the breach of protocol. The rest of the team at headquarters includes Ian Wright (Mason Alexander Park), who runs the Artificial Intelligence unit "Ziggy," and Jenn Chou (Nanrisa Lee), who heads up digital security for the project. As Ben leaps from life to life, putting right what once went wrong, it becomes clear that he and the team are on a thrilling journey. However, Addison, Magic, Ian, and Jenn know that if they are going to solve the mystery of Ben's leap and bring him home, they must act fast or lose him forever.