Riverdale, Katy Keene Stars Support Vanessa Morgan, Talk Inequalities
In case you're not aware of Riverdale actress Vanessa Morgan's tweet yesterday, she made remarks about how she and other black cast members on The CW show as well as in the industry at large have been systematically discriminated against. Since her initial tweet, other actors of color from Riverdale have come forward in support and corroboration of the mistreatment. This comes on the heels of Samantha Ware's tweet about Glee co-star Lea Michele's racist behavior towards her and other cast members of color. To be clear, Vanessa's beef is with the writers and not any of her fellow cast members, as she points out. This seems like a call out to showrunner and creator Roberto Aguirre-Sacasa, who has not yet addressed her publicly.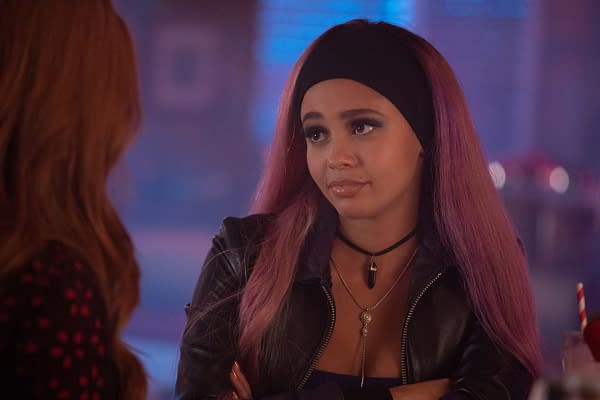 Riverdale actors Ashleigh Murray (now on spinoff series Katy Keene) and Asha Bromfield have also taken to Twitter in wake of Vanessa's statement, saying they stand with her and that the show's treatment of the Pussycats was mishandled to say the least. Murray went on to talk about how this is a part of a larger issue of Hollywood mistreating, underpaying, and taking advantage of black artists and actors. She retweeted Lucifer star Lesley-Ann Brandt and added, "We are not asking for special treatment. We are asking for equal treatment."
Writer LaToya Morgan (Shameless, The Walking Dead, Into the Badlands) added onto this movement with a twitter feed full of her perspective as usually the sole creative of color on shows and how the industry needs to be better now by including more black writers and creatives. The concept is simple: hire black writers, get better written black characters and stories. In her words, "Hollywood can do better. We must."
I touched on this in my previous article about Vanessa's tweets, but if you don't see the problem they are talking about, I urge you to watch television shows more carefully, specifically The CW shows. In shows that have a predominately white leading cast, the black characters are shuffled off to the side. The shows that feature predominately black leads are relegated to the same stories week after week featuring racism, gangs, sports, and living in white world. Where are the powerful black figures on popular shows? Oh, right – they're relegated to being glorified extras just barely in the frame, just to sell the facade of diversity or be used as a prop for their white characters' stories.