Riverdale: Vanessa Morgan's Done with Media Racism, And She's Right
I know my Riverdale coverage is usually light and upbeat, but bear with me as we dip into greater issues in this article. Social media especially affords everyone a voice and platform to reach millions in an instant, and actors haven't hesitated to use platforms like Twitter to speak out about the issues and topics that are important to them. How many stans do we see on Twitter, on an actors' page, ready to support them or tear them down? It's a lot, but in case you're not on Twitter, allow me to fill you in.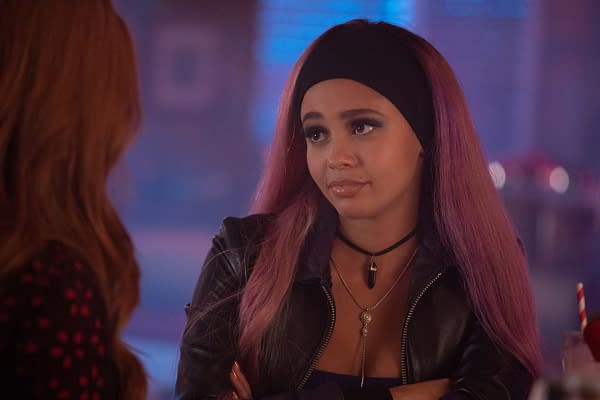 Actor Vanessa Morgan, who plays Toni Topaz in The CW series Riverdale, tweeted Sunday morning about a lack of diversity and inclusion on television and in film. Though her tweet comes at a time of uprising and protests over years of police targeting and abuse of the black community, it is a long-overdue issue that is not only a national tragedy in and of itself, but also part of greater societal rot that still exits when it comes to race relations.
Her tweet reads, "Tired of how black people are portrayed in Media, tired of us being portrayed as thugs, dangerous or angry scary people. Tired of us also being used as side kick non dimensional characters to our white leads. Or only used in the ads for diversity but not actually in the show. It starts with the media. I'm not being quite [sic] anymore."
Fellow Riverdale actor Ashleigh Murray re-tweeted Morgan in support. Lack of greater diversity within shows is not a problem unique to Riverdale or even The CW for that matter. Non-white, LBGTQ and disabled characters and the actors who portray them have fought long and hard to be included, but being relegated to the fringes as "props" for white characters more often than not.
This is a problem indicative of greater suppression of visible differences. These differences are the ones we celebrate in ads during Black History Month, but when it actually comes to inclusion, we still continue to fail. We have failed by creating basically "separate but equal" stories; white characters have storylines of being the hero through civil disobedience, typical life, even being loved for doing the wrong thing. Do you know what the same black characters get? Stories that revolve around gangs, racism, discrimination, and poverty. If you think that's a fair and accurate depiction of how reality is, you are part of that problem – and the very point Murray was looking to make.