Star Trek: Lower Decks: Mike McMahan on Rick and Morty, TNG Guesting
CBS All Access and Emmy Award-winner Mike McMahan (Rick and Morty) are preparing to show you the side of Starfleet that doesn't get to face the wrath of Khan, help with the search for Spock, face the final frontier, or any other take on a Star Trek movie title I can use to make my point. Some starship folks are just day-to-day'ers, where health insurance premiums and faulty food replicators are the biggest "big bads" they face on a daily basis. Star Trek: Lower Decks is their story, and now McMahan is opening up to EW on how the series came about and what viewers can expect (beginning with his pitch to the streaming service: "I want to do a show about the guy who brings the yellow cartridge to the back of the food replicator so that a banana comes out the front.").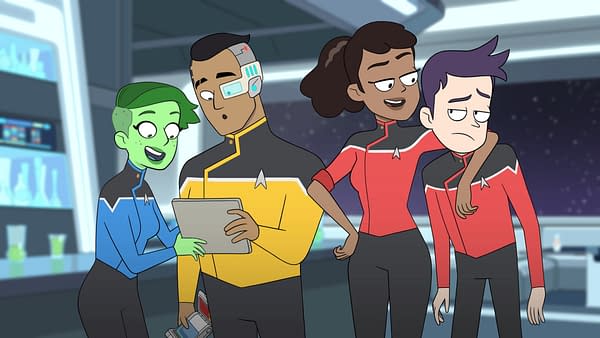 While the writer may have the uber-popular Adult Swim animated series on his resume, McMahan wants to make it clear that Lower Decks isn't just a Star Trek version of Rick and Morty. First, while Lower Decks isn't for children it will tend to skew more PG-13 because of the storyline complexities. The two shows also have two distinctly different perspectives: "The fun of Rick and Morty is that it breaks down sci-fi tropes and is told through Rick Sanchez, who has a very specific, chaotic, nihilistic lens. Lower Decks treats mythological sci-fi things just as important as a regular Trek show while finding new stories to tell — just from a different angle. It's not disassembling mythological sci-fi things. It's treating them as important for everybody on the starship as it would be in a regular Star Trek show."
While the big "summer blockbuster"-type action may be taking place on the bridge, McMahan believes the "Lower Deckers" allow the series to show how things work on not just the day-to-day level, but also on a deeply personal and emotional one: "The big stories are happening in the bridge crew and there's more kind of social-emotional stories happening to the Lower Deckers. So it's like their job and the world they're in get affected by these sci-fi stories. But the funny thing too is that whatever menial job you have to do in Star Trek, it might be something that they do every day, but it's still sort of a fascinating look into stuff that happens onboard that haven't been highlighted in another series. So instead of being on the turbolift — the elevators in Trek — our guys are repairing the turbolift. We also spend a lot of time in the bar. You'll also see the Lower Deckers go on away missions doing things that the bridge crew doesn't have to deal with."
At this point, you might get the sense that starships have an almost Snowpiercer-like class system set up on board, but McMahan makes it clear that there is some back-n-forth with the "big cheeses" like Captain Carol Freeman (Dawnn Lewis): "She is sort of trying to do this balancing act that all captains do, where they demand respect and are admired and trusted by the crew, but then they also kind of have to be the bad guy." With that, our folks aren't always kept in the loop: "A thing we play with a lot is that the Lower Deckers don't always get all the information they're delegated to, but they don't get to have a voice and they don't get to know the context a lot of the time."
So what about guest voices? With the series set during The Next Generation time period, it would seem that there would be an opportunity or two for cast members from the series to lend their voices. McMahan is staying quiet or if it will happen or not, but he doesn't seem to be shooting down the idea: "There are a lot of recognizable characters in the galaxy at that point. Next Gen is my favorite era. And as a huge Trek fan, I would definitely want to try to use some of them so that I could not only build out the world but also work with some of my heroes. But I can't get more specific than that. You'll have to wait and see."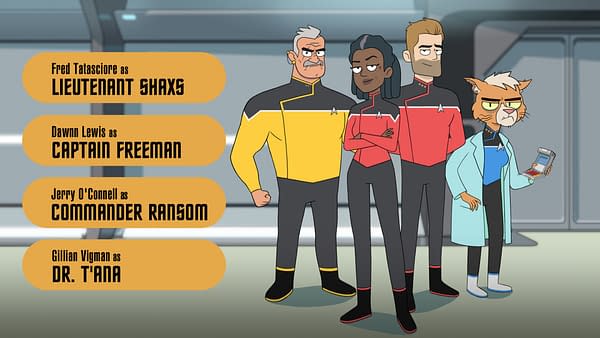 CBS All Access' Star Trek: Lower Decks features the vocal talents of Tawny Newsome as Beckett Mariner, Jack Quaid as Brad Boimler, Noël Wells as Tendi, Eugene Cordero as Rutherford, Dawnn Lewis as Carol Freeman, Jerry O'Connell as Jack Ransom, Fred Tatasciore as Shaxs, and Gillian Vigman as T'Ana. The animated series is produced by CBS Eye Animation Productions, CBS Television Studios' new animation arm; Secret Hideout; and Roddenberry Entertainment. Secret Hideout's Alex Kurtzman and Heather Kadin and Roddenberry Entertainment's Rod Roddenberry and Trevor Roth and Katie Krentz will serve as executive producers alongside McMahan. Aaron Baiers, who brought McMahan to the project, will serve as a co-executive producer.