Diamond Comic Distributors have announced the categories for their Spring 2018 retailer Best Practice Awards, rewarding comic book stores who excel in certain areas.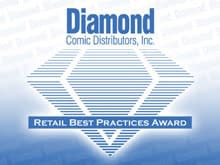 The awards will be voted on and announced at the Diamond Retailer Summit before C2E2 by retailers attending the presentation on April 6th, but nominees can – and do – come from all over the world. All they have to do is nominate themselves. And seriously, it can't be King's Comics in Australia that wins every category all the time. But you've got to be in it to win it….
So do you think your store might be in with a chance for the following?
Best Store Layout – Is your store inviting, with wide aisles and a customer-friendly shelving system? Are the sections labeled, and easy to peruse? Does walking through your store enthrall customers of all types?
Best Subscription/Pull & Hold Service – Do you go above and beyond for your subscription customers? Are your pull boxes a sight to behold? Is there something that makes it so enticing to sign up for your pull and hold service?
Best Manga Section – There's more to manga than just Akira and Sailor Moon, but how many deep cuts do you have on your shelves? Do you have a selection that would make the most die-hard manga fan salivate?
Best Midnight Release Event – Are you one of the retailers who stayed up past your bedtime to satisfy eager comic fans? Do you laugh at normal business hours when there's an awesome new series waiting to reach the shelf? Can you throw a rockin' party?
If so, do let Diamond know… there's prestige, brownie points and $200 in credit for winning stores.
Enjoyed this article? Share it!