The Black Hood Vol. 1 Will Have An Intro By Lawrence Block + View A 26 Page Preview & Cover Gallery
To celebrate the upcoming trade collection, The Black Hood: The Bullet's Kiss from Archie/Dark Circle Comics, we have a couple of announcements connected to the trade to make as well as a massive collection of covers and an even more massive preview of the collection for you, dear readers.
Firstly, we'd like to share the non-final cover for the trade collection of The Black Hood with you: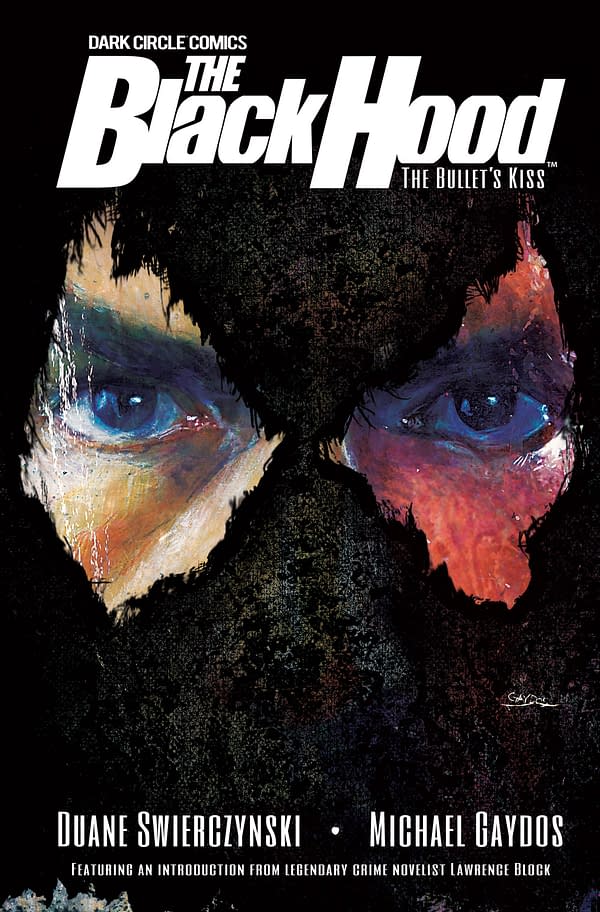 And with that the reveal that the collection will feature an introduction by popular crime novelist Lawrence Block. If you weren't already aware that writer Duane Swierczynski is also a prose novelist in the same genre, you'll now see what good company Duane is in here.
Here's how Dark Circle describe the trade collection for The Black Hood: The Bullet's Kiss:
THE BLACK HOOD VOLUME 1: THE BULLET'S KISS (TR)

COLLECTING THE BESTSELLING DEBUT ARC FROM THE ACCLAIMED TEAM OF SWIERCZYNSKI AND GAYDOS!

A man driven to the brink, blacklisted and left brutally changed must crawl through the wreckage of his life to defeat a gang of deadly criminals hell-bent on setting the streets of Philadelphia aflame. Fueled by rage and empowered by years of experience upholding the law, the new Black Hood is a visceral, conflicted and flawed urban vigilante—but he's also the city's last hope. A modern crime noir tale introducing readers to the newest—and deadliest—hero in the Dark Circle Comics lineup.
Script: Duane Swierczynski
Art: Michael Gaydos, Rachel Deering, Kelly Fitzpatrick
Cover: Michael Gaydos
978-1-61988-962-0
$14.99/$16.99 CAN
6 5/8 x 10 3/16"
TR
144 pp, Full Color
Now that you've got the low-down on the new collection, here are the 5 covers for the original arc, including all their variants:
And here's our 26 page preview of the first arc of the series, based on a selection of pages from different chapters of the story: