One of Hollywood's most respected patriarchs and charismatic figures Kirk Douglas passed away on Wednesday at the age of 103. Married twice, Douglas gifted his passion for acting and love for the business to his sons Michael, Joel, Peter, and Eric Douglas. Michael shared news of his father's passing and offered a touching tribute on Instagram earlier today: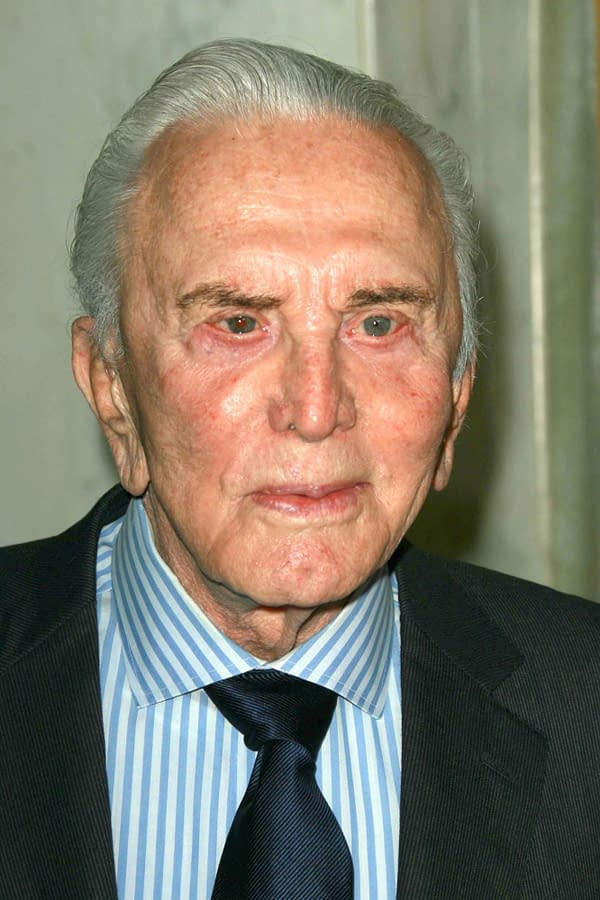 It is with tremendous sadness that my brothers and I announce that Kirk Douglas left us today at the age of 103.

To the world he was a legend, an actor from the golden age of movies who lived well into his golden years, a humanitarian whose commitment to justice and the causes he believed in set a standard for all of us to aspire to.

But to me and my brothers Joel and Peter he was simply Dad, to Catherine, a wonderful father-in-law, to his grandchildren and great grandchild their loving grandfather, and to his wife Anne, a wonderful husband.

Kirk's life was well lived, and he leaves a legacy in film that will endure for generations to come, and a history as a renowned philanthropist who worked to aid the public and bring peace to the planet.

Let me end with the words I told him on his last birthday and which will always remain true. Dad- I love you so much and I am so proud to be your son. #KirkDouglas
Kirk Douglas – A Life in Motion Pictures
In a career spanning six decades, the three-time Oscar nominee is best remembered for his distinctive voice, dominating screen presence, and distinct cleft chin. Douglas appeared in 95 titles throughout his illustrious career. He made his screen debut playing Walter O'Neil in Paramount Pictures' The Strange Love of Martha Ivers (1946) co-starring Barbara Stanwyck. He became a staple on the silver screen garnering all his Academy Award nominations for best lead actor during the 1950s. His first was in United Artists' Champion (1949). The second was for MGM's The Bold and the Beautiful (1952), and last was for MGM's Lust for Life (1956).
"Spartacus"
Douglas' most famous role was in the 1960 Stanley Kubrick film Spartacus, which won four Oscars. The most iconic scene in the film was when Romans asked who among slaves was Spartacus. In defiance, one-by-one they admitted being the leader. Douglas was finally awarded his honorary Oscar in 1996 for his 50 plus year career in cinema. His final role was in the television movie Empire State Building Murders (2008).
Eldest son Michael became a two-time Oscar winner – First is as a producer for Best Picture in One Flew Over the Cuckoo's Nest (1975). Second for his lead role in Oliver Stone's Wall Street (1987). Kirk's youngest Eric also became an actor making his on-screen debut with his father in A Gunfight (1971). Both appeared together again in the season three episode of the horror anthology Tales from the Crypt – in the World War I episode "Yellow."
Kirk, Michael, Eric, and Kirk's grandson Cameron starred in the 2003 film It Runs in the Family from MGM. Michael produced and younger brother Joel served as associate producer. While Kirk, Michael, Eric, and Cameron focused on acting, Joel and Peter kept behind the scenes roles as producers – Michael also occasionally produced.