American Gods Could Use Your Help to #FinishTheStory, Netflix & Amazon
With both Netflix & Amazon now hosting adaptations of Neil Gaiman's works, maybe it's time one of them helped American Gods #FinishTheStory.
---
In case you missed the news earlier this week, Steve Yockey (The Flight Attendant) & Beth Schwartz's ("Arrowverse") upcoming series adaptation of Neil Gaiman and Matt Wagner's Dead Boy Detectives has made a move from HBO Max to Netflix. Reportedly, the move was made because the series wasn't in line with what DC Studios' James Gunn & Peter Safran have planned for their revamped DCU. But instead of killing the project, Warner Bros. Discovery (WBD) gave the producers the green light to shop it elsewhere, part of WBD's new philosophy that says there's nothing wrong with selling content to other streamers (as opposed to keeping it all in-house). For Netflix, it was a no-brainer because it was another way for the streaming service to stay in good graces with Gaiman. With Netflix already the home of the hugely successful Tom Sturridge-starring The Sandman live-action series adaptation, it would make sense to bring aboard a project that has "Sandman" connections (appearing in Gaiman & Wagner's The Sandman #25 in April 1991). And that got us thinking about the projects that Gaiman has in play at two streaming services. Because along with what Netflix has going on, Amazon's Prime Video has a live-action series adaptation of Anansi Boys on the way, along with Good Omens 2, the Michael Sheen & David Tennant-starring sequel season to Gaiman & the late Sir Terry Pratchett's Good Omens: The Nice and Accurate Prophecies of Agnes Nutter, Witch. So if Amazon and Netflix like being in the "Neil Gaiman business," might I offer a suggestion that could give one of the streamer's an advantage? Do what you need to do to get your streams on American Gods and #FinishTheStory.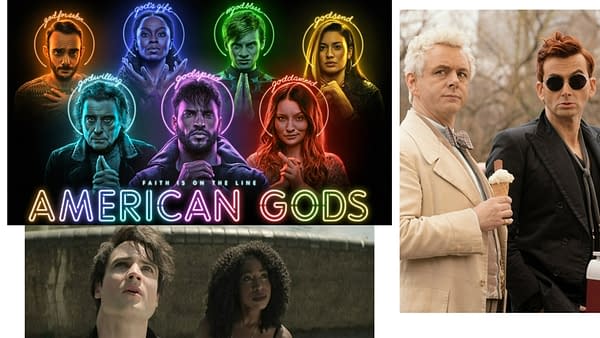 This March 21st will mark two years since "Tears of the Wrath-Bearing Tree" aired on STARZ, with the live-action adaptation of Gaiman's novel officially canceled by STARZ eight days later, after a three-season run from 2017 to 2019. Since that time, we've been told that production company Fremantle was committed to giving the series a proper finale (even if not a full fourth season), while Gaiman, series star Ricky Whittle, and other members of the show's cast & crew did what they could to keep hope alive. But since that time, things have gotten quiet. That uncomfortably long quiet that screams of bad news that may never be spoken… you know what I mean? But maybe the success & buzz that Gaiman-related projects have been getting has created a perfect window for one final push to make a series finale happen. Again, realistically? A full fourth season would be great, but probably not going to happen if something does happen. But even a four episode wrap-up would be enough to give the series the respect that it deserves. And since we wre discussing connections between The Sandman and Dead Boy Detectives earlier, then I'd say that Amazon would be a perfect home for both American Gods and Anansi Boys.
Now, just to be clear? We live in an age when streaming and disgustingly huge multimedia corporations have turned the entire television business back to feeling like the "Old West." The rules of what saves or dooms a series have been completely rewritten. Series green lights or green lights for new seasons don't carry that "Wonka Golden Ticket" guarantee like they used to in the past. We've seen shows pulled only hours before their new season was supposed to hit screens. We've seen shows get not just canceled but pretty much wiped from existence for the sake of a tax write-off. So I won't pretend to know what business red tape there would be for Fremantle and the other producers to broker a deal with either Netflix or Amazon. But I also know that we live in a post-pandemic age where the adage "never say never" is more "Amen!"-worthy now more than ever. So what do you day, Netflix & Amazon? Make New Media (Kahyun Kim) proud…