Citadel Sneak Preview: Mason Needs Nadia to Remember Who She Is & Fast
Here's a preview of the Russo Brothers & David Weil's spy thriller Citadel, starring Richard Madden, Priyanka Chopra Jonas & Stanley Tucci.
---
After tragic real-world events delayed its original release, Amazon shared the official trailer for the Russo Brothers (Avengers: Endgame) and showrunner David Weil's (Hunters) spy action/thriller Citadel earlier this week. Viewed as what could be a potential franchise "tentpole" for Prime Video, the series stars Richard Madden (Bodyguard), Priyanka Chopra Jonas (Quantico), and Stanley Tucci (Inside Man). And now, we have a sneak preview of what you can expect from the big-budget spy thriller. In the following scene, Mason (Madden) has recovered his memories and is desperate for answers. To get them, he's going to need Nadia (Jonas) to remember who she is – and fast. But we're just not sure throwing a knife was the best move Mason could've gone with… just sayin'.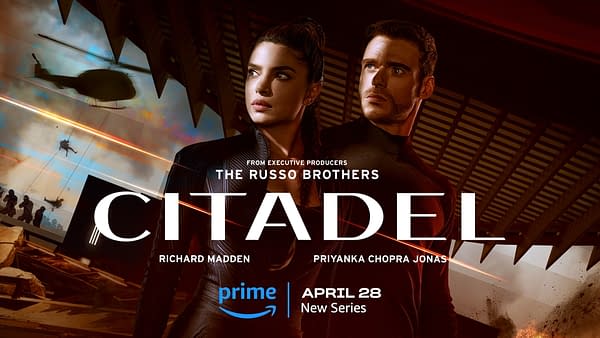 With the series set to hit Amazon's Prime Video on Friday, April 28th, with one of those cool "hybrid" release schedules (two episodes for the premiere and then subsequent episodes dropping weekly) that helps a series build some serious buzz, here's a look at a sneak preview for Citadel, followed by a look back at the official trailer and series overview:
Eight years ago, Citadel fell. The independent global spy agency—tasked to uphold the safety and security of all people—was destroyed by operatives of Manticore, a powerful syndicate manipulating the world from the shadows. With Citadel's fall, elite agents Mason Kane (Madden) and Nadia Sinh (Jonas) had their memories wiped as they narrowly escaped with their lives. They've remained hidden ever since, building new lives under new identities, unaware of their pasts.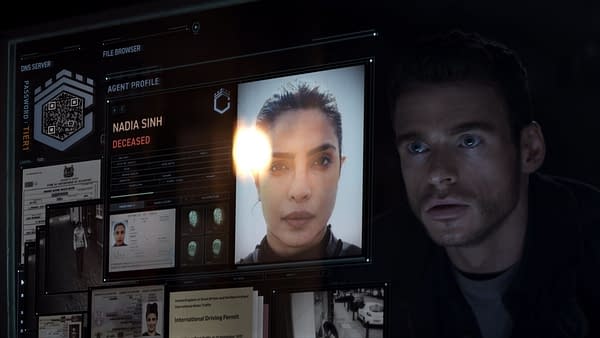 Until one night, when Mason is tracked down by his former Citadel colleague, Bernard Orlick (Tucci), who desperately needs his help to prevent Manticore from establishing a new world order. Mason seeks out his former partner, Nadia, and the two spies embark on a mission that takes them around the world in an effort to stop Manticore, all while contending with a relationship built on secrets, lies, and a dangerous-yet-undying love.