Posted in: NBC, Opinion, streaming, TV, TV | Tagged: elon musk, opinion, stephen king, twitter
---
Elon Musk Brags About Size of His Donation, Misses Stephen King Point
Instead of taking a second to get Stephen King's point, Twitter's Elon Musk responded to King by bragging about the size of his... donation.
---
Sometimes, when you want to make a decent joke-innuendo about a dude trying to overcompensate for some potential personal issues they might have about their penis, you have to put a little work into it. Like saying that Elon Musk was having problems "getting it up" in terms of SpaceX's Starship exploding midair. And then there are other times when you rub your eyes and stare at the screen in disbelief because… wow. Sometimes, the jokes come too easily – as is the case of the latest chapter in "The Great Twitter Blue Checkmark War" between Musk and acclaimed author Stephen King. Earlier, King tweeted about the news that Musk had "paid" to have a whole bunch of blue checkmarks reinstated – including King's- writing, "I think Mr. Musk should give my blue check to charity. I recommend the Prytula Foundation, which provides lifesaving services in Ukraine. It's only $8, so perhaps Mr. Musk could add a bit more." And with that trap set, it was only a matter of time before Musk took the bait.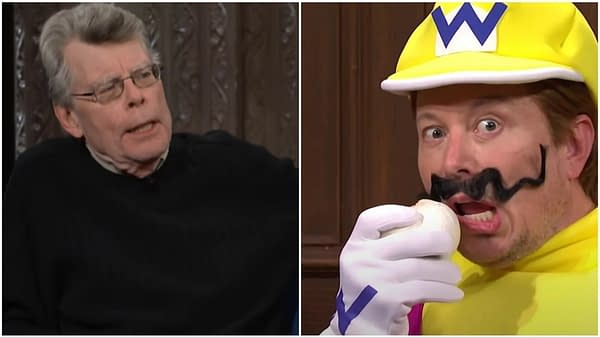 In response, Musk tweeted, "I've donated $100M to Ukraine, how much have you donated? (We turned down the DoD money btw)." Yup, that's right. Musk missed the point King (and fellow author Neil Gaiman and others) was trying to make for an opportunity to brag about the size of his… "donation." Except… wait for it… THAT WASN'T THE POINT THAT STEPHEN KING WAS TRYING TO MAKE! King wasn't questioning how much Musk donates to Ukraine or anyone else (or whatever reasons he might have motivating his donations) – he was telling him that there are a ton of better ways to spend the money he claimed he spent to reinstate those blue checkmarks than on his own service to partially reverse a self-inflicted policy. That's why King had no problem noting how much Musk has donated. Because… say it with me now… MUSK MISSES THE POINT!
Stephen King & Elon Musk: The Twitter Exchanges
For a visual history of the back-and-forths that have gone on this week between King & Musk over the blue checkmarks that led to the most recent update, here's a look at their tweet exchanges over the past week:
And not long after, Musk revealed himself to be King's "Twitter Santa Claus," gifting the famed author his blue checkmark: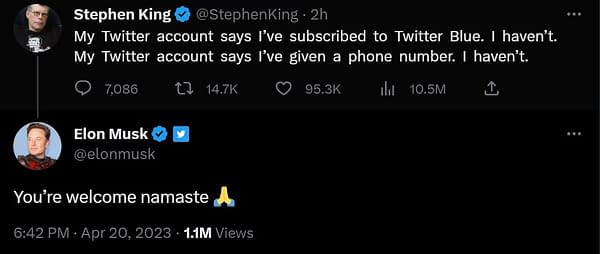 And here's King's response from this weekend, telling Musk what he can do with his blue checkmark (for a good cause, of course):
---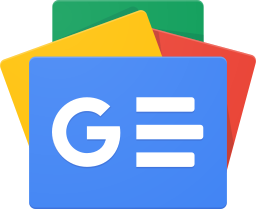 Stay up-to-date and support the site by following Bleeding Cool on Google News today!