Less than two weeks after her second-season mission launched, Esmé Creed-Miles' title character already knows where her journey will take her next: a third season. That's right: on Monday, Amazon Prime announced that the action-drama Hanna was getting a green light for another round of action. Original feature film co-writer David Farr is set to return to write and executive produce. Tom Coan for NBCUniversal International Studios, Marty Adelstein, Becky Clements, and Scott Nemes will executive produce.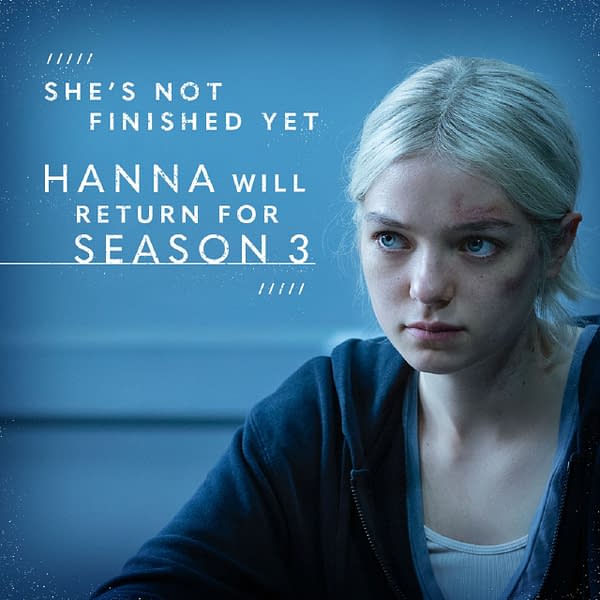 "I'm absolutely thrilled to be able to give 'Hanna' a third season," said Farr of the series' return. "When we set out on this journey, I had in my mind a drama that would excavate Hanna's past, challenge her in entirely new ways, and answer the question: can she ever belong? I am truly grateful to Amazon and NBCU that we are able to continue that vision. I am also deeply indebted to Esmé Creed-Miles and to Mireille Enos for their continuing commitment and enormous talent as we take Hanna and Marissa into new and unexplored terrain. It's going to be an exciting third act."
Following her discovery at the end of Season One, Hanna (Esmé Creed-Miles) now knows she is not the only young woman with unparalleled skill and elite training. The Utrax program has produced a whole contingent of highly trained teenagers, whose development is about to reach the lethal "second phase." After their relocation to The Meadows facility, these trainees find their restrictions lifted and glimpse the possibility of a new identity in the outside world. But this apparent freedom will come at a heavy price.

In Season Two, Hanna risks her freedom to rescue her friend Clara (Yasmin Monet Prince) from the clutches of the Utrax program, now run by John Carmichael (Dermot Mulroney) and his second in command, Leo Garner (Anthony Welsh). Hanna finds help in the unlikely form of her previous nemesis, CIA agent Marissa Wiegler (Mireille Enos), who must protect both herself and Hanna from the ruthless organization she once trusted. Yet as Hanna delves deeper into the elusive world of The Meadows and meets others like herself, including Sandy (Áine Rose Daly) and Jules (Gianna Kiehl), she begins to question her role in the larger context of Utrax's assassin program and ultimately, where she truly belongs.
Enjoyed this article? Share it!