Law & Order: Mariska Hargitay Posts Christopher Meloni's BDay Reminder
Law & Order: SVU star Mariska Hargitay took to Instagram to respond to Christopher Meloni and share a look at the birthday reminder he sent.
---
This Thursday, NBC's Law & Order returns with new episodes of the main series (S22E12 "Almost Famous"), "SVU" (S24E12 "Blood Out"), and "Organized Crime" (S03E12 "Partners in Crime"). But it just wouldn't feel right to share a look at the episode overviews and promos for all three episodes before following up on the most important story in the L&O universe this week. That's right, Mariska Hargitay (SVU's Olivia Benson) has responded to her long-time friend & co-star Christopher Meloni's (Elliot Stabler) "almost" birthday reminder (he never did, technically, say the word before being cut off). In the video, Hargitay shows off the pretty impressive way that Meloni went about reminding her of her special day.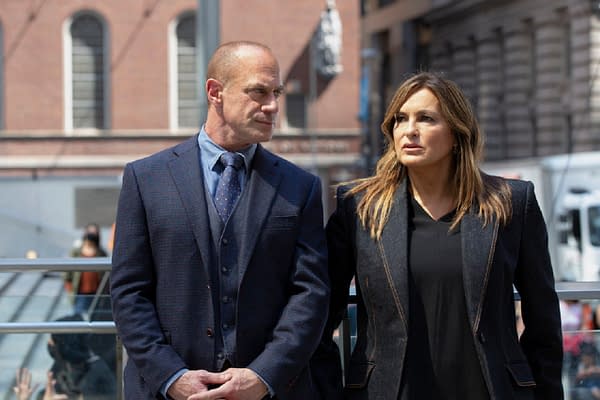 Here's a look at Hargitay's post from earlier today, followed by a look back at Meloni's initial post:
And here's a look back at Meloni's Instagram post from yesterday, followed by a look at the promos & overviews for this Thursday's three new chapters of the hit NBC franchise:
Law and Order Season 22 Episode 12 "Almost Famous": After a teenager is killed, Cosgrove and Shaw discover what lengths kids will go to become internet famous; Price and Maroun take a risk to go after whom they believe to be the real criminal in the case, but they wind up back where they started.
Law and Order: SVU Season 24 Episode 12 "Blood Out": As Benson and Carisi put a vengeful crime boss on trial, Fin tries to help a woman who was drugged and left for dead; Velasco takes drastic action to get information from a witness.
Law and Order: Organized Crime Season 3 Episode 12 "Partners in Crime": After learning that an untouchable crime boss may have been behind her former partner's death, Bell enlists the task force to take him down; Stabler is recruited for a secret mission of his own.