Lucifer Season 5 Showrunners Offer 1940s Noir Episode Details
While it may have taken a little more time than expected and suffered through the occasional bump along the way, things have been going pretty well in Lucifer world for showrunners Ildy Modrovich and Joe Henderson. In the past week or so, the show's announced that it's returning on August 21 for its long-awaited fifth season, confirmed a sixth season, and signaled that the season 6 writers room was already meeting. Both showrunners also signed new deals, and Modrovich is set to spend some time in the director's chair during the upcoming season. We're thinking that all of those good vibes had Modrovich and Henderson feeling comfortable enough to start dishing some new intel on season 5 to EW.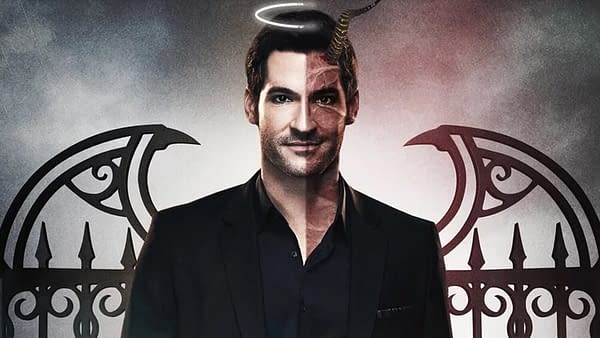 First revealed in late 2019, the series' black-and-white, 1940s-based episode is the fourth episode "It Never Ends Well for the Chicken." a noir-stylized look back at Lucifer's (Tom Ellis) time in Los Angeles and offers additional layers to Maze's (Lesley Ann-Brandt) backstory. For Henderson, the choice of time period and theme offers an interesting look at our Devil's early detective years:" Whenever you play [with] flashbacks, the question is always, 'What's the time frame that can reflect a person?' What's nice about noir is it's detective stories, but Lucifer isn't a detective yet. So what we're almost seeing, to a certain extent, is Lucifer's first case. There is a case, there is a mystery to solve, but it's just more filtering our [show's] language through noir." Modrovich saw the setting as perfect for Ellis, explaining, "Tom Ellis is made for this style. He kind of is Cary Grant. I think there's always been something about his portrayal of Lucifer [that's] old school, that harkens back to the extravagance and elegance of old Hollywood and just noir."
In telling this particular story, the showrunners were able to look to a modern film classic for inspiration: "There was a moment in our arc where Lucifer needed to give us a little backstory on a character and tell us what happened to [him] a long time ago and we thought, 'Perfect moment for a Princess Bride moment. So, let's open it up and have Lucifer tell this story to someone. And if we're really doing an homage to Princess Bride, that person should be Trixie [Scarlett Estevez],'" Modrovich explained. Henderson appreciated how going with a "story-teller" approach gave the cast a chance to be seen in different lights: "The big fun of the Princess Bride device is, as he's [Lucifer] telling the story, he's basically putting the characters we know and love into it. He's replacing a hard boiled detective with Chloe Decker [German], another character with Dan Espinoza [Kevin Alejandro]. The fun of it is, who Lucifer chooses to be who and what that says about how he sees them. [It's] also super fun getting to see actors play wildly different roles than we're accustomed to seeing them."
This means when Trixie asks why the detective can't be a woman, we get Lauren German as a man. "The fun of it is you get Lauren German playing a guy who happens to look like Lauren German," says Henderson. "It's just amazing to watch because it's such a tricky line to walk so that you don't go parody, but also so you understand the conceit, and Lauren just nails it. It's so cool and so deceptively hard, and I think people are going to love it." For Modrovich, it's Ella (Aimee Garcia) and Dan who stand out: "Ella in a mustache is awesome. Everybody, in like two days, had to come up with a completely new character, and everyone is so funny. Dan's character is just extra douchey." But the co-showrunner left us with a tear-jerker final thought, with Modrovich teasing, "Lesley-Ann is going to break your heart for sure."