Saturday Night Live: Jordan, Lil Baby & Weirdness Win The Day But…
Michael B. Jordan, Lil Baby & a wave of wonderfully creative "weirdness" combined for a winning Saturday Night Live. Except for one thing...
---
As host Michael B. Jordan, musical guest Lil Baby, and the Saturday Night Live team were taking their final bows last night, I realized I was going to have to approach my review in a very different way. Because by the time the credits rolled (and I switched over to FX's What We Do in the Shadows marathon), my brain found itself being pulled in three different directions. So with that in mind, I've got some thoughts on our host & musical guest, how "weirdness" won the day for this weekend's episode (we're calling it "Sarah Sherman-ification"), and how SNL probably could've dialed back a bit on objectifying & sexualizing Jordan because after while it was tough to argue that it was being done for "comedic irony" (especially after Jordan was "introduced" to the body pillow with his image on it that the SNL team's been using for close to ten years).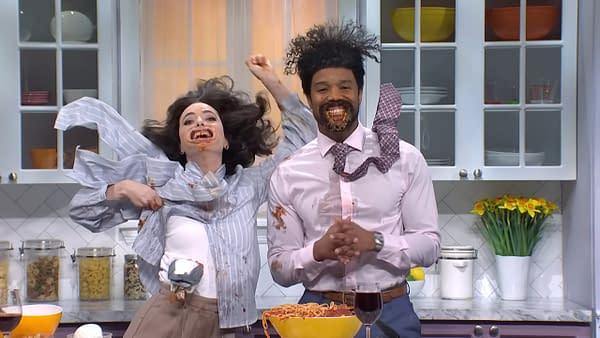 So How Were Michael B. Jordan & Lil Baby? This week, we had a winning combination with Jordan and Lil Baby. With Jordan, we had a host who was comfortable on stage and knew how to play for the camera. Once again, we have a perfect example of how well a show can work when a host gives themselves over to the writers, trusting them even if it involves being in some goofy-as-f**k situations (like "Roller Coaster Accident" & "Party in Palm Springs"). And after watching him perform "California Breeze" and "Forever" live, we have a new level of appreciation for the diversity in musical styles that Lil Baby brings to the game.
When The Going Gets Weird, The Weird Turn… to Sarah Sherman: By the time this season wraps, I feel like we're going to have to have some serious conversations about the creative impact Sherman has had on SNL in a seriously short period of time. Because whether we're actually seeing it on display or vibing it in the themes of some of the sketches, Sherman's "body-horror comedy" approach has had more of an influence on SNL each passing week- and we're all here for it. Again, I'm not saying that to undercut the work that other writers are doing (we missed Please Don't Destroy this week), but there's been a slow shift toward more "absurd" comedy that still makes a point… and we're definitely here for it.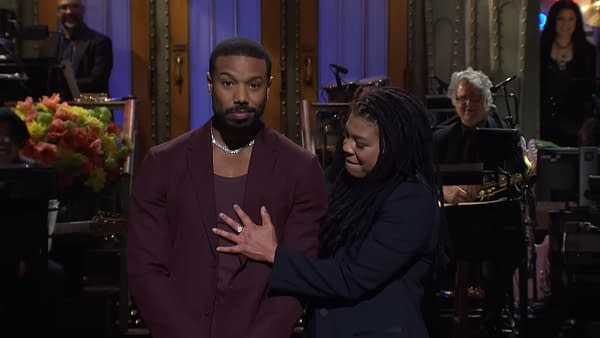 Maybe We Should Treat All the Hosts Equally? I went to sleep worrying that when I woke up this morning that I would end up having to be "that guy" when it comes to this last topic. I'm thinking maybe it was the whole thing from earlier in the week when Jordan was told about the body pillow with his image on it that the SNL staff had been "sleeping with" for something like eight years or so. And then he posed with it for social media. Again, I can't speak for Jordan, but if that were me? I would be flattered, probably laugh & make a joke about it (probably even pose with it, too)… and be a little creeped out for the rest of the week. But SNL wanted to let its freak flag fly when it came to its collective lusting after Jordan because it sure felt like there were a lot of sketches focused around him sexually. Again, this isn't an indictment of any one sketch because, individually, the night was filled with a ton of winners. But collectively, it would've been nice for Jordan to be showcased in ways that better demonstrated his comedic skills because the dude definitely knows how to do comedy. Again, it's not that Jordan's looks shouldn't be a focus for comedy… but it felt like it became the default theme and too much of a focus.