Solar Opposites Gives The Wall Some Michael Bay Movie Trailer Love
Fans of Justin Roiland and Mike McMahan's Solar Opposites should be feeling pretty good about the series' future. Having already kicked off with a two-season order, the animated series received a third-season green light from Hulu (along with Crossing Swords) in mid-June: not too shabby of a way to be rolling through the summer. What the news also means is that there's more time for viewers to become engrossed in the storyline that came damn close to overshadowing our alien crew: The Wall. Originally created by Yumyulack (Sean Giambrone) as a way of studying human behavior, the world-within-a-wall-within-a-world's tale of hope, loss, redemption, and rebellion had all the makings of a summer movie blockbuster- which is why Hulu's released a "trailer" for The Wall (with text that should definitely be read in "In a world…" trailer voice). Following that, we have a look at Yumyulack's Twitter account to track his Wall observation (including addressing his reason for creating the project/mini-soap opera in the first place: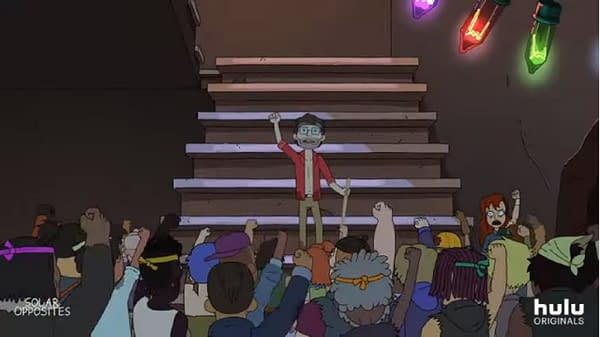 In a world built for elites, one man will stand tall and fight for the little guy. From Justin Roiland and Mike McMahan, two of the @$%!s behind Rick and Morty, comes a story about humans who were shrunk by an alien child and are now trapped in interconnected terrariums in his bedroom wall.
In Roiland and McMahan's adult animated series, four aliens escape from their exploding homeworld only to crash land into a move-in ready home in suburban America. They are evenly split on whether Earth is awful or awesome. Korvo (Roiland) and Yumyulack only see the pollution, crass consumerism, and human frailty while Terry Terry (Thomas Middleditch) and Jesse (Mary Mack) love humans and all their TV, junk food, and fun stuff. Their mission: protect the Pupa, a living supercomputer that will one day evolve into its true form, consume them, and terraform the Earth. The series also features an all-star line-up of voice actors that also includes Alan Tudyk, Alfred Molina, Christina Hendricks, Jason Mantzoukas, Liam Cunningham, Rainn Wilson, Tiffany Haddish, and more.