The Rookie Season 5 Ep. 17: Chenford Teamwork Will "Make a Dream" Work
Lucy (Melissa O'Neil) has a timely confession to make to Tim (Eric Winter) in this preview for ABC's The Rookie S05E17 "The Enemy Within."
---
When Elijah (Brandon Jay McLaren) & Abril (Gigi Zumbado) realize they have a lot more to gain from working together, it's going to take some jaor teamwork to take the two down. Which is why ABC's Nathan Fillion-starring The Rookie and Niecy Nash-Betts-starring The Rookie: Feds will be crossing over in some very big ways. But that doesn't mean we don't have a Chenford-starring preview to pass along that touches upon one of the other S05E17 "The Enemy Within" storylines. Lucy (Melissa O'Neil) has a confession to make to Tim (Eric Winter) – she signed him up to be a "Make a Dream" mentor and forgot to tell him about it. Thankfully, he has some time to process and do some prep… right? Well… about that…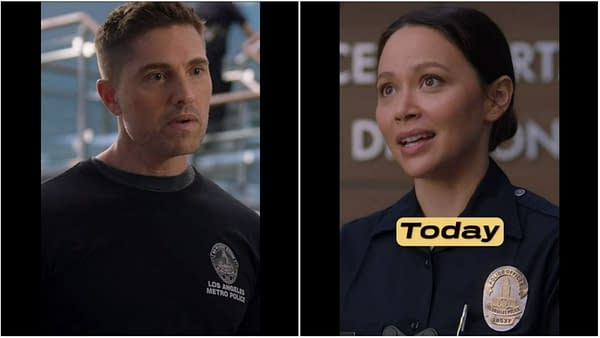 Here's a look at a preview for next Tuesday's episode of ABC's The Rookie, followed by a look back at the overviews & promo for next week's The Rookie/The Rookie: Feds crossover:
The Rookie S05E17/The Rookie: Feds S01E17 Crossover Event
The Rookie Season 5 Episode 17 "The Enemy Within": Now that Elijah (Brandon Jay McLaren) and Abril (Gigi Zumbado) have become allies, the team must rely on Monica (Bridget Regan), Elijah's lawyer, to uncover their plans. Meanwhile, Officers Nolan (Nathan Fillion) and Juarez (Lisseth Chavez) reopen her sister's case and discover a discrepancy that leads them on a new trail.
The Rookie: Feds Season 1 Episode 17 "Payback": Garza (Felix Solis) and team are on the hunt for a ruthless gang leader on a mission for revenge. Atlas (Deniz Akdeniz) comes to town to reconnect with Laura (Britt Robertson), but the two cannot seem to see eye-to-eye, and Simone (Niecy Nash-Betts) and Carter (Frankie Faison) grapple with letting go of old grudges.
ABC's The Rookie stars Nathan Fillion as John Nolan, Mekia Cox as Nyla Harper, Alyssa Diaz as Angela Lopez, Richard T. Jones as Sergeant Wade Grey, Melissa O'Neil as Lucy Chen, Eric Winter as Tim Bradford, Shawn Ashmore as Wesley Evers, Jenna Dewan as Bailey Nune, Tru Valentino as Aaron Thorsen, and Lisseth Chavez as Celina Juarez. Alexi Hawley is writer and executive producer. Mark Gordon, Nathan Fillion, Michelle Chapman, Jon Steinberg, Bill Norcross, Bill Roe, and Brynn Malone are executive producers on the series. Entertainment One (eOne) is the lead studio on The Rookie, a co-production with ABC Signature.