Guess that fancy secret project news is tomorrow.#tomorrow

— Erik Burnham 💬 (@erikburnham) December 21, 2016
Guess so… the female Ghostbusters from the 2016 movie are getting their own comic book from IDW. Well, almost their own comic book… they have some company. Straight out of the 2016 film starring Melissa McCarthy, Kristen Wiig, Kate McKinnon, Leslie Jones, and Chris Hemsworth, the "Answer The Call" Ghostbusters make their comic book debut in March in a new comic called Ghostbusters 101 according to the Diamond website which has just updated.
From Erik Burnham, Dan Schoening, and Luis Antonio Delgado, Ghostbusters 101 sees the original movie Ghostbusters travel to an alternate dimension to meet up with the new movie Ghostbusters and deal with a Secret Wars-style incursion event. And, well, bust some ghosts.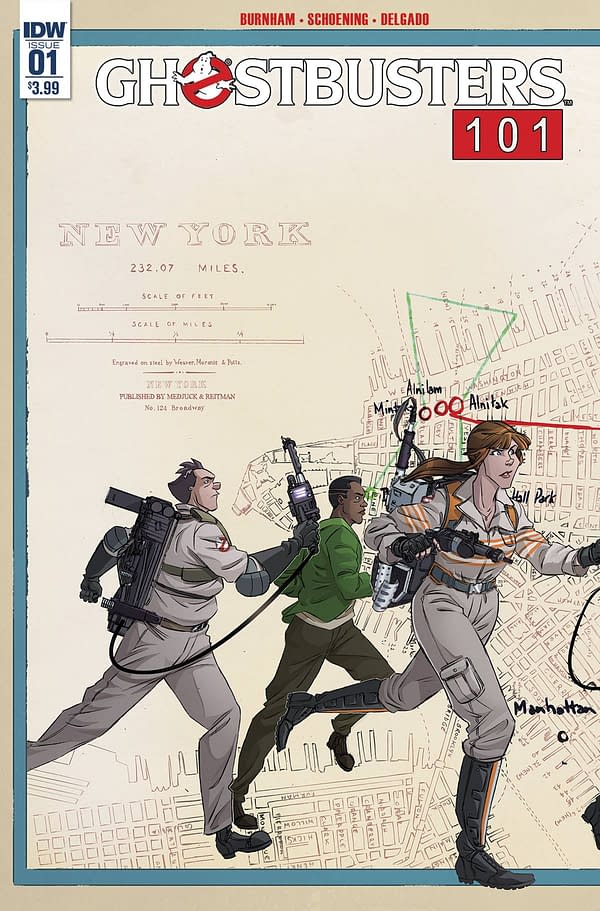 The 32 page first issue features variants by Tim Lattie and Erica Henderson, as well as retailer incentive variants with photo covers of both movie casts.
Ghostbusters: Answer The Call was released in July, but was a source of constant controversy both before and after that release. A lightning rod for the political battle that fueled America's recent election cycle, hate toward the film turned to online harassment after its release, with star Leslie Jones attacked with vile racist imagery, prompting her to briefly leave Twitter. Ghostbusters: Answer The Call made $229 million globally at the box office, and has a 73% fresh rating on Rotten Tomatoes, though the audience rating is split down the middle, with 54% liking the movie, perhaps embodying its polarizing image. Jones and fellow co-star Kate McKinnon went on to have their best year yet on Saturday Night Live, helping to propel the show to a creative resurgence and an 8-year ratings high for the Season 42 opener. Vile racists went on to help in the Presidential election. So everyone found success after the film.
Here's the full solicitation.
Ghostbusters 101 #1—GEM OF THE MONTH
Erik Burnham (w) • Dan Schoening (a & c)
"Let's Do The Space-Warp Again!" Before they began investigating the supernatural, most of the original Ghostbusters were teachers… and they've decided it's time they start sharing their knowledge again. But when their first batch of students start poking around the firehouse and accidentally set in motion the merging of two universes (it's easier than you'd think) Venkman, Stantz, Zeddemore, and Spengler will need all the help they can get to put things right! And who do you think will Answer The Call? (If you guessed Holtzmann, Yates, Tolan, and Gilbert… you get a gold star!) It's a brand new inter-dimensional meeting of the minds, starting here!
FC • 32 pages • $3.99
Ghostbusters 101 #1—Subscription Variant
Erik Burnham (w) • Dan Schoening (a) • Tim Lattie (c)
FC • 32 pages • $3.99
Ghostbusters 101 #1—Erica Henderson Variant
Erik Burnham (w) • Dan Schoening (a) • Erica Henderson (c)
FC • 32 pages • $3.99
Bullet points:
– Straight outta the 2016 film, the Answer the Call Ghostbusters make their comic book debut! Abby, Patty, Erin and Holtzmann join forces with Winston, Egon, Ray and Venkman for some bombastic ghostbustin' insanity!
– Written and illustrated by the fan-favorite and critically-acclaimed creative team of Erik Burnham, Dan Schoening and Luis Antonio Delgado.
– Featuring the first of six-interconnected covers by Schoening and Delgado.
– Retailer incentive covers feature photos of the Original and ATF Ghostbusters casts!
Enjoyed this article? Share it!