Sean Gordon Murphy's Batman: White Knight will top the graphic novel bestseller lists for both Bookscan and Diamond for October, DC Comics claimed in a press release Wednesday, a major win for Black Label's first collected release. White Knight did not even have a Batpenis to bolster its sales, making the victory all-the-more impressive. It did contain a censored Harley Quinn/Joker sex scene, which Murphy hoped would one day be published in its uncensored form… but recent regime changes at DC seem likely to prohibit that for now.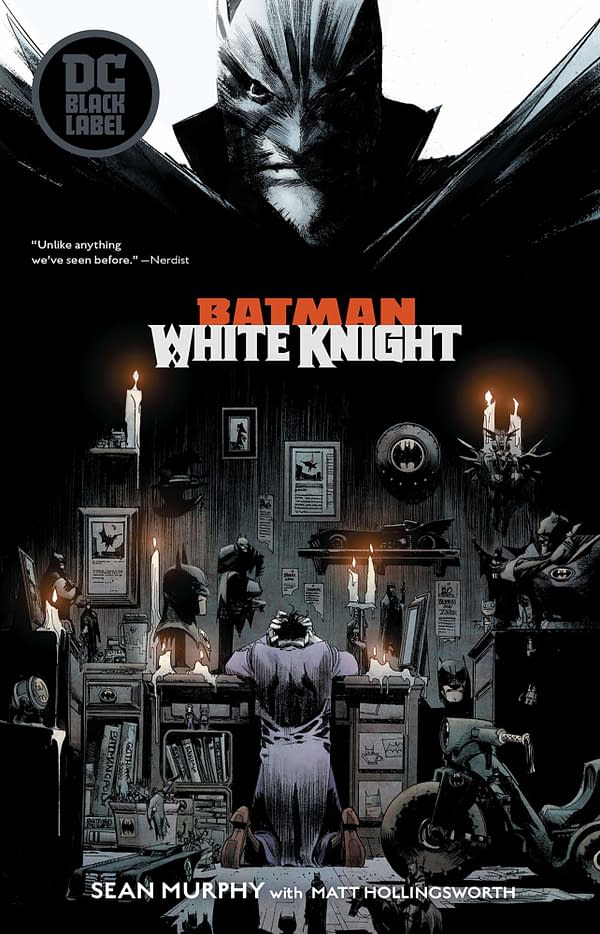 Murphy is already working on a follow-up, Batman: Curse of the White Knight, for next year.
Check out the press release below:
The inaugural book from DC's Black Label imprint, BATMAN: WHITE KNIGHT, from writer/artist Sean Murphy, debuted at #1 on BookScan's graphic novel bestsellers list which tracks point-of-sales for major retailers including Amazon, Barnes & Noble, Walmart, Target, independent bookstores, and more. That's not all as this week, the book will take the top spot on Diamond Comic Distributors – the world's largest distributor of comics, graphic novels, and pop culture merchandise – graphic novel list for the month of October. DC Black Label is issuing a second printing for BATMAN: WHITE KNIGHT after the overwhelming reaction from fans for Murphy's unique take on the iconic character.

BATMAN: WHITE KNIGHT is an extraordinary examination of comics' greatest antagonists, Batman and The Joker. In a world where Batman has gone too far, The Joker, now cured of his insanity and homicidal tendencies, must save Gotham City and sets about trying to right his wrongs. The book is pulling in a wide array of readers as the story explores justice, corruption, activism and the depths of mental illness.

DC Black Label has already announced a second chapter in Murphy's series called BATMAN: CURSE OF THE WHITE KNIGHT, set to debut in 2019. Check DCComics.com for more details.
Enjoyed this article? Share it!