Dr Janina Scarlet PhD Criticises Heroes In Crisis Psychological Reports
Dr Janina Scarlet PhD is a Licensed Clinical Psychologist and scientist who has treated active duty service members with PTSD. Noticing that many of her clients identified with superheroes, she began incorporating superheroes and other fictional characters into Superhero Therapy, a technique which involves implementing pop culture characters into evidence-based therapy, to help people manage depression, anxiety, and PTSD. She currently works at the Center for Stress and Anxiety Management in San Diego and teaches workshops and presents at psychology and pop culture conferences all over the world. I first met her at San Diego Comic-Con a few years back and was rather impressed by her work.
Currently, DC Comics is to publish Heroes In Crisis, a series focused on The Sanctuary, a hospice that treats superheroes and the odd supervillain who have suffered PTSD as a result of their superheroic activities. Written by Tom King, he has drawn on his own experience working for the CIA in the Middle East in telling these stories.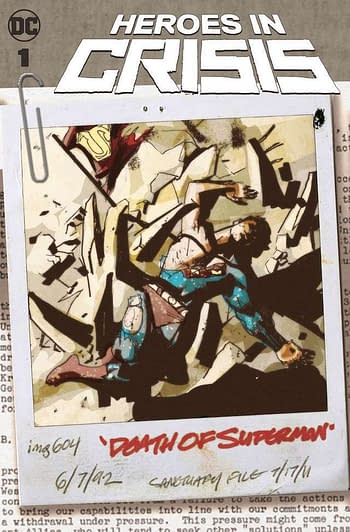 And while the series itself may be nuanced, the marketing has not been. Variant covers are splashed with character's most traumatic moments, covers have run asking who will die – with readers given betting odds as to the most likely candidates.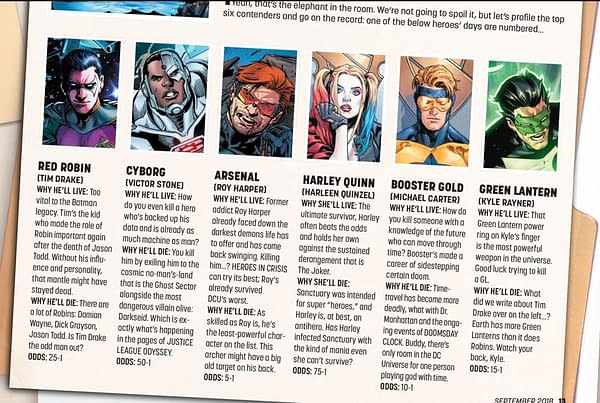 And a screenwriter/psychoanalyst John Foster Elliot was asked to write fictional psychological reports about them.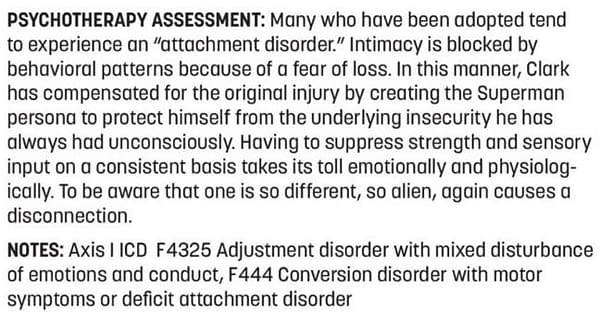 This rubbed Dr Scarlet up the wrong way. She told Bleeding Cool that this grossly misrepresented mental illness and that some of the claims could be harmful to people who actually struggle with this disorder in real life.
She wrote an article for Psychology Today, which she has given Bleeding Cool permission to reproduce. She writes,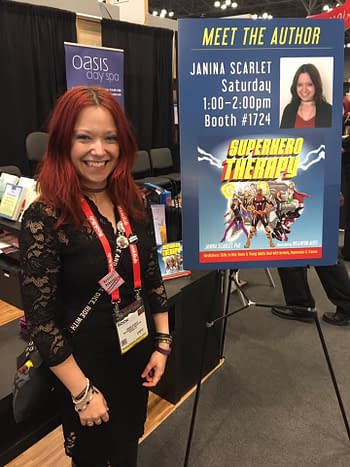 Many of us like talking about pop culture, whether it's comics, TV shows, movies, books, or video games. For those of us in the mental health field (and for many outside of this field), it may be fun to occasionally speculate about a fictional character's psychological perspective.
Perspective taking can actually help foster empathy building and compassion toward others. However, diagnosing characters or people whom therapists have not evaluated in a session can be risky.
Some fictional characters, such as Storm from the X-Men, are known to struggle from certain disorders (e.g., claustrophobia, fear of tight spaces). On the other hand, other characters, such as Batman, who experienced traumatic events (i.e., loss of his parents) do not necessarily meet the criteria for a mental health disorder. Sure, Batman may display and exhibit certain symptoms, which can be found across certain disorders, including PTSD and depression disorders. However, for someone to be diagnosed with a disorder, they have to meet the required criteria of symptoms over a set amount of time AND these symptoms need to be dysfunctional enough to warrant a mental health diagnosis (i.e., these symptoms get in the way of the individual's functions, such as work, school, social, etc.).
DC Comics recently hired a mental health professional to psychoanalyze popular comic-book characters, such as Batman, Superman, Harley Quinn, and others. Personally and professionally, I believe that providing mental health education using fictional characters can be extremely helpful in assisting people in understanding mental health and recovery. HOWEVER, such education practices must be handled delicately and appropriately. In diagnosing characters with mental illness without an explanation, without evidence, and in such a blasé format grossly misrepresents mental health and poses a threat to further pathologize mental health for those who actually struggle with these disorders in real life.
It is my life mission to provide accurate representation and understanding to the public about mental health and this is my plea to writers, creators, and mental health professionals, please do take careful precaution when discussing these topics. We are finally starting to see a reduction of mental health stigma and comics, such as "Heroes in Crisis" will hopefully help further that mission. However, we all need to take care to ensure that mental health is properly represented and isn't caricatured. This is how we can change the world for the better — providing thorough and compassionate understanding. And only with understanding, can we have recovery.