Mike Henderson finishes his art run on Daredevil in July. But who is to replace him on the series and join writer Charles Soule? And will the comic relaunch like everything else seems to be these days?
Well, the answer in today's Marvel August 2018 solicitations is Phil Noto, well known at Marvel for his Black Widow series. And no, Marvel is publishing two issues in August. #606 and #607, both by Noto.
And they have an annual by Erica Schultz and Marcio Takara too…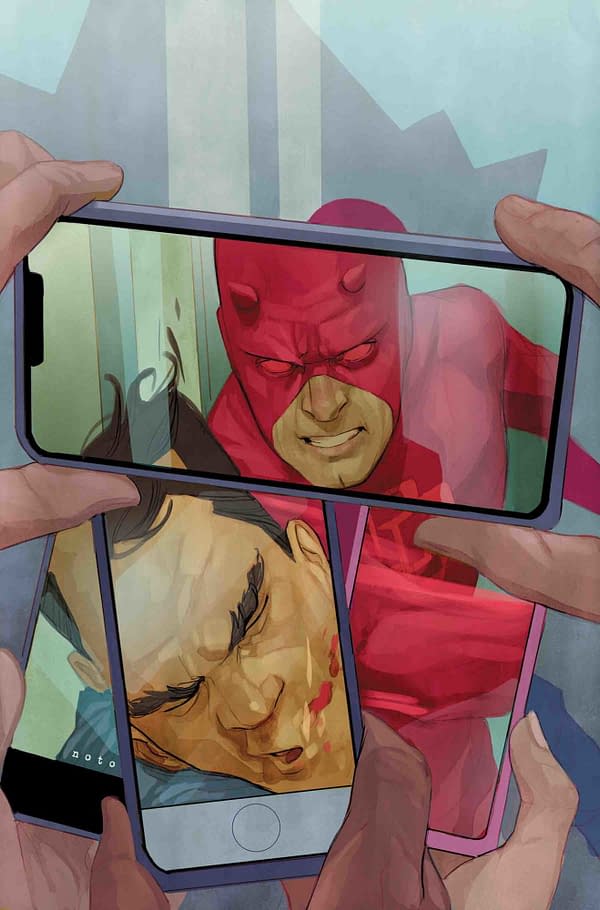 DAREDEVIL #606
CHARLES SOULE (W)
PHIL NOTO (A/C)
• Spinning out of the events of THE HUNT FOR WOLVERINE: WEAPON LOST, a nightmare Matt Murdock never knew he'd have has come true — MIKE MURDOCK IS FLESH AND BLOOD IN THE MARVEL UNIVERSE!
• Now, there's someone running around with Matt Murdock's face, which can only spell trouble for the Mayor Without Fear!
32 PGS./Rated T+ …$3.99
DAREDEVIL #607
CHARLES SOULE (W)
PHIL NOTO (A/C)
• Once Matt Murdock's alter-alter ego and fake twin brother, Mike Murdock has been made flesh and blood thanks to the Inhuman Reader.
• But Mike Murdock has motivations of his own, and all the cunning and skill of his "brother" Matt at his disposal to make them come to fruition.
• And things only get worse as Mike zeroes in on the people Matt cares about most!
32 PGS./Rated T+ …$3.99
DAREDEVIL ANNUAL #1
Erica Schultz (W) • Marcio Takara (A)
Cover by Shane Davis
VARIANT COVER BY TBA
Misty, meet the Devil!
You know Daredevil as the Man Without Fear, the protector of Hell's Kitchen. But once upon a time, Daredevil was just the newest super-suit on the block – and NYPD Detective Mercedes "Misty" Knight was just a cop on the job. So when she places Daredevil at the scene of a crime, sparks will fly – and not the good kind. Award-winning crime writer Erica Schultz teams with fan-favorite artist Marcio Takara to bring you a story of street-level heroism in the early days of the Marvel Universe!
40 PGS./Rated T+ …$4.99
Enjoyed this article? Share it!