Gender Gap At The Big Two by Tim Hanley
Tim Hanley writes for Bleeding Cool
Gender Gap at the Big Two – Week of March 30th, 2011
Women make up more than half of the world's population, but at DC and Marvel? It's considerably less than that. And by "considerably less", I mean "calling it miniscule would be charitable." Here's a look at how the credits break down for comics released on March 30th, 2011.
DC COMICS
It was a bit of a quiet week for DC, with 16 comics crediting 141 creators, 125 men and 16 women. These are the percentages:
Now, I know 11.3% sounds ridiculously low, but it's actually slightly above average for DC. So far this year DC has averaged 11% female creators, and so this week is a bit of a step up. While it's a couple points off of their record high of 13.5% (yes, that is the highest total all year… from either publisher), you'll quickly find that "good" is a very relative term with women in comics statistics. And this was actually a fairly good week. The totals break down like so:
Male
Female
Category
#
%
#
%
Cover
25
86.2
4
13.8
Writer
21
100
0
0
Penciller
18
94.7
1
5.3
Inker
22
100
0
0
Colors
16
88.9
2
11.1
Letterer
15
93.8
1
6.2
Editor
15
71.4
6
28.6
Asst. Editor
11
78.6
3
21.4
And chart up like this: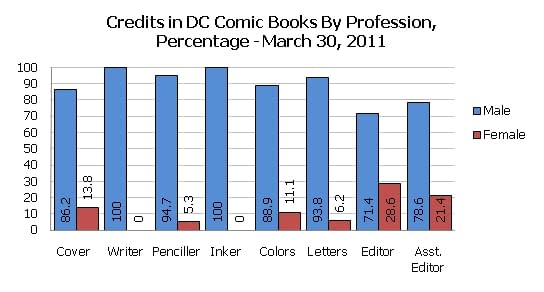 Two categories with no creators is a downer but not terribly uncommon, especially for writers. If Gail Simone doesn't have a book out in a given week, chances are that DC's putting up a zero there. But having zeroes in two categories that get your name on the cover is distressing. Cover artists rarely get into double digits, so 13.8% is a really solid number, while letterers and editors are also well above average this week. Putting up a 5.3% for pencillers is surprisingly better than usual too, even though it's only one credit (Nicola Scott on Teen Titans #93)… there are lots of weeks with no female pencillers at all. Colorists are usually good for a few more percentage points than that, and assistant editors are firmly in the thirties most of the time, but the numbers they posted are far from disastrously outside the norm. Overall, this is a pretty good showing for DC compared to past weeks.
Notes:
The busiest book of the week was Jack of Fables #50 with 13 different names in the credits, 2 of which were women.
In terms of percentage, Detective Comics #875 was the book with the most female creators at 2 of 6, thanks to the fine assistant editing of Janelle Asselin and Katie Kubert. Cartoon Network Action Pack #58, Jack of Fables #50, JLA/The 99 #6, and Teen Titans #93 also had 2 female creators each.
Wonder Woman #608 and Zatanna #11 were the only two books with female headliners, and went a combined 0 for 20 with female creators.
MARVEL COMICS
It was a busier week at Marvel, where 23 new books credited 200 creators, 182 men and 18 women. With such nice round numbers, you can probably do the percentages in your head, but pie charts are cool: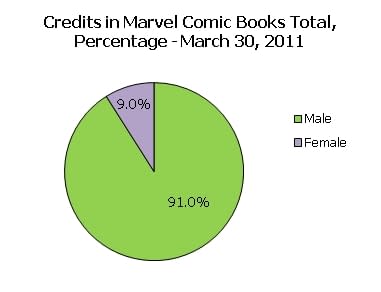 Remember a minute ago when you saw 11.3% and thought "Good lord, that's ridiculously low!" and I told you that it's actually a good number? Well, 9% is even lower than that, but it's pretty decent for Marvel. They've averaged about 8.7% this year, so it's an above average week all around. Here are the numbers by category:
Male
Female
Category
#
%
#
%
Cover
42
91.3
4
8.7
Writer
31
94
2
6
Penciller
36
100
0
0
Inker
37
100
0
0
Colors
36
92.3
3
7.7
Letterer
23
100
0
0
Editor
20
83.3
4
16.7
Asst. Editor
7
50
7
50
And in a nice, colorful chart: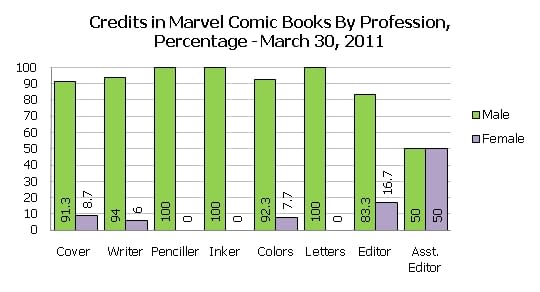 Three empty categories is a bad scene, and definitely uncommon for Marvel. DC tends to be editorial heavy while Marvel spreads the numbers around a bit more, but not so much this week. Ordinarily there are a couple female artists, though they never have female letterers… this is my thirteenth week of compiling stats, and there's only been one female letterer. Anyway, some quite better than usual numbers from the assistant editors seem to be buoying the overall total this week. Editors and colorists are down slightly, while cover artists and writers are well within average. Marvel is very consistent with their female writers, and are usually good for about 6-8%. No pencillers or inkers sucks, but overall the assistant editors saved an uncharacteristically one-sided week at Marvel.
Notes:
Captain America #616 was a special anniversary issue and was by far the busiest book of the week, with 26 creators. One of them was a woman.
Kelly Sue DeConnick's Captain America and the Secret Avengers one-shot had the highest percentage of female creators at 2 of 5, but Amazing Spider-Man #657, Spider-Girl #5 (hey, a book about a female character with female creators!), Wolverine #7, and X-23 #8 (another one!) all tied it with 2 ladies as well.
Please contact me if you'd like to see the full stats spreadsheets. To learn more about this statistics project and its methodology click here, and to see the previous stats click here.