Yesterday I went to Parc Asterix with the family for the announcement of the new Asterix album, Asterix and the Chieftain's Daughter. And ended up having Bleeding Cool being the first media outlet to broadcast the news. Which was nice. It also got the site a tonne of new followers, a number of those asking me what I thought of Parc Asterix, currently celebrating it's thirtieth year.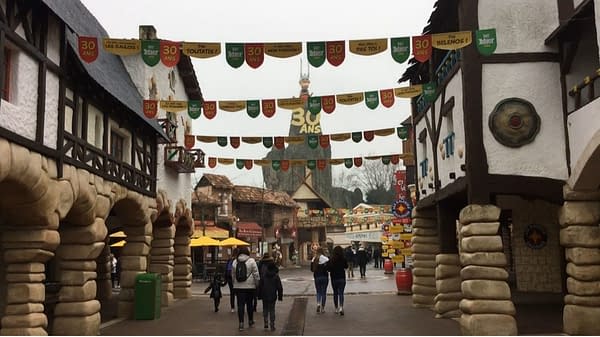 So here we go. I was utterly blown away and surprised by the place, the website really doesn't do it justice. I was expecting something as soul destroyingly cheesey as Disneyland or Disneyworld. Instead I got a theme park that was literary, that was funny, that has been meticulously kitted out to reflect the comic books by showing the various different countries that the characters travel to. And then finding ways to take that world and turn it into a thrilling attraction. It is charming, beautiful, and open to those who have read the comics and those who haven't but appreciate a keen sense of design – and jokes. And its the irreverence that makes this a much more entertaining place to be, even if you like me don't go on the big rides. Yes, it has the characters dressed up large (below) but it's far more self-mocking than anything Disney has put together. And yes, the kids loved it.
I chopped together a few little videos I made but I fear they also don't reflect the whole place either as my time was limited and I was busy dealing with the announcement news. But my girls had a whale of a time, especially on the Goudarix ride…
And as for me? Well, I clearly met my match…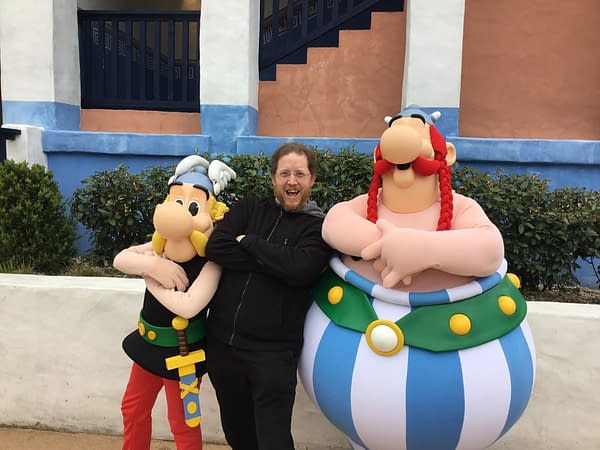 Enjoyed this article? Share it!