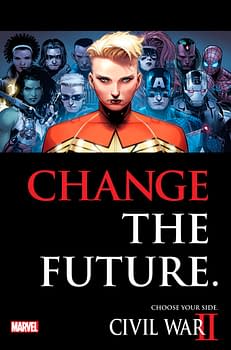 Civil War II revolves around an Inhuman child who can see the future. Allowing the likes of Captain Marvel to not only prepare for intergalactic threats, but also to arrest supervillains before they commit the crime.
Basically like the police in Minority Report.
And the series see superheroes split over the issue. You can read the looking more and more like the truth spoilers right here. Be warned.
The PR today revealed more about who was on who's side – Captain Marvel's or Iron Man's, opposed to such tactics.
A number were surprised that the Steve Rogers Captain America could be on Captain Marvels side. Surely this is governmental overreach, an authoritarian regime, the removal of individual liberties and the like.
@TheCartoonLoon Because Marvel has decided to make its iconic characters more interesting by turning them into pricks. Its a recurring thing

— Matt Invictus (@Atlanta962) March 17, 2016
You got Steve Rogers, Mr. Liberty himself, in favor of pre-crime. And so is Hawkeye, who generally defines himself as being Mr. MORE Liberty

— 鬼丸XLR (@onimaruxlr) March 17, 2016
@TheMarvelReport @BRIANMBENDIS @DaveMarquez I refuse to believe that Steve Rogers would be okay with arresting people before they acted.

— Ponch (@Ponch1620) March 17, 2016
@Marvel it's weird I have to say you got it wrong Steve Rogers would never Change the future. That's not who he is. #marvelinthetoilet

— Ryan Rotten (@ryan_rotten) March 17, 2016
So @Marvel wants me to believe that Spider-man and Steve Rogers are okay with locking people up before they've actually committed a crime?

— Ninja Steve (@sjrizzi) March 17, 2016
https://twitter.com/Matt_LRR/status/710569119599300609
@feemcbee @Dave_K_Flynn @JoebiWan94 Steve Rogers would 100% be against this. As would Carol Danvers. As would most. Fuck this. It's all dumb

— Ross Zombie (@Ross_Zombie) March 17, 2016
@Marvel @marvel_daily Sooo wait. Im supposed to believe steve Rogers is for preemptive law enforcement and Tony isnt? psssh

— Shazam (@robertredway) March 17, 2016
I will 100% be boycotting Civil War II as its turned Steve Rogers into the very thing he has always fought against.

— Joe (@JoebiWan94) March 17, 2016
#CivilWar2 Team pro-"accuse people" includes a defense attorney, Steve Rogers and Mr. "Great Responsibility". #Nope https://t.co/VCIeWmcyrk

— Juan Nunez (@FadedEndless) March 17, 2016
Except.
All someone has to do is say to Captain America "if you met Adolf Hitler as a kid, would you let him on his way, and only go after him after the Holocaust, or do something about it there and then…"
And like that, Cap's on board.
I don't know if such a scene will play out.
But it could…
Enjoyed this article? Share it!