Bleeding Cool Ace Reporter Erin Wilhelm Reports from San Diego Comic-Con…
No one, and I mean no one, makes an entrance like John Barrowman. After being introduced by one of his "Barrowman Bitches" (her words) garbed in a swarovski bedecked Minnie Mouse costume, Barrowman strutted in and onto the stage like no one else could. His red, white, and blue star-spangled cape twirled off of his shoulders to reveal a Captain America costume romper and shield, both also covered in red, white, and blue sparkles. With his shield held high and his name initials dazzling from his back, Barrowman declared "I am Captina Americana." Sparkly silver $1500 dollar high heels and all.
Barrowman then quickly launched into the story of his much publicized, tweeted, and instagrammed hospitalization for appendicitis last year. While in Florida with his sister Carole, working on their Legendary comic, John went to bed with an upset stomach and woke up in such incredible abdominal pain his sister declared "Welcome to womanhood!" Off to the doctor they went (without an appointment, fame has advantages), and then the doctor diagnosed him and gave him a choice of driving to the hospital or taking an ambulance. Carole, ever practical, asked how much the ambulance would be (at this point, I'm starting to think Carole might be just as funny as her brother). In the end, an ambulance was called and a drugged (legal, Barrowman checked) John was inflicted upon six male paramedics (apparently you also get more manpower in an ambulance when you are famous).
All six paramedics survived, despite Barrowman's insistence on anal temperature readings, and delivered Barrowman to a nurse that gave him even more meds. John, now prepped for surgery and left alone did the most obvious thing he could. He live-blogged the experience on his many social media platforms. You may remember this happening last year, and the large amount of content Barrowman managed to produce in a short time, while pretty ill, and drugged (legally) to the gills. His family and friends noticed too and starting calling him and telling him to get off the phone. According to John, his family even called the hospital to ask them to take away his phone.
Opening the question and answer section, Barrowman started off explaining why he can't do pot (it makes him paranoid and obsessively stroke cats like a Bond villain). Then, when asked about his thoughts on Jodie Whitaker's casting as the Thirteenth Doctor, he got incredibly excited and emphatically stated his belief that it is about time for a female doctor, stating "she is gonna take us on some incredible journeys." I could be wrong, but I think he is almost as excited as his fans are for season 11 of Doctor Who.
Most of the questions, however, revolved around Barrowman's position as a LGBTQ+ role model for many of his fans. One audience member thanked Barrowman for portraying a bisexual character on Doctor Who. Barrowman linked this fan comment back to his costume of the day. He said his Captina Americana was his role as protector of the LGBTQ+ community as they face uncertain times. He wants to be the embodiment of the American Dream. He wants everyone to vote. It was a touching moment and a great segway into John Barrowman singing the session to a close.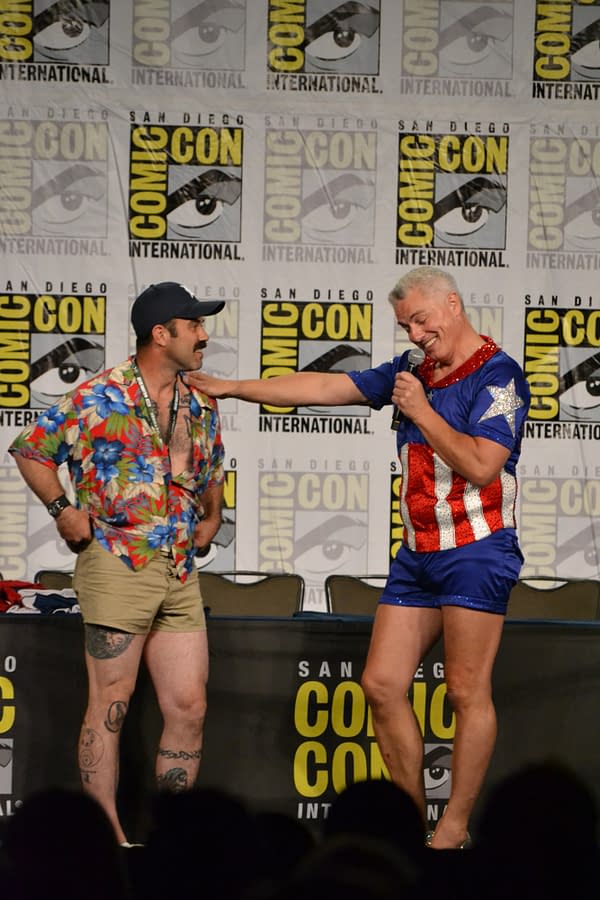 Enjoyed this article? Share it!