Chrissy Teigen's Donald Trump Tweet Now Part of Congressional Record
Chrissy Teigen's 2019 three-word description of Donald Trump was a hot topic during a House of Representatives Oversight Committee hearing.
---
It's not that model & television personality Chrissy Teigen (Chrissy's Court) hasn't said a ton of noteworthy things in her life. In fact, we have huge respect for her openness & honesty on social media (even if we don't always agree), even when the backlash can get pretty ugly. It's just that we were never expecting her calling then-President Donald Trump a "p***y a** b***h via Twitter back in 2019 as being something that would make the Congressional record. But that's how things went today as the Republican-controlled House of Representatives Oversight Committee held a hearing to "investigate" claims that Twitter users were blocked by the streaming service from sharing a New York Post story involving Hunter Biden's (son of President Joseph Biden) back in 2020. At least, that was the plan until Democratic representative Gerry Connolly (Virginia) was afforded the time to question witness Anika Collier Navaroli, the former senior expert on Twitter's U.S. safety-policy team. And it was clear from the jump that Connolly was looking to demonstrate what real abuse of power looks like.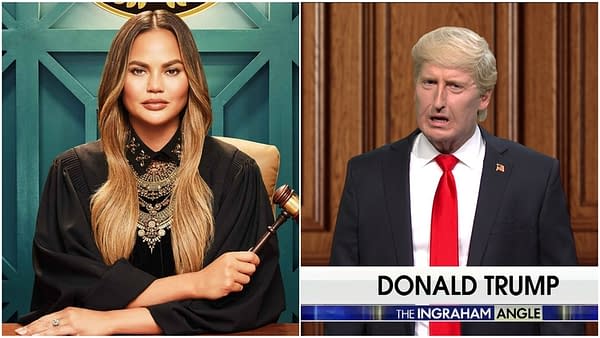 For his line of questioning, Connolly wanted to take Navaroli back to a year earlier, when Trump was in the middle of another series of heated social media exchanges with famous faces who were clearly not members of his fanbase. Referring to September 2019 specifically, Connolly noted that Trump "heckled two celebrities on Twitter, John Legend and his wife, Chrissy Teigen, and referred to them as 'musician John Legend and his filthy-mouthed wife.' An hour later, Teigen escalated the name-calling, referring to Trump as a 'p***y a** b***h.'" And with that, Teigen's three-word assessment of the impeached POTUS was officially on the record – here's a look at the original tweet:
Asked by Connolly to refer to her notes on that specific matter, Navaroli noted that Trump's White House didn't waste much time reaching out to the folks at Twitter to get Teigen's tweet removed. "We had received a request from the White House to make sure that we evaluated this tweet and that they wanted it to come down because it was a derogatory statement directed toward the president," Navaroli added during her testimony. Well, not only did it not take long for the news from the hearing to hit social media, but it also didn't take long for Teigen to realize why her name was trending – here's a look: