Netflix's Lucifer has a pretty bright future ahead of it, with its fifth season set to debut on August 21 and a sixth (and final) season already locked in for 2021 (???). But returning showrunners Joe Henderson and Ildy Modrovich want fans to know that season 6 wasn't going to happen. Well, at least for a day or two. Speaking with EW, Henderson and Modrovich offered some insight into how a second "final season" came about, as well as how it impacts the upcoming season's narrative. Henderson explained how they approached the initial offer of another season: "It was very, very similar to when we went from 10 episodes to 16. [We were] like, 'No, this is perfect. If we do this, it'll ruin everything! Then three days later, you're like, 'Wait, how could we not have done this?'"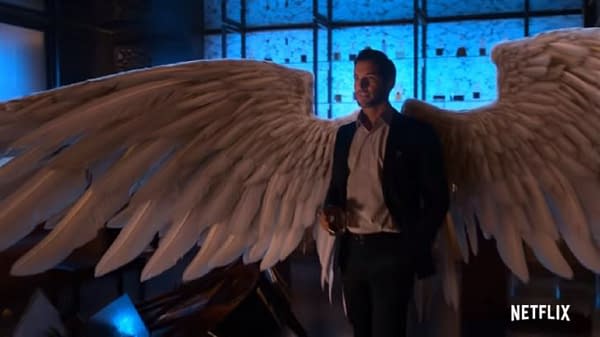 The offer for a sixth-season return came while they were writing what they thought would be not only the fifth season finale but also the series-ender, which actually allowed them to start planting the seeds for one more run: "What we realized is that the last bit of that [series] finale episode was actually a lot of great stories sped up just to give us a satisfying ending for all our characters," says Modrovich. "We literally lobbed off Act 6 and went, 'Let's take what happens in Act 6 in a scene and dive into it, and really explore how are characters end up where they ended up.' So, that ended up being our nugget for season 6."
You would think that having another season still to play with would have required some major reworking of the fifth season, but Modrovich says that's not the case: "That was another request we had [for the studio and streamer]. We said, 'Please don't make us what change what we have. Please don't make us water it down,' because we were so pleased with it and it's so impactful. Again, everybody was just very on-board with it.'"
So now for the million-dollar question: this time next year, will we be celebrating Lucifer (Tom Ellis) and his seventh season return? Sorry, Lucifans. "It's the story we were always going to tell, but just written much larger and to me [now] so much more interestingly that it breaks my heart to think we weren't [originally] going to do it this way. When they were like, 'Can you do one more?' we said, 'Yes, but this our last story.'" Modrovich agrees that the sixth season will be the one that lets them tell the story they've been wanting to tell: "In addition to what we're opening up from that ending, we thought of one giant story that just needed to be told, so that's what really stuck the landing for us." But Henderson doesn't want fans looking too far into the future, not when there's still a fifth season on the way in a little more than a month: "It's our best season yet. It's funny and dark and twisted and sad and joyous."
Enjoyed this article? Share it!