Earlier today I popped to Dean Street in Soho to enter the recreated Aziraphale's bookshop escape room with a couple of friends from local comic shop Orbital Comics ahead of the release of Good Omens on Amazon Prime tomorrow. I'll have a video report for then, as well as a quick chat with artist Lorna May Wadsworth behind Good Icons, an exhibition of her work in and around the set of the television show, and of Neil Gaiman himself, which is on the second floor of the bookshop.
I have loved Good Omens since picking up up afresh. A reader of both Sir Terry Pratchett and Gaiman at the time – and more importantly Richmal Crompton's Just William books I was ground zero for this book. Jointly written by the two, they've talked about the joy of writing and rewriting each other so that neither knows just who wrote what, looking back it seems a turning point for both authors. Before Good Omens, Pratchett's ouevre was often a little too silly. It was after writing Good Omens that he would write Small Gods and Night Watch, two of his best, amongst books that had a bit more of a point to them. They were less likely to go for the cheap pun, but to find humour in the darker truth of humanity. While Neil Gaiman found a greater ligtness of touch, with Sandman turning from the horrors of serial killers to dreams of thousands of cats, dead boy detectives and a Lucifer who just hands over hell. It always seemed to me that both authors benefitted from their collaboartion even more than we, as readers did. I do hope the TV lives up to it.
Anyway, where were we? Oh yes, Greek Street, two floors up.
Lorna also talked about going to the set of Good Omens, when they were filming at the Globe Theatre, which recreates Shakespeare's Globe on the South Bank. I may have looked a little quizzical – I didn't remember that from the book. She smiled and told me it was a new scene written for the show. And that the script for it was right behind me amongst all her sketches.
So here is a sneak peek at that Globe Theatre scene, in script form, ahead of tomorrow's debut. Spoilers, yes, but only tiny ones. And look forward to the video interview and walkthrough tomorrow…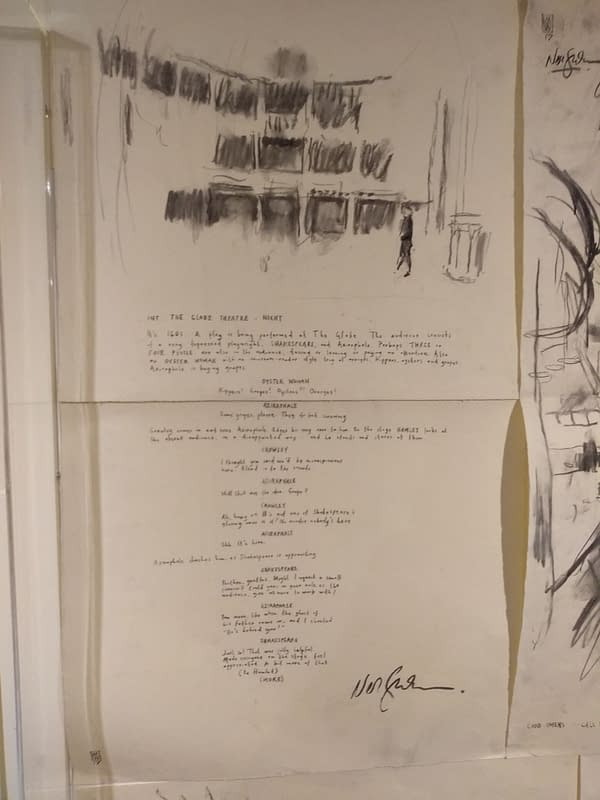 Written and signed by Neil Gaman. Let's whack up the contrast and bring on the Oyster Woman and Shakespeare.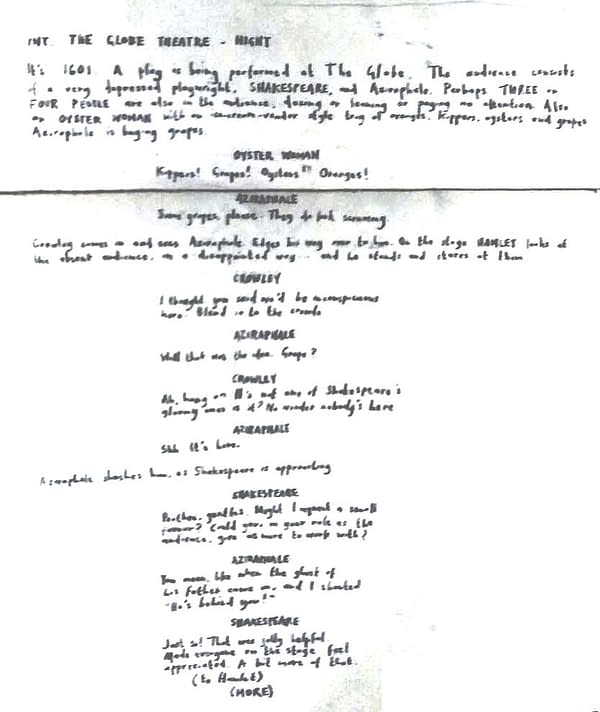 And here is the Globe Theatre in Lorna's sketch form…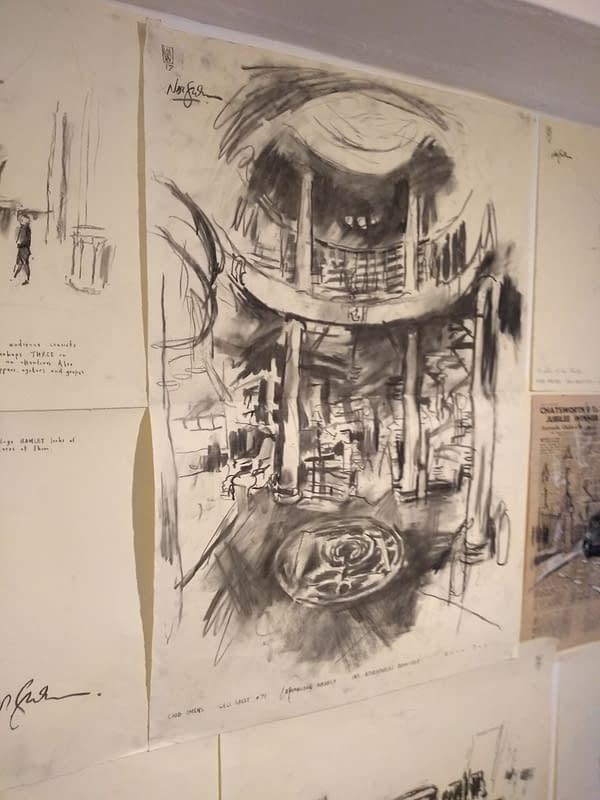 Going live in hours…
Enjoyed this article? Share it!