Ted Lasso Season 3 Official Teaser: This March, Seeing Is Believing
With the third season set to hit Apple TV+ on March 15th, here's a look at the official teaser and Season 3 overview for Ted Lasso.
---
Ted (Jason Sudeikis) has issues at home & at work; Nate (Nick Mohammed) has a ton of chips on his shoulder he's looking to dump on Ted; Rebecca (Hannah Waddingham) is on the warpath to take down West Ham United head Rupert (Anthony Head), and Roy's (Brett Goldstein) joining Beard (Brendan Hunt) as an assistant coach. Wow. And that's just a general overview of what to expect when Apple TV+'s award-winning Ted Lasso returns on March 15th for its third (and final???) season. To mark the occasion, we have the first full official teaser to share with you as well as a look at the official overview offering more details on what we can expect.
Here's a look at the third season of Apple TV+'s Ted Lasso, hitting streaming screens on March 15th:
In this third season of Apple TV+'s Ted Lasso, the newly-promoted AFC Richmond faces ridicule as media predictions widely peg them as last in the Premier League, and Nate (Mohammed), now hailed as the "wonder kid," has gone to work for Rupert (Anthony Head) at West Ham United. In the wake of Nate's contentious departure from Richmond, Roy Kent (Brett Goldstein) steps up as assistant coach alongside Beard (Brendan Hunt). Meanwhile, while Ted (Sudeikis) deals with pressures at work, he continues to wrestle with his own personal issues back home, Rebecca (Hannah Waddingham) is focused on defeating Rupert, and Keeley (Juno Temple) navigates being the boss of her own PR agency. Things seem to be falling apart both on and off the pitch, but Team Lasso is set to give it their best shot anyway.
Developed for television by Sudeikis, Lawrence, Hunt, and Joe Kelly, the series sees Sudeikis serving as an executive producer alongside Lawrence via his Doozer Productions, in association with Warner Bros. Television and Universal Television (a division of Universal Studio Group). Doozer's Jeff Ingold also serves as an executive producer, with Liza Katzer serving as co-executive producer.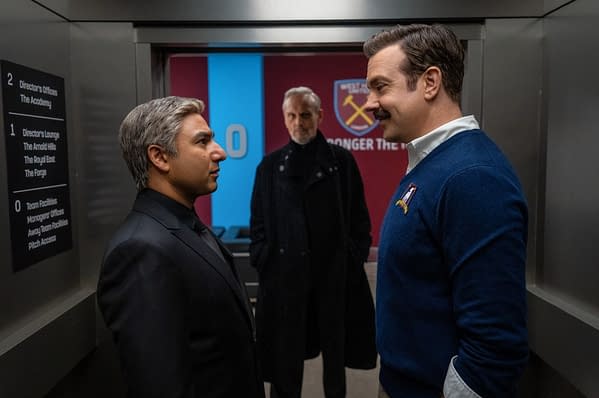 So What's the Deal with Apple TV+'s Ted Lasso After Season 3?
And at the end of January, Warner Bros. TV head Channing Dungey offered an update that things hadn't changed on that front but that no decision had been made one way or another. But there's a slight chance that things may have shifted ever-so-slightly on that front, based on an interview/profile on Dungey that was posted by Deadline Hollywood.
"What had initially been the vision that Jason and Bill [Lawrence] had when they went into season one was very much a three-act structure. Then I think it becomes one of those things that as you get going with it, and if you fall in love with that world and those characters, it's hard to say goodbye," Dungey shared. That said, the WBTV Group head believes the third season will leave fans "really happy and excited" – even if there's some wiggle room left for more. "The end of the season, it ends beautifully. If that is all we do in the Ted Lasso universe, I think the fans will be really happy and excited. But there's also a way to crack open a door. If we're fortunate enough to do more, we can keep on going," Dungey added.
As for spinoffs, it sounds like that's a door that's also open. But Dungey makes it clear that spinoffs have to make sense and present a different take on the main show's universe. "When you think of 'Ted Lasso,' you obviously think of that unforgettable character. When you think of 'Night Court,' you think of John Laroquette, and when you think of 'The Big Bang Theory,' you think of Sheldon. 'Young Sheldon' is a perfect example of being able to create a spin-off of a universe that actually does work because you have a character at the center and a different way of looking at that universe than what was there before. But I do think that when you're doing a spin-off for a spin-off's sake, that's usually where you fall into some problems," Dungey explained.