The Sinner: USA Network Assigns Season 4 Case; Bill Pullman Returning
In a move that's half-surprising and half-expected, USA Network has given the green light for the fourth season of drama anthology series The Sinner. Before you ask, Bill Pullman will be returning as the haunted Detective Harry Ambrose for another round of layered mystery. Returning with him is showrunner Derek Simonds, as well as executive producers Jessica Biel, Michelle Purple, and Charlie Gogolak. For Chris McCumber, president of USA Network and SYFY, the decision was an easy one: "The Sinner has struck a chord with audiences with its signature 'whydunit''style. In season four, we're excited to dig even deeper into the psyche of Bill Pullman's beloved Detective Ambrose character, while introducing our audience to a compelling, completely new mystery."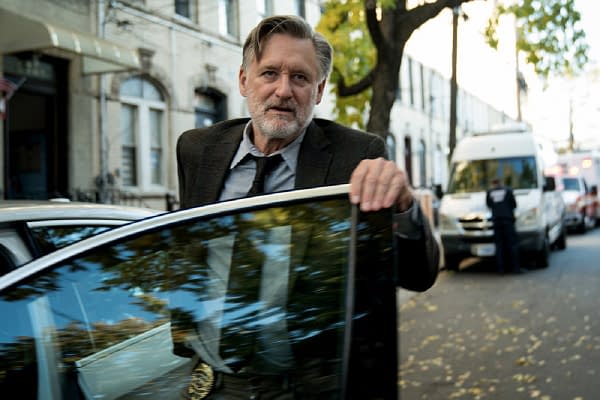 The reason why the decision wasn't a surprise was exactly what McCumber mentioned: the series (which co-starred Matt Bomer in season 3) has proven to be an eyeball-grabber for the network, with the series another example of one that benefits from delayed viewing. The fact that it was USA Network announcing the decision was a surprise, though. Over the past few months, the network has canceled a number of scripted series (Dare Me, Treadstone, The Purge) and shifted its focus more on unscripted (and dramatically less expensive) programming (like the recently-announced Instant Family and The Rev). While USA may have announced that the series was returning, I wouldn't be surprised if they announce down the road that the series was being shifted to NBCUniversal's streaming service, Peacock.
The current line-up of USA Network's scripted programming includes the Universal Content Productions series, the limited series Dirty John: The Betty Broderick Story (currently airing), recently renewed Queen of the South, Rosario Dawson (DMZ)-starring mystery-drama Briarpatch (which is still on the bubble when it comes to a second season), and upcoming limited series Evel that looks at the life of daredevil motorcycle stunt rider Evel Knievel starring Milo Ventimiglia (This Is Us).