'Whiskey Cavalier' Season 2: ABC Might Not Be Announcing "Last Call" After All
Less than a day after executive producer Bill Lawrence (Scrubs) promised fans of Lauren Cohan (The Walking Dead) and Scott Foley's (Scandal) Whiskey Cavalier answers to the season finale even if the series wasn't picked up for a second season, fans of the action-spy dramedy have new reason to hope.
Though reps for ABC and Warner Bros. TV are refusing to comment, TV Line is reporting from sources that negotiations are underway to bring the series back to the network – with a source placing "the odds of the show returning at 50/50." Yesterday, Lawrence reassured fans that no matter what happened to the series they would get some resolutions to the season's storylines:
ABC Entertainment president Karey Burke explained why the decision was made at the time – and why the decision took so long to make:
"It was a tough decision, it was the last decision we made We thought we gave it very strong launch in spring. But we lost audience. We felt the biggest opportunity was to try something new. We looked for other time slots but did not see a real opportunity to grow."
Deadline Hollywood reported at the time that the final decision for the one remaining timeslot came down to Whiskey Cavalier and ABC Studios-produced Emergence (turned down by NBC) – Emergence won the day with network executives reportedly looking to "try something new" in that time slot.
Series executive producer Lawrence confirmed the network's decision, with both Cohan and Foley expressing their appreciation to the fans via social media:
The series had a bumpy start earlier this year during their winter Television Critics Association (TCA) press event, but the series received a boost when ABC debuted the series following the Academy Awards in February. Even with that start, the ratings began their descent back down to earth. To give some perspective: as of May 9, Whiskey Cavalier's 0.57 average made it the 3rd lowest-rated hour drama (behind The Fix and For the People). While the series' LIVE+ ratings were impressive, the fact that the series was starting from such a low ratings point made the end ratings results less impressive.
https://youtu.be/FhYQU5eWdCo
WHISKEY CAVALIER — Whiskey Cavalier" is a high-octane, hour-long action dramedy that follows the adventures of tough but tender FBI super-agent Will Chase (codename: "Whiskey Cavalier"), played by Scott Foley. Following an emotional breakup, Chase is assigned to work with badass CIA operative Francesca "Frankie" Trowbridge (codename: "Fiery Tribune"), played by Lauren Cohan. Together, they lead an inter-agency team of flawed, funny and heroic spies who periodically save the world (and each other) while navigating the rocky roads of friendship, romance and office politics.
Whiskey Cavalier stars Foley as Will Chase, Cohan as Francesca "Frankie" Trowbridge, Ana Ortiz as Susan Sampson, Tyler James Williams as Edgar Standish, and Vir Das as Jai Datta.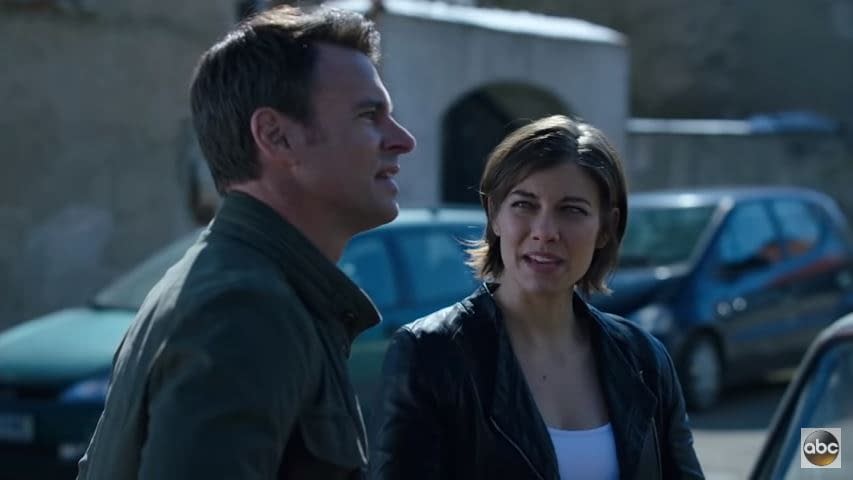 ABC's Whiskey Cavalier stems from from writer/executive producer Dave Hemingson and executive producer Lawrence with Warner Bros. Television. Hemingson is writer and executive producer; Lawrence and Jeff Ingold (Doozer Productions) are executive producers; Peter Atencio is director and executive producer (pilot), and Foley is producer of the series from Warner Bros. Television.