9 Marvel Heroes Who Won't Die Before War of the Realms #5 According to Art Adams
If there's one thing that can be said about super-mega-crossover events, it's that there's no one thing you could say about them. That's because there are several things you can always count on when it comes to these marketing-driven cash-grab monstrosities. First, that whatever happens, it will definitely change the characters and the Marvel Universe forever. Second, that it will inevitably end up delayed and maybe have an extra issue or two tacked on the end. And finally, that someone is gonna die.
The shocking superhero death is a staple of the super-mega-crossover event, a device which tells readers: this is something serious so you had better purchase every tie-in. It also sets up the inevitable return of the character a few years later with at least one special mini-series and a one-shot or two retailing for $4.99. So who is going to take one for the team in War of the Realms, Marvel's biggest-ever super-mega-crossover event?
Well, you know what they say: you can judge a book by it's cover. If you couldn't, why would Marvel make so many damn variants?! That's why, though we can't tell you who will die in War of the Realms, we can pretty confidently tell you who won't die before issue #5.
Check out the cover by Art Adams and Matthew Wilson, showing Blade, Iron Man, She-Hulk, Daredevil, Black Panther, Deadpool, Ghost Rider, Captain Marvel, and Weapon H, nine characters who definitely won't be dead before War of the Realms #5 (though all bets are off for after that).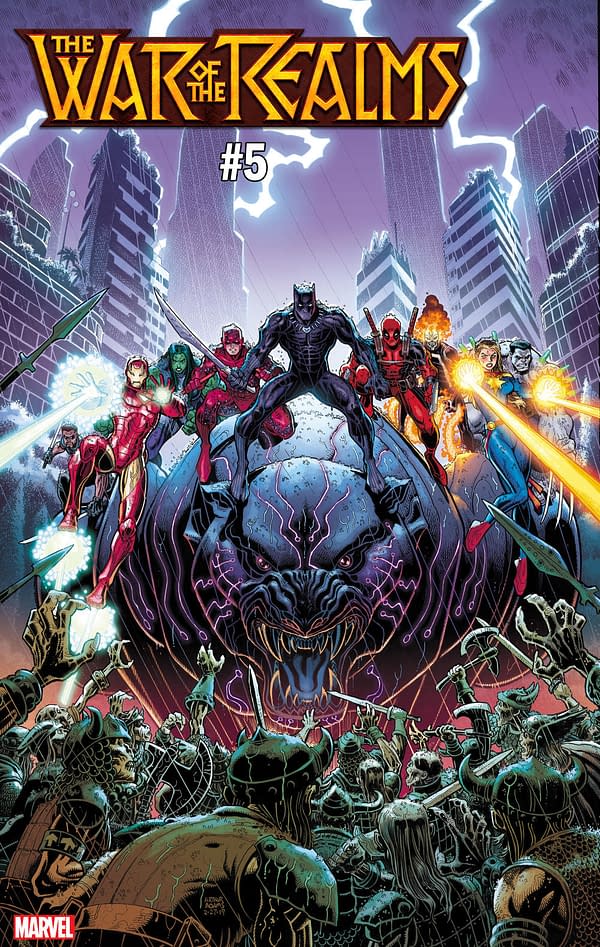 On Marvel.com, here's what editor Wil "Will" Moss had to say about the issue:
The final act kicks off with WAR OF THE REALMS #5, which sees our heroes making an attempt to retake the Earth from Malekith and his forces thanks to the gains they've made in #3 and #4, plus with some assistance from new and surprising allies. But as you can see from this insanely awesome cover by Arthur Adams and Matthew Wilson showing the Black Panther leading a squad against the undead army of the Enchantress, the heroes definitely still have their work cut out for them! Issue #5 sets the stage for the final battle in #6, which will change the world of Thor and of the entire Marvel Universe forever!
Forever, people.