Which Comic Creators Get Thanked in Spider-Man: Far From Home Credits? (No Spoilers)
As I mentioned in the non-spoilery mid-credit/post-credit piece, I just got out of seeing a morning showing of Spider-Man: Far From Home partially set down the road in London. Beefeaters with machine guns, that's a new one on me.
But given so much of this movie is based on the comic books – which comic book creators get thanked in the credits? I have the full list…
Naturally, Stan Lee and Steve Ditko are up top. Then we get in alphabetical order:
Ross Andru
Brian Michael Bendis
Robert Bernstein
Kurt Busiek
Gerry Conway
David Finch
Don Heck
Jack Kirby
Larry Lieber
Patrick Oliffe
Denny O'Neil
Sara Pichelli
Keith Pollard
John Romita Jr
John Romita Sr
Marv Wolfman
No Dave Thorpe for the 616 reference, no Erik Larsen for the changeable eyes, no Dan Slott and Humberto Ramos for the mid-credit scene, sadly… maybe in Spider-Man 3: Homestuck?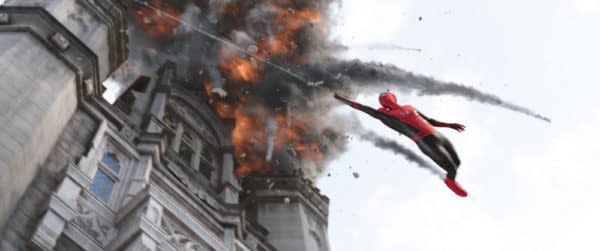 Spider-Man: Far From Home, co-produced by Columbia Pictures and Marvel Studios, and distributed by Sony Pictures Releasing is the twenty-third film in the Marvel Cinematic Universe. The film is directed by Jon Watts, written by Chris McKenna and Erik Sommers, and stars Tom Holland as Peter Parker / Spider-Man, alongside Samuel L. Jackson, Zendaya, Cobie Smulders, Jon Favreau, J. B. Smoove, Jacob Batalon, Martin Starr, Marisa Tomei, and Jake Gyllenhaal. In Spider-Man: Far From Home, Parker is recruited by Nick Fury and Mysterio to face elemental threats from another dimension while he is on a school trip to Europe. Spider-Man: Far From Home is in cinemas from today.
Thanks to Tom for a typo check on Ross Andru's name.