Dazzler Finally Lands on Marvel Unlimited This Month
We know this will be hard to believe, but up until now, Marvel has denied readers the pleasure of reading Dazzler's first solo series because, aside from the first issue, which was released as part of some promotion where Marvel gave away a buttload of digital #1 issues, that series has not been available, either to purchase or to binge on Marvel Unlimited. That changes this month, however, as Marvel has made Dazzler #2-13 available finally on Marvel Unlimited.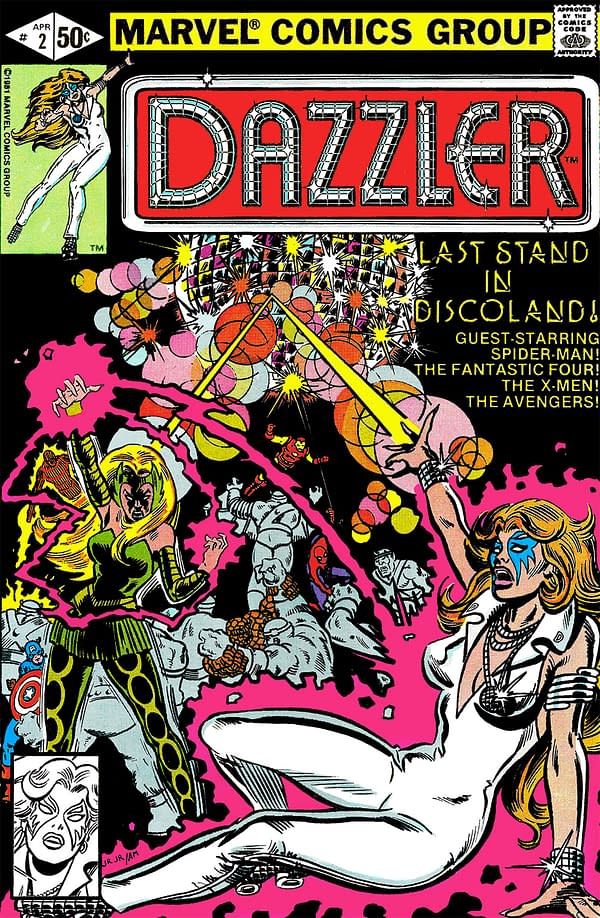 Originally created by Tom DeFalco and John Romita Jr. in an ultimately failed attempt at multimedia cross-promotion with Casablanca Records, Dazzler soon became a beloved member of the X-Men. Dazzler's solo series was one of the first Marvel comics geared specifically toward the direct market. But Danny Fingeroth and Frank Springer are the creative team for the bulk of these issues.
In addition, Marvel has added issue #69-74 of Wolverine's first solo ongoing, part of Larry Hama's long run as writer with Dwayne Turner on art for these issues. Punisher/Captain America: Blood & Glory, a three-issue comic by Klaus Jansen and Daniel G. Chichester, also joins Marvel Unlimited this month.
And, of course, there's the usual chunk of time-delayed new comics hitting the service, and you can see a list below. But those are the ones that get all the attention from Marvel, so we like to spotlight the classic comics joining Marvel Unlimited each month instead.
Week of 3/2

ABSOLUTE CARNAGE #2

ABSOLUTE CARNAGE: LETHAL PROTECTORS #1

ABSOLUTE CARNAGE: MILES MORALES #1

AMAZING SPIDER-MAN #28

AVENGERS #23

BLACK PANTHER #15

CAPTAIN AMERICA #13

DOCTOR STRANGE #18

FANTASTIC FOUR: 4 YANCY STREET #1

FRIENDLY NEIGHBORHOOD SPIDER-MAN #11

HOUSE OF X #3

IMMORTAL HULK DIRECTOR'S CUT #2

MARVEL ACTION SPIDER-MAN #8

MARVEL COMICS #1000 MAJOR DEBUT!

MARVEL MONSTERS #1

MARVEL TEAM-UP #5

MARVEL'S SPIDER-MAN: VELOCITY #1

MOON GIRL AND DEVIL DINOSAUR #46

POWER PACK: GROW UP! #1

RUNAWAYS #24

SHE-HULK ANNUAL #1

SPIDER-MAN: LIFE STORY #6 SERIES COMPLETE!

STAR WARS: AGE OF RESISTANCE – GENERAL HUX #1

STAR WARS: AGE OF RESISTANCE – POE DAMERON #1

STAR WARS: GALAXY'S EDGE #5 SERIES COMPLETE!

THANOS #5

THOR #16 SERIES COMPLETE!

VENOM #17 ABSOLUTE CARNAGE TIE-IN!

Week of 3/9

ABSOLUTE CARNAGE: SCREAM #2

ABSOLUTE CARNAGE: SYMBIOTE SPIDER-MAN #1

AGENTS OF ATLAS #2

ALPHA FLIGHT: TRUE NORTH #1

AMAZING SPIDER-MAN: GOING BIG #1

CHAMPIONS #9

FANTASTIC FOUR #14

FUTURE FOUNDATION #2

GHOST-SPIDER ANNUAL #1

HOUSE OF X #4

IMMORTAL HULK #23

MARVEL ACTION AVENGERS #8

OLD MAN QUILL #9

SAVAGE AVENGERS #5

SPIDER-WOMAN #1 FACSIMILE EDITION

STAR WARS #71

STAR WARS: JEDI FALLEN ORDER – DARK TEMPLE #1

THE PUNISHER #15

THE WEB OF BLACK WIDOW #1 MAJOR DEBUT!

Week of 3/16

ABSOLUTE CARNAGE VS. DEADPOOL #2

ABSOLUTE CARNAGE: SYMBIOTE OF VENGEANCE #1

AMAZING SPIDER-MAN #29

BLACK CAT #4

CAPTAIN MARVEL #10

DAREDEVIL #11

DOCTOR STRANGE #19

GUARDIANS OF THE GALAXY: THE PRODIGAL SUN #1

GWENPOOL STRIKES BACK #2

IMMORTAL HULK DIRECTOR'S CUT #3

INVADERS #9

INVISIBLE WOMAN #3

IRONHEART #10

KING THOR #1 MAJOR DEBUT!

LOKI #3

MARVEL ACTION CAPTAIN MARVEL #2

MILES MORALES: SPIDER-MAN #10

MOON KNIGHT ANNUAL #1

POWERS OF X #4

PUNISHER KILL KREW #2

SILVER SURFER: BLACK #4

STAR WARS: AGE OF RESISTANCE – SUPREME LEADER SNOKE #1

SWORD MASTER #3

THE UNBEATABLE SQUIRREL GIRL #48

VENOM #18 ABSOLUTE CARNAGE TIE-IN!

Week of 3/23

ABSOLUTE CARNAGE #3

ABSOLUTE CARNAGE: LETHAL PROTECTORS #2

AERO #3

BLACK PANTHER AND THE AGENTS OF WAKANDA #1 MAJOR DEBUT!

DAREDEVIL #181 FACSIMILE EDITION

DEAD MAN LOGAN #11

DEATH'S HEAD #3

FRIENDLY NEIGHBORHOOD SPIDER-MAN #12

GUARDIANS OF THE GALAXY #9

HISTORY OF THE MARVEL UNIVERSE #3

HOUSE OF X #5

MAGNIFICENT MS. MARVEL #7

MARVEL ACTION AVENGERS #9

MARVEL ACTION SPIDER-MAN #9

MARVEL ACTION SPIDER-MAN #10

SPIDER-MAN #1 MAJOR DEBUT!

STAR WARS: AGE OF RESISTANCE – REY #1

STAR WARS: AGE OF RESISTANCE – ROSE TICO #1

STAR WARS: DOCTOR APHRA #36

TONY STARK: IRON MAN #16

VALKYRIE: JANE FOSTER #3

Week of 3/30

ABSOLUTE CARNAGE: MILES MORALES #2

AMAZING SPIDER-MAN #30 ABSOLUTE CARNAGE TIE-IN!

AVENGERS #24

AVENGERS: LOKI UNLEASHED! #1

BLACK PANTHER #16

CAPTAIN AMERICA #14

FEARLESS #3

GHOST-SPIDER #2

MARVEL COMICS PRESENTS #9 SERIES COMPLETE!

MARVEL TEAM-UP #6 SERIES COMPLETE!

MARVEL'S SPIDER-MAN: VELOCITY #2

MOON GIRL AND DEVIL DINOSAUR #47 SERIES COMPLETE!

NEW MUTANTS: WAR CHILDREN #1

POWERS OF X #5

PUNISHER KILL KREW #3

STAR WARS: AGE OF RESISTANCE – KYLO REN #1

STAR WARS: JEDI FALLEN ORDER – DARK TEMPLE #2

STAR WARS: TARGET VADER #3

STRIKEFORCE #1 MAJOR DEBUT!

SUPERIOR SPIDER-MAN #11

THANOS #6

WOLVERINE ANNUAL #1