A new comics startup is looking to disrupt the industry and change the way you read comic, and they're borrowing from the ideas of a major player in the streaming video industry for their concept. Eefio is a company that plans to offer "Rental comics delivered to your front door," according to their website and advertisements that have begun targeting comics readers on Facebook.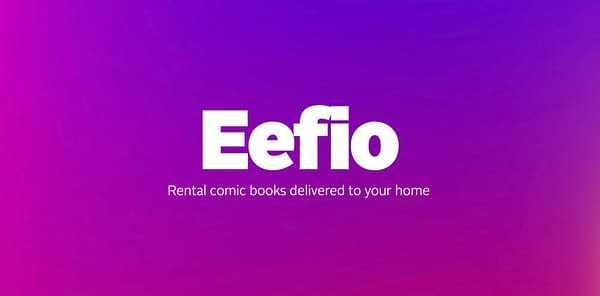 The company isn't taking subscriptions yet, and hasn't even figured out its pricing scheme, though there is a signup on the site to join an email list where the company says you can help them figure it out. As to the concept, it's a simple one:
Do you remember how Netflix shipped DVDs to people's homes? Or do you know about how Rent the Runway works these days? It's like that. But with comic books.
Even if the concept is twenty years old, that doesn't necessarily mean it's outdated. There are several digital comics binge-reading services that aim to be the modern Netflix of comics, offering unlimited access to a set of digital comics for a monthly fee. Marvel Unlimited, DC Universe, and ComiXology Unlimited are some of the major players in that realm. But even though it may be cheap and easy to read comics on a computer, phone, or tablet, there's something to be said about holding that paper in your hands, and there are some readers who just can't get into the digital version. Of course, there is one major competitor with locations around the world that can offer physical comics for rent for free: the library. But they usually don't deliver.
On their website, Eefio describes the reason they're going to do what they plan to do:
We love reading comics. We love sharing comics. We love discussing comics. We love the experience of comics, but we don't love the possession of comics.

Eefio is built upon the idea that there are other people who also love reading comics, but who don't want to or can't own anymore stuff.

People who want to get the experience of reading comics, exploring new titles, catching up on old titles from the archives, but who aren't collectors who care about the mint condition of the books they read. People who want more bang for their buck.
What do you think? Is it an idea you might be interested in? If so, you can sign up for the waiting list on Eefio's website.
Enjoyed this article? Share it!