Justice League Dark #19 hits stores tomorrow, and it will be writer James Tynion IV's final issue of the series before Ram V takes over as writer… but it didn't have to be that way. In Tynion's newsletter today, the writer revealed that he originally intended to stay on the series until DC changed plans from making Batman monthly to continuing a bi-weekly schedule.
Tomorrow, my last issue of Justice League Dark arrives on the stands. That fact breaks my heart, but I've been dancing around the truth for a while now, and the truth is that #19 is my last issue.

Back when I accepted the gig of Batman, as many of you remember from the press-release, it was supposed to be switching to a monthly title. My plan then was to keep writing Justice League Dark until the end of the story I set out to tell. I thought I would be able to land two planes at once. But once the decision was made to keep Batman biweekly, and suddenly I needed to get a whole story machine up and running in a bigger, bolder way… I knew I needed to step away from this book, or risk it becoming less than it should be.
Tynion goes on to praise Ram V and artist Alvaro Martinez Bueno, saying he would have refused to take the gig in the first place without him as artist and teasing an as-yet-unannounced future collaboration.
If you can't tell… I'm going to miss working with Alvaro. It feels like I would never have stepped off this book without knowing what I'd be working on with him next! HMMMMMMMMMMMMMMMMM!
Finally, he lets us know that tomorrow's Justice League Dark #19 features pages printed out of order, so if you want to read it the right way, you'll want to follow these instructions:
Okay, so this last point is a little disappointing, but important. It also comes with some spoilers for the issue, but we pretty clearly set the stage for those spoilers in the LAST issue, so I hope you won't be TOO upset with me.

If you read JUSTICE LEAGUE DARK in print, some of the pages are in the wrong order this week. I've been told it's been corrected in the digital version, but basically there is a beautiful montage page in the issue that looks like THIS…

…and it should come BEFORE the two pages in the silvery Collective Unconscious version of the Moon, not after. I've been told that you can still make sense of things in the flow the other way, but I'd prefer you to read it in the correct order.
Justice League Dark #19 hits stores tomorrow.
JUSTICE LEAGUE DARK #19
NOV190466
(W) James TynionIV (A) Alvaro Eduardo Martinez Bueno, Raul Fernandez (CA) Yanick Paquette
It's Wonder Woman versus Circe in an all-out brawl for the fate of the magical world! Does the Justice League Dark stand a chance against their evil counterparts? Maybe, but one of our heroes will have to make a deal with their greatest enemy to secure a power that could turn the tide of this Witching War! Will it be enough? Find out in the thrilling conclusion to this tale!
In Shops: Jan 29, 2020
SRP: $3.99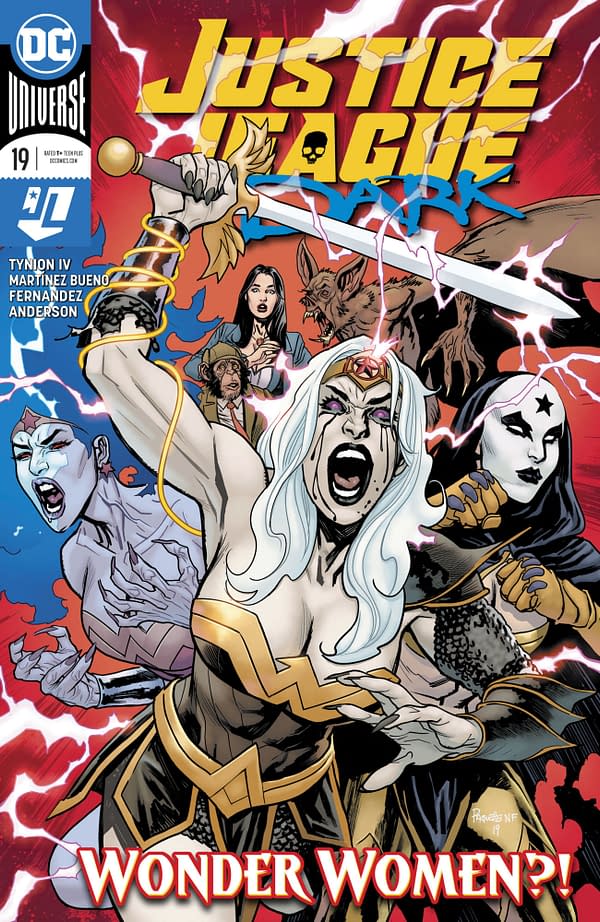 Enjoyed this article? Share it!