And now it's time for IDW's solicitations for March 2013…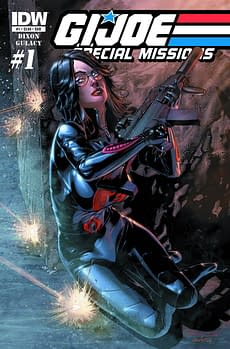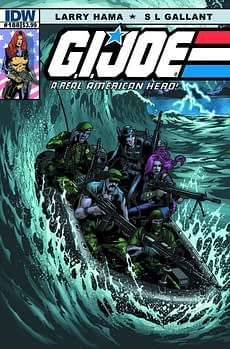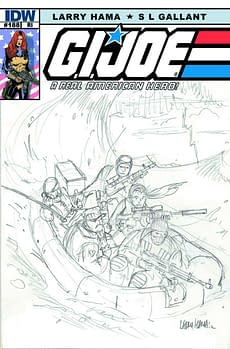 GI JOE #2
IDEA & DESIGN WORKS LLC
(W) Fred Van Lente (A) Steve Kurth (CA) Steve Kurth, Juan Doe
HOMEFRONT! The G.I. Joe team battles Cobra to the death on American soil! COVERL GIRL, DOC, and the newest member, HASHTAG (yes, HASHTAG) have been separated from the rest and have to fight their way through hundreds of kill-crazy Cobra sympathizers-with a teammate's life hanging in the balance! Plus: The BARONESS has DUKE in her clutches. So why isn't DESTRO happy about that?
GI JOE SPECIAL MISSIONS #1
IDEA & DESIGN WORKS LLC
(W) Chuck Dixon (A) Paul Gulacy (CA) Sean Chen, Paul Gulacy
A NEW BEGINNING! The legendary team of Chuck Dixon and Paul Gulacy lead the G.I. Joe team undercover and into action! The BARONESS tries to get back into COBRA's good graces-and it's up to SCARLETT to assemble a team to take the villainess down!
GI JOE A REAL AMERICAN HERO #188
IDEA & DESIGN WORKS LLC
(W) Larry Hama (A/CA) SL Galant
The threat in Benzheen has been averted! G.I. Joe has made it out of their most dangerous mission yet. But it's out of the fire and into the frying pan for America's elite unit, as Jinx returns from her secret mission with some shocking information. G.I. Joe has to act fast or face the consequences in A Real American Hero #188!
GI JOE A REAL AMERICAN HERO TP VOL 06
IDEA & DESIGN WORKS LLC
(W) Larry Hama (A) S. L. Gallant & Various (CA) Ron Frenz, Sal Buscema
G.I. JOE's mission at a Comic Convention comes to a close, only to reveal a new, intriguing enemy that may share a history with the Arashikage clan. Meanwhile, Darklon remains a prisoner of the Joes… until an attempt to transfer him from the Pit goes horribly awry! Plus, Zartan and COBRA COMMANDER formulate a plan that would move COBRA HQ to another coast.
GI JOE TARGET SNAKE EYES TP
IDEA & DESIGN WORKS LLC
(W) Chuck Dixon (A) Will Rosado, Alex Cal (CA) Alex Cal
SNAKE EYES should have stayed dead! G.I. JOE has mobilized to hunt down their most dangerous quarry ever: one of their own. Has the silent commando gone over to the other side? Is he playing his own game? Only Snake Eyes knows the answer.
JOHN BYRNE FANTASTIC FOUR ARTIST ED HC (Net)
IDEA & DESIGN WORKS LLC
(W/A/CA) John Byrne
These stupendous issues represent some of Byrnes finest moments of The World's Greatest Comic Magazine, including the very first issue written, penciled and inked Jolly John Byrne! More than six stories are collected including a cover gallery and additional extras. All you John Byrne fans… THIS is the Artist's Edition you've been waiting for!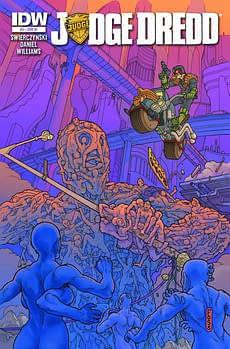 JUDGE DREDD #5 10 COPY INCV (Net)
IDEA & DESIGN WORKS LLC
(W) Duane Swierczynski (A) Nelson Daniel, David Williams (CA) Langdon Foss
"The Long Fail." Technology is failing all over Mega-City One, causing blackouts, explosions, radiation leaks and other nasty surprises… leaving Dredd stranded in the middle of a vicious block war, with no backup or reinforcements. It's just a Judge and his Lawgiver against overwhelming odds-that is, until his Lawgiver seemingly becomes sentient, and begins to disagree with Dredd's judgments!
COMPLETE ZAUCER OF ZILK
IDEA & DESIGN WORKS LLC
(W) Brendan McCarthy, Al Ewing (A/CA) Brendan McCarthy
Get Zaucy! After instantaneous sell-outs of the single issues, IDW is proud to announce this special reprint of the collaboration with 2000 AD and Rebellion Publishing, The Zaucer of Zilk! Brendan McCarthy & Al Ewing's phantasmagorical psychedelic extravaganza from beyond the fringes of imagination features an inter-dimensional magician who travels across the realms to save his number-one fan from the dank clutches of arch-nemesis Errol Raine, as visualized by the brilliantly surreal artist McCarthy!
JUDGE DREDD YEAR ONE #1
IDEA & DESIGN WORKS LLC
(W) Matthew J. Smith (A) Simon Coleby (CA) Greg Staples
"The Long Hard Road" begins here! In an all-new adventure from Joe Dredd's early days as a Mega City-One Judge, writer (and Eagle-award-winning 2000 AD Editor) Matt Smith presents a tale where "all the young juves, carry the news," only in this case, the news is delivered with a lethal blow!
TMNT COLOR CLASSICS MICRO SERIES DONATELLO (C: 1-0-0)
IDEA & DESIGN WORKS LLC
(W) Kevin Eastman, Peter Laird (A/CA) Peter Laird, Kevin Eastman
A solo story following Donatello on an adventure to remember! Donatello meets a reclusive artist by the name of Kirby in his building's basement apartment. No ordinary artist, Kirby has a magic pencil that makes his drawings come to life! Before they know it, Donatello and Kirby are in over their heads and stuck in a dangerous dimension of Kirby's creating!
TEENAGE MUTANT NINJA TURTLES ADVENTURES TP VOL 04
IDEA & DESIGN WORKS LLC
(W) Dean Clarrain, Ryan Brown (A) Ken Mitchroney, Don Simpson (CA) Jim Lawson
The all-ages Turtles action continues in this collection of TMNT Adventures! Enjoy classic Turtles tales like "The Final Conflict," "Leave Heaven Alone," "The Howling of Distant Shadows," and "Dredging The Ocean Blue."
TEENAGE MUTANT NINJA TURTLES CLASSICS TP VOL 04
IDEA & DESIGN WORKS LLC
(W/A) Mark Bode & Various (CA) Michael Dooney
Volume 4 contains three more adventures as the Turtles travel the world and through time. In "Egyptian Adventure" April's friend is in need of help so the boys tag along, then the Turtles end up on the deck of a 16th century Man 'o War in "Turtles Take Time," and finally they get stuck battling a mob boss in "Toitle Anxiety."
TEENAGE MUTANT NINJA TURTLES ONGOING #20 (C: 1-0-0)
IDEA & DESIGN WORKS LLC
(W) Tom Waltz, Kevin Eastman (A) Ben Bates (CA) Kevin Eastman, Ben Bates
The Turtles bring the battle to Krang, and it's up to Fugitoid's secret weapon to turn the tide of the Neutrino war! The devastating conclusion to "Krang War" is here!
TMNT SECRET FOOT CLAN #4 (OF 4) (C: 1-0-0)
IDEA & DESIGN WORKS LLC
(W) Mateus Santolouco, Erik Burnham (A/CA) Mateus Santolouco
In Feudal Japan, Oroku Saki decimates his opponents and cements his control over the Foot Clan… control that will last for centuries! Meanwhile, in the present day, the TMNT and the Foot Clan enter into a pitched battle for the History of the Foot Clan's sacred text. Secrets and betrayal are the order of the day for this final chapter of a landmark mini-series!
POPEYE #11
IDEA & DESIGN WORKS LLC
(W) Roger Langridge (A/CA) Vince Musacchia
When The Segarfeld Follies comes to town, there's a new performer on the bill – The Great Blutovski! Who is he? Is Olive Oyl safe from his clutches? Why is he punching those kittens? And what on earth did he do with the Bearded Lady? More spinach-fueled adventures with everyone's favorite one-eyed sailor!
POPEYE TP VOL 02
IDEA & DESIGN WORKS LLC
(W) Roger Langridge (A) Bruce Ozella & Various (CA) Bruce Ozella
Popeye and the gang travel to King Blozo's kingdom to help find a spy at the royal palace-only to find themselves in the middle of a war! Plus, Hollywood's calling… and they want Popeye! With Wimpy in the director's chair, what can possibly go wrong? Also, It's Wild West action as Popeye faces the return of Olive's old boyfriend, Ham Gravy… and the fearsome Desert Yeti! Finally, Join Popeye, Olive and Wimpy as they head for the high seas-and help Pappy overcome the trauma of his first bath in 40 years!
CLASSIC POPEYE ONGOING #8
IDEA & DESIGN WORKS LLC
(W/A/CA) Bud Sagendorf
All of Bud Sagendorf's covers are brilliant genius, but this sports his greatest of all-one of the classic covers of comics history! And you can judge this comic by its cover… Popeye, Wimpy and Swee' Pea are the hilarious cast in the rollicking fun comic "On the House." The backup feature with Sappo and Watasnozzle has to be seen to be believed for it's astonishing surrealness! Plus two Popeye-and one Swee' Pea-mini-features. All beautifully reproduced on high-quality paper. You'll love it! Collect them all!
MY LITTLE PONY FRIENDSHIP IS MAGIC #5
IDEA & DESIGN WORKS LLC
(W) Katie Cook (A) Amy Mebberson (CA) Stephanie Buscema, Amy Mebberson
Attention, everypony! Get ready for another unforgettable adventure in the land of Equestria. Twilight Sparkle and gang are confronted with a perilous new danger in the form of a long-unseen enemy! See how the Magic of Friendship prevails in the start of a brand new story arc!
MY LITTLE PONY MICRO SERIES #2 (OF 6) RAINBOW DASH
IDEA & DESIGN WORKS LLC
(W) Ryan Lindsay (A) Tony Fleecs (CA) Amy Mebberson, Tony Fleecs
The next in a series of spotlights focusing on everyone's favorite Ponies! Rainbow Dash takes her job patrolling the skies very seriously, but she may have met her match when a group of mischievous cloud gremlins threaten to block out the sun! Rainbow Dash will have her hooves full when it comes to these pint-sized menaces!
GODZILLA ONGOING #11
IDEA & DESIGN WORKS LLC
(W) Duane Swierczynski (A) Simon Gane (CA) Bob Eggleton
Boxer and his team are beyond working for money… now they just want to save their planet! In order to do so, they must support and cover Godzilla and other monsters from Earth in their savage battle against Space Godzilla, Gigan and others! Prepare for the final, unthinkable battle!
GODZILLA ONGOING TP VOL 02
IDEA & DESIGN WORKS LLC
(W) Duane Swierczynski (A) Simon Gane (CA) Zach Howard
Boxer and his team decide it's time to turn their sights to the big game-Godzilla! But, a perfect plan goes awry when a billionaire adventurer gets his hands on Mechagodzilla and the world's governments have branded them outlaws. Nothing will stop Boxer from avenging his daughter and getting revenge on Godzilla though!
KISS SOLO THE DEMON #1 (OF 4)
IDEA & DESIGN WORKS LLC
(W) Chris Ryall (A/CA) Angel Medina
The Four-Who-Are-One go it alone! Up first, the Demon takes the stage in "Radioactive" – a tale of blood, revenge, fire, and… the Four Horsemen of the Apocalypse. Beloved Kiss artist Angel Medina returns to the fold to tell this explosive tale!
GHOSTBUSTERS #2
IDEA & DESIGN WORKS LLC
(W) Erik Burnham (A/CA) Dan Schoening
The ghost of a notorious killer has begun to haunt New York, and The New Ghostbusters have to stop him before he can pick up where he left off! Meanwhile, the Original Ghostbusters compare notes-trying to figure out where they are, and how to get home…
GHOSTBUSTERS ONGOING TP VOL 04 WHO YA GONNA CALL
IDEA & DESIGN WORKS LLC
(W) Erik Burnham (A/CA) Dan Schoening
The Ghostbusters arrive back in New York, expecting a backlog of cases to clear through. Instead, things are strangely quiet on the supernatural front, and it's all thanks to the city's newest paranormal investigation and elimination service! But the science behind their methods is making Egon nervous. Can the Ghostbusters talk their competition off a potentially dangerous road?
TRANSFORMERS MORE THAN MEETS EYE ONGOING #15
IDEA & DESIGN WORKS LLC
(W) James Roberts (A) Alex Milne (CA) Alex Milne, Nick Roche
DEATH IN THE RANKS! Rodimus and his crew are confronted by the enemy within-and not everyone will survive the encounter. Everything has been building to this: all-out war aboard the Lost Light!
TRANSFORMERS MORE THAN MEETS THE EYE TP VOL 03
IDEA & DESIGN WORKS LLC
(W) James Roberts (A) Alex Milne & Various (CA) Alex Milne
The crew of the Lost Light finally reach Crystal City, home to the mysterious Circle of Light, as the origins of the Knights of Cybertron are revealed. In "Shadowplay" follow along as Rewind begins telling his crew mates a pre-war Cybertron story involving Orion Pax!
TRANSFORMERS ROBOTS IN DISGUISE ONGOING #15
IDEA & DESIGN WORKS LLC
(W) John Barber (A) Andrew Griffith (CA) Casey Coller, Andrew Griffith
THE END OF THE WORLD! When Cybertron collapses-who will pick up the pieces? MEGATRON stands poised to triumph-locked in final battle with BUMBLEBEE, STARSCREAM, METALHAWK, and PROWL! One will stand… the rest will fall.
TRANSFORMERS REGENERATION ONE #89
IDEA & DESIGN WORKS LLC
(W) Simon Furman (A) Andrew Wildman (CA) Andrew Wildman, Guido Guidi
DINOBOT WAR! Happy reunions are in short supply as Grimlock seeks out his Dinobots in a desperate attempt to salvage something from the mounting carnage in Iacon. But as far as they're concerned, he's a traitor who has brought shame on the Dinobot name-and if they're going down, he's coming with them!
TRANSFORMERS SPOTLIGHT BUMBLEBEE ONE SHOT #1
IDEA & DESIGN WORKS LLC
(W) John Barber (A) David Daza (CA) David Daza, Livio Ramondelli
ESCAPE FROM EARTH! Before Cybertron was reborn-BUMBLEBEE lead the Autobots on Earth. In this untold tale, he must take the reigns of command… and he's got hundreds of rogue Decepticons standing between him and respect!
TRANSFORMERS FALL OF CYBERTRON #1
IDEA & DESIGN WORKS LLC
(W) John Barber (A/CA) Dheeraj Verma
RISE OF THE DINOBOTS! Searching for a missing teammate, GRIMLOCK leads his team deep into SHOCKWAVE's citadel-and they'll pay for their trespass with their lives! It's the origin of the Dinobots as you've never seen it before!
ROCKETEER HOLLYWOOD HORROR #2
IDEA & DESIGN WORKS LLC
(W) Roger Langridge (A) Jason Bone (CA) Walter Simonson
Cliff Secord on the run! Betty in the clutches of the ghastly Otto Rune! And what is Peevy's connection to the missing scientist? All this and more… as the Rocketeer must prevent nothing less than the wrath of the Lord Himself! More pulp action in the great Dave Stevens tradition!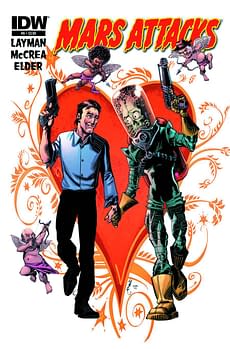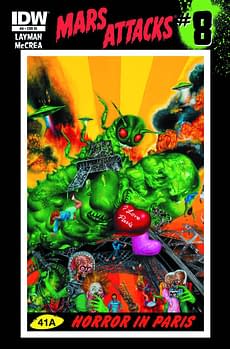 MARS ATTACKS #8
IDEA & DESIGN WORKS LLC
(W) John Layman (A/CA) John McCrea
In the small town of Tortilla Flats, New Mexico, events are unfolding that could change the direction of the war. What the heck do a boy and former mobster have to do with it? Don't miss any of the action in this runaway hit series!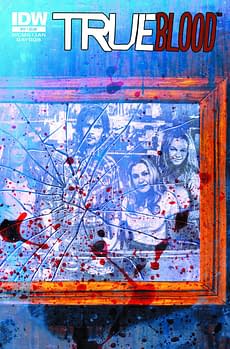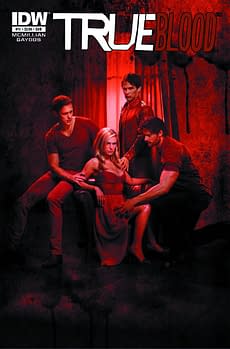 TRUE BLOOD ONGOING #11
IDEA & DESIGN WORKS LLC
(W) Michael McMillian (A/CA) Michael Gaydos
Alan Ball's hit HBO series, the sensually sizzling story of the lives and loves of vampires, mind readers, and all manner of creatures, continues! With creative collaboration from TRUE BLOOD creator/writer/producer Ball, actor/writer Michael McMillian begins a climactic arc that will threatens to rip up Bon Temps at its roots!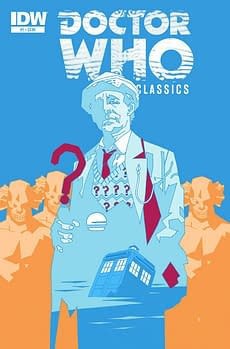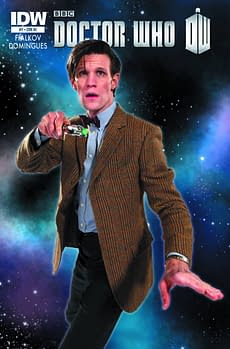 DOCTOR WHO CLASSICS #1
IDEA & DESIGN WORKS LLC
(W) Richard Starkings, John Carnell (A) Andy Lanning, Doug Braithwaite (CA) Matthew Dow Smith
Doctor Who Classics is back! This new series presents strips never before reprinted, and in color for the very first time! In this inaugural issue, enjoy two complete stories featuring the Seventh Doctor, "Time and Tide" and "Follow That TARDIS!" by such luminaries as Richard Starkings, Andy Lanning, and Dougie Braithwaite!
DOCTOR WHO PRISONERS OF TIME #3 (OF 12)
IDEA & DESIGN WORKS LLC
(W) David Tipton, Scott Tipton (A) Mike Collins (CA) Francesco Francavilla
Our yearlong celebration of Doctor Who's 50th anniversary continues! "Now listen to me!" It's time to fire up Bessie, as the Third Doctor takes the spotlight in this issue of a 12-part epic adventure featuring all 11 incarnations of the Doctor!
DOCTOR WHO VOL 3 #7
IDEA & DESIGN WORKS LLC
(W) Joshua Hale Fialkov (A) Horacio Domingues (CA) Mark Buckingham
"Space Oddity," Part 1 of 2: First in a special two-part story written by I, Vampire's Joshua Hale Fialkov! When a cosmonaut attempts the first space walk in 1965, the rest of his crew watches in horror as he's swallowed whole by shadow. Only the Doctor can save the spacecraft and the historically important mission.
DOCTOR WHO 3 TP VOL 01
IDEA & DESIGN WORKS LLC
(W) Andy Diggle, Brandon Seifert (A) Mark Buckingham, Philip Bond (CA) Mark Buckingham
The Doctor is back! New York Times bestselling writer Andy Diggle joins Eisner Award-winning artist Mark Buckingham as a shadow being emerges from a machine used to view alternate realities, stealing time from those he touches in order to become "real." Can the Doctor save the Hypothetical Gentleman's latest victim? Then, writer Brandon Seifert and artist Philip Bond collaborate on a story. When the Doctor and Rory, on a boys' night out gone wrong, leave Amy to face the Silence on her own!
HIGH WAYS #3 (OF 4)
IDEA & DESIGN WORKS LLC
(W/A/CA) John Byrne
Mysteries begin to unfold as our crew learns there are plots within plots and betrayals within betrayals. And just what IS the relationship between Cagney and Megan?
ADVENTURES OF AUGUSTA WIND #5
IDEA & DESIGN WORKS LLC
(W) J. M. DeMatteis (A/CA) Vassilis Gogtzilas
Having learned the secrets of her past from The Sleeper On The Ocean Of Story, Augusta returns to Nowhere Island, only to find it under attack by the forces of the Terrible Something. Is this the end of Augusta's adventures-or just the beginning of her cosmic quest?
KILL SHAKESPEARE TIDE OF BLOOD #2 (OF 5)
IDEA & DESIGN WORKS LLC
(W) Conor McCreery, Anthony Del Col (A/CA) Andy Belanger
Art fans will be in heaven when they check out this specially-designed story in which the pages of the issue are mirrored! Juliet, Hamlet, Romeo and Othello, guided by the mysterious Miranda, arrive on Prospero's magical island but must face cannibal monsters, haunted spirits, an old foe and the island itself, which is driving them mad.
LOCKE & KEY OMEGA #4 (OF 7)
IDEA & DESIGN WORKS LLC
(W) Joe Hill (A/CA) Gabriel Rodriguez
Chapter Four – Human Sacrifices: The bottomless pit of the Drowning Cave threatens to become a mass grave, as Dodge springs a fatal trap on the senior class of Lovecraft Academy. Hope is as fragile as a candle-flame wavering in the night… and as easy to extinguish.
MEMORIAL IMAGINARY FIENDS #1 (OF 3)
IDEA & DESIGN WORKS LLC
(W) Chris Roberson (A/CA) Rich Ellis
Return to the world of Memorial in "Imaginary Fiends," an all new 3 issue series! The fantasies and fears that seem so real to children are often forgotten in adulthood. But after the events of the first Memorial miniseries, forgotten memories are being recovered all over the world. Can those lost fears and fantasies be far behind? Brought to you by Chris Roberson (EDISON REX, iZOMBIE), Rich Ellis (STARS BELOW, TWILIGHT ZONE), and Grace Allison (WANDER).
HOLLOWS #4 (OF 4)
IDEA & DESIGN WORKS LLC
(W) Chris Ryall (A/CA) Sam Kieth
Everything has gone wrong, and the growing mass of Hollows threatens even the tenuous security that the residents of the tree-cities thought they had. In this concluding issue, Ryall and Kieth might leave nothing but a scorched earth in their wake.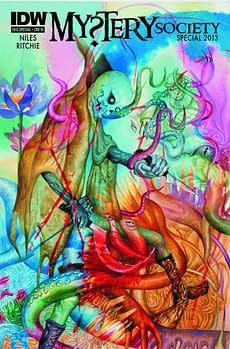 MYSTERY SOCIETY SPECIAL 2013
IDEA & DESIGN WORKS LLC
(W) Steve Niles (A/CA) Andrew Ritchie
The Mystery Society returns! Our outlandish heroes plumb the depths of the ocean to carry out an exchange with an eccentric collector who isn't what he seems. What horrors await Nick Mystery, Anastasia, Secret Skull and the rest of the team at the bottom of the sea?
ELIZABETHS CANVAS TP
IDEA & DESIGN WORKS LLC
(W) Mark Waid & Various (A) David Messina & Various (CA) Jenny Frison
Fighting cancer isn't just a struggle of the body. It's also a fight with the heart, and the soul, and the spirit. The non-profit organization Elizabeth's Canvas has been helping with that struggle by providing cancer patients, survivors, and their family members with art, photography, dance, and writing classes, at no charge, so that they can better cope with their symptoms and improve their well-being. Elizabeth's Canvas classes are offered inside and outside hospitals, and are grounded in the belief that the creative process can strengthen the spirit and empower the mind.
Now, Elizabeth's Canvas, IDW Publishing and Blastoff have come together to create this graphic novel, in which comic creators from across the industry interview the people behind the struggle with cancer — the patients, the nurses, the survivors, the researchers – and tell their stories, tales of defiance, perseverance, dedication and triumph. All proceeds from the sale of the graphic novel will go to further fund and grow Elizabeth's Canvs' efforts.
STAR TREK COUNTDOWN TO DARKNESS #3
IDEA & DESIGN WORKS LLC
(W) Mike Johnson (A) David Messina (CA) David Messina, Photo
The lead up to this Spring's STAR TREK film sequel continues here, in this official prequel mini-series overseen by writer/producer Roberto Orci. Captain Kirk and his crew will face an all-new adversary that threatens the future of the entire Federation. Don't miss this exclusive all-new story that sets the stage for the upcoming blockbuster movie!
STAR TREK ONGOING #19
IDEA & DESIGN WORKS LLC
(W) Mike Johnson (A) Claudia Balboni (CA) Tim Bradstreet
As excitement builds for the upcoming film sequel, the ongoing STAR TREK comics series shows fans the events that shaped the lives of the beloved Enterprise crew! In this issue we discover what led young Montgomery Scott to devote himself to engineering, as we witness his first steps on the journey that would take him across the galaxy! Overseen by Trek writer/producer Roberto Orci, this all-new tale sheds light on a classic character!
STAR TREK ONGOING TP VOL 04
IDEA & DESIGN WORKS LLC
(W) Mike Johnson (A) Stephen Molnar (CA) Tim Bradstreet
The countdown to the Star Trek movie sequel continues here! In "The Redshirt's Tale," experience life on the Enterprise through a redshirt's eyes! Also, find out how Scotty and his alien sidekick Keenser first meet. Plus, an all-new re-imagining of the classic "Mirror Universe" story!
FEVER RIDGE MACARTHUR JUNGLE WAR #2 (OF 8)
IDEA & DESIGN WORKS LLC
(W) Mike Heimos (A/CA) Nick Runge
Fever Ridge continues with a historical narrative analyzing the people, forces and events that led to the desperate fight for mastery of the Pacific. We watch as the river of history flows from the 1860s to MacArthur's flight from Corregidor under personal threat of the Japanese, to hang him, his wife and 4-year-old son before the eyes of the Emperor.
IRON SKY TP
IDEA & DESIGN WORKS LLC
(W) Mikko Rautalahti (A) Gerry Kissell, Amin Amat (CA) Miguel Angel Abad
The adaptation of the hit science fiction/comedy film of the summer Iron Sky follows the fate of Nazis who fled to the moon in 1945, and return in 2018 to conquer the Earth with their armada of flying saucers. With tongue firmly in cheek, the story parodies both the Nazis and more recent political parties and figures, with no holds barred. With special effects and a climactic ending only the Third Reich could deliver, Iron Sky is an action packed ride from start to finish.
VITRIOL THE HUNTER #2 (OF 6)
IDEA & DESIGN WORKS LLC
(W) Bill Martin, Brent Allen (A/CA) Bill Martin
The plan was to protect an important government objective. But now the Defense Initiative is counting their dead as Vitriol clashes with truths from his past. The vampire vision is shaping up just as Barthus intended. But just how deep can his mind-bending scheme reach? A whole hell of a lot deeper…
LOVE AND CAPES TP VOL 04 WHAT TO EXPECT
IDEA & DESIGN WORKS LLC
(W/A/CA) Thomas F. Zahler
Mark and Abby, comicdom's favorite couple is having a baby, and they're not telling anyone yet. But will they be able to keep the secret from Darkblade, the world's best detective? And what problems come about when you're expecting a super baby?
POUND TP VOL 02 GHOULS NIGHT OUT
IDEA & DESIGN WORKS LLC
(W) Stephan Nilson (A/CA) Ibrahim Moustafa
The Pound is officially open for business. Scottie and Howie have their hands full. A creature is harassing park-goers. The Government is investigating them. Ghouls are rebelling, and, if things couldn't get worse, Scottie's mother-in-law has decided to visit. Guest starring PROOF's Agent John "Proof" Prufrock!
WIZARDS TALE TP
IDEA & DESIGN WORKS LLC
(W) Kurt Busiek (A/CA) Dave Wenzel
Welcome to the Land of Ever-Night. Bafflerog Rumplewhisker is an evil wizard, from a long line of evil wizards. It's his job to maintain the darkness spells that keep his corner of Ever-Night as dark and gloomy as the rest of it, and to find the long-lost BOOK OF WORSE, which holds magical spells that can crush the forces of goodness and light forever. There's only one problem-his heart's just not in it. Master storytellers Kurt Busiek and David T. Wenzel invite you to join Bafflerog and his companions-Gumpwort, an enchanted toad who was once a wizard himself, and Muddle, the third son of a woodcutter who's convinced he'll one day be king-as they make a journey that may mean the end of everything. Or maybe… it could mean something else.
JINNRISE #3 (OF 5)
IDEA & DESIGN WORKS LLC
(W) Sohaib Awan (A/CA) Tony Vassallo
Saved from interstellar forces, student Andrew Marcus' fate rests in the hands of Yunus…a boy in control of a living "myth": a Jinn (Genie). But can a single Jinn stand against these invaders…led by their greatest warrior, Lahasad-Brim? The answer might depend on a wildcard: a mysterious stranger who might be friend…or foe.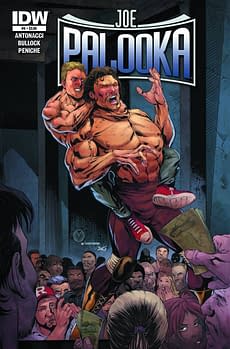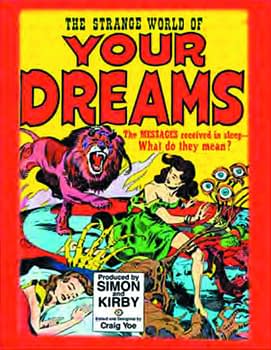 JOE PALOOKA #4 (OF 6)
IDEA & DESIGN WORKS LLC
(W) Mike Bullock (A) Fernando Peniche (CA) Marat Mychaels
The saga of fast rising MMA fighter Joe Palooka continues as he travels to exotic and dangerous Hong Kong. Joe seeks to make a name for himself as a fast-rising MMA star-while clearing his name since he's wanted for murder back home in Southern California.
STRANGE WORLD OF YOUR DREAMS COMICS MEET FREUD & DALI HC
IDEA & DESIGN WORKS LLC
(W/A) Joe Simon, Jack Kirby (CA) Jack Kirby
The complete 1950s comics in this innovative and rare series are lovingly restored for this large format full color hardback. Produced by the greatest team in the history of the Golden Age of Comics, Simon and Kirby-this book is a dream come true! Save big bucks on your psychiatric bills, get this beautiful economically priced-and fascinating-book instead! Edited and designed by Eisner Award winner Craig Yoe. I'm afraid our time is up…
ART OF STEVE DITKO HC NEW ED
IDEA & DESIGN WORKS LLC
(W/A/CA) Steve Ditko
BACK IN PRINT! Steve Ditko, the co-creator of Spider-Man and Dr. Strange, remains an enigma, though this book draws us closer to the artist and gives us a better understanding of his amazing work. Introducing the very best of rare and striking Steve Ditko comic book stories and original art, this large-format beautifully showcases Ditko's work, with many reproductions of original art pieces by the master comic book artist. Edited and designed by Craig Yoe (Secret Identity), with essays by P. Craig Russell, John Romita, and Jerry Robinson, plus an introduction by Stan Lee.
DEFINITIVE FLASH GORDON & JUNGLE JIM HC VOL 03
IDEA & DESIGN WORKS LLC
(W/A/CA) Alex Raymond
The third volume of the Definitive Flash Gordon & Jungle Jim includes every Alex Raymond Sunday from March 12, 1939 through the end of 1941.
Flash, Dale Arden, and Dr. Zarkov have a lengthy adventure with Fria, the stunning Snow Queen of Frigia; Dale is captured by Ming's secret service, culminating in a fight to the finish between Flash and the merciless tyrant. Meanwhile, when radio signals from Earth find their way to Mongo, Flash and company must decide-do they stay on Mongo or return home to help overthrow "The Dictator"?!
In the introduction by Bruce Canwell, Joe Kubert tells of being a 12-year-old making his first-ever trip out of Brooklyn to visit Alex Raymond at his Connecticut home! Plus, Howard Chaykin discusses the influences on Raymond's drawing style. Edited by Dean Mullaney, and designed by Lorraine Turner.
SKIPPY HC VOL 02 COMPLETE DAILIES 1928-1930
IDEA & DESIGN WORKS LLC
(W/A/CA) Percy Crosby
THE COMPLETE SKIPPY continues the first-ever series to reprint the legendary Skippy comic strips by Percy Crosby. Volume two contains all daily comics from 1928 through 1930. The introduction details Crosby's life during Skippy's transition from Life Magazine to the newspaper page and those first years of the strip's wild success.
Co-edited by Jared Gardner and Dean Mullaney, designed by Lorraine Turner, and illustrated with many photographs and rare artwork from the collection of the cartoonist's daughter, Joan Crosby Tibbetts, and Skippy, Inc.
CRAWL TO ME DLX LTD RED LABEL ED (Net)
IDEA & DESIGN WORKS LLC
(W/A) Alan Robert (CA) Menton3
Previously available only from IDW Limited! The gritty, gut-wrenching tale is housed in a custom slipcase with hand-drawn sketch art from creator Alan Robert (of the hard-rock band Life of Agony)! With an introduction written by the legendary Walter Simonson (The Mighty Thor), and a disturbing painted cover by Menton3 (Monocyte).
Enjoyed this article? Share it!