From Binge Books and Sitcomics at this year's San Diego Comic-Con, the debut launch of Barbra Macabre's Morbid Museum #1.1. A new horror/comedy anthology title from Sitcomics which features a new, exclusive cover by Al Milgrom, who also draws twenty of the book's interior pages. Also included is a 5 page monster story drawn by Neil Vokes from a story by Dashiell Burton, the son of Sitcomics' publisher who is only 13 years old. Even younger than Henry Abrams.
This slightly gory and mostly fun 36 page Morbid Museum comic can only be purchased at SDCC but the cost of this one-of-a-kind exclusive isn't the standard $30 or $20 or $10 or even $5 – it's only $3.99.
You'll find Sitcomics' table K-04 and pick up Barbra Macabre's Morbid Museum #1.1. And while they're at it, they can also pick up Sitcomics' 3 new Binge Book releases also debuting at SDCC. And you can keep an eye on other SDCC exclusives with this handy tag.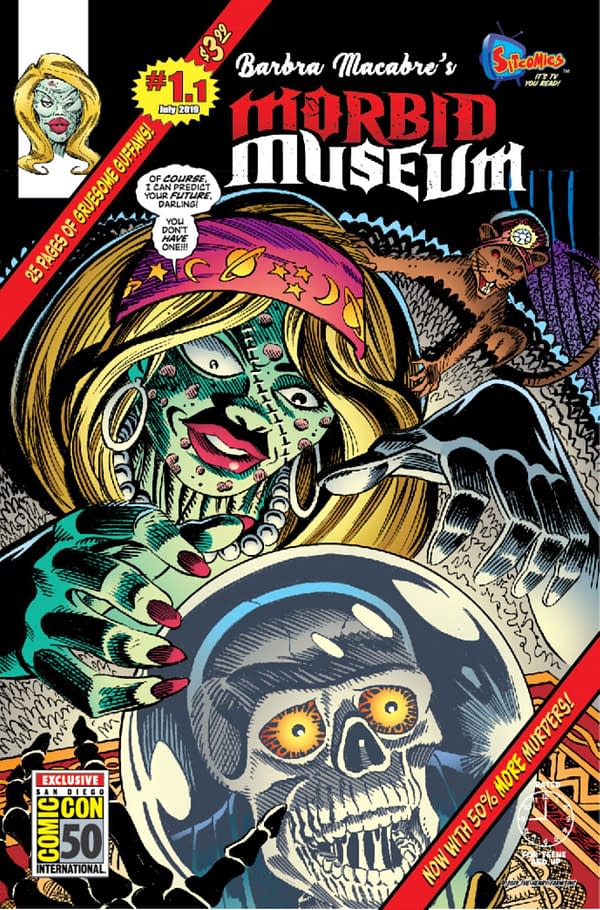 You are cordially invited to the grand opening of Barbra Macabre's Morbid Museum! Barbra's exclusive, world premiere exhibits include a trio of hysterically horrific stories from the pen of veteran TV sitcom writer Darin Henry (Seinfeld) and 13 year-old rising star Dashiell Burton! Lurking behind its gory-ous SDCC-exclusive cover from legendary artist Al Milgrom (The Avengers) are 25 pages of gruesome guffaws drawn by Al Milgrom and Neil Vokes (Dr. Strange), with colors by Glenn Whitmore and letters by Marshall Dillon. 32 FC pages. Rated 9 o'clock – for teens and up. Price: $3.99
Enjoyed this article? Share it!