Conan is one of those franchises that I came to via parodies of the same. Which probably makes it a stranger experience, always having one eye through another lens. It's not the only example for me, the first western I saw was Blazing Saddles. The first Superman comic I read Wally Wood's Superduperman. But still, when I am reading The Savage Sword Of Conan #1, out tomorrow, I get flashbacks I was not expecting.
And it's a really strong first issue. It's vastly superior to the launch book, and having one narrative drive that bursts through the comic from beginning to end helps that. Maybe Conan does not suit split linear storytelling it seems, it benefits from a sequential thrust and attack.
And that even counts with this story, beginning as it does at the end of another, with Conan adrift in the sea, rescued by slavedriving pirates…
No, I said Conan.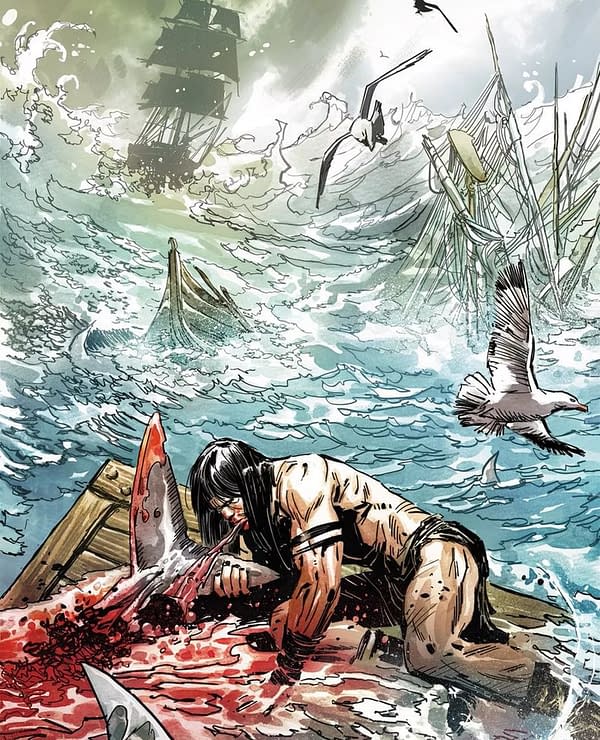 …only to be pressganged into the hold…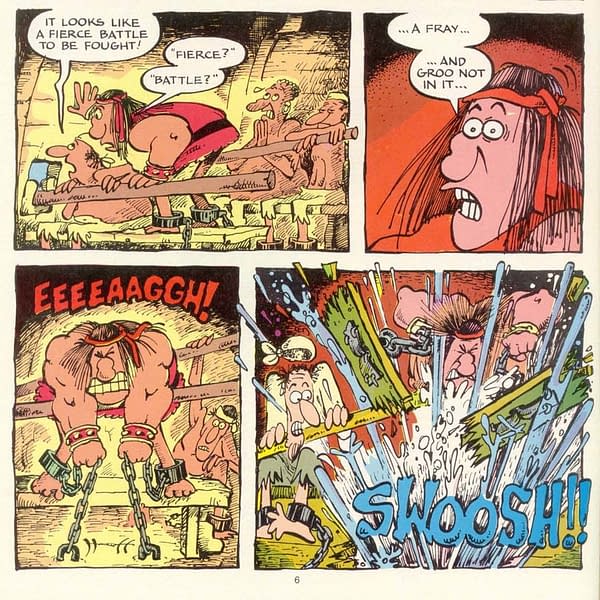 Again, I said, Conan.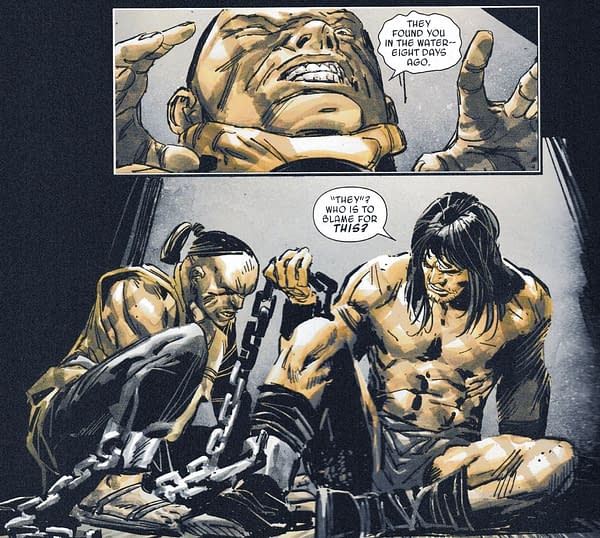 Better. But you can see why my mind naturally goes to Sergio Aragones' Groo The Wanderer.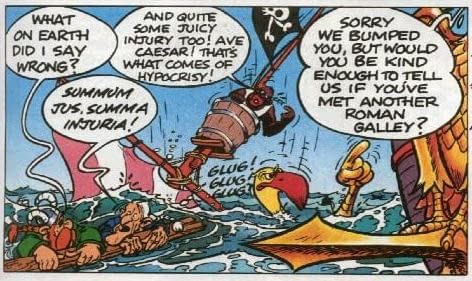 I said, Groo The Wanderer.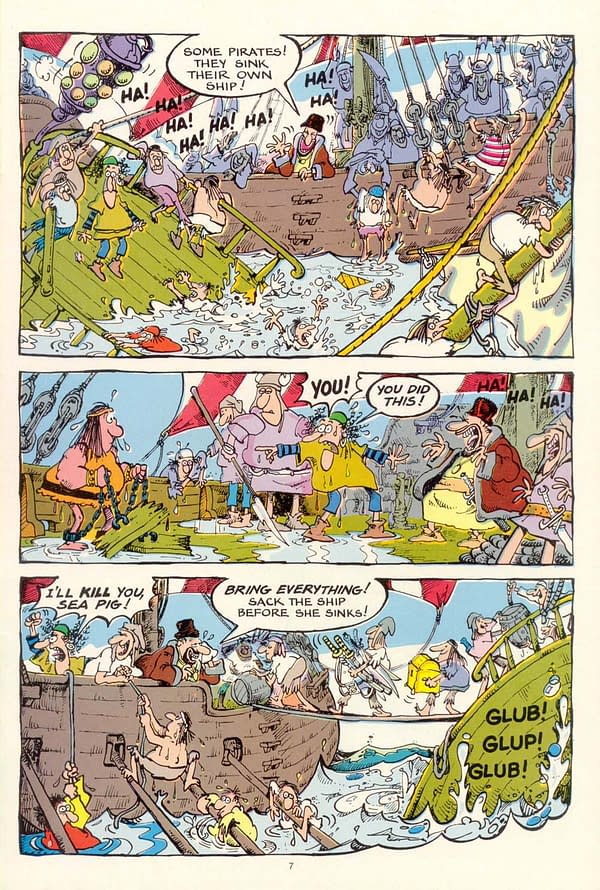 Better. Anyway, this Conan finds himself chained to the most weaselly, snivelling, conniving, cowardly trickster around…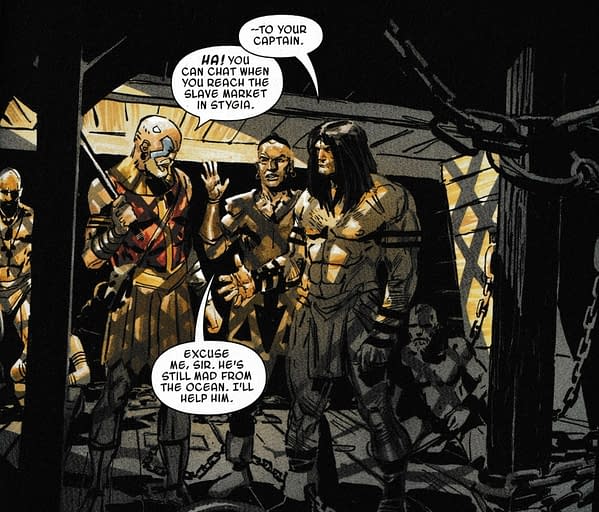 Which is how he has managed to stay alive so long.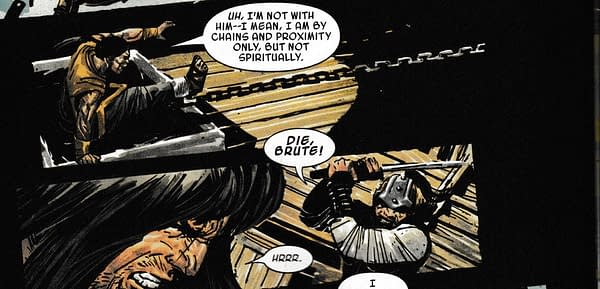 And this time does so by being chained to the one man guaranteed to survive, prosper, turn the tables and become King.

But honestly? While reading the new Red Sonja reminded me more of Dave Sim's Cerebus: High Society, reading this comic, it reminded me far more of Groo The Wanderer than previous Conans I've read. Which means an inevitable…
It's a good thing I really, really like Groo The Wanderer then, isn't it?
SAVAGE SWORD OF CONAN #1
(W) Gerry Duggan (A) Ron Garney (CA) Alex Ross
THE ANCIENT CULT OF KOGA THUN. A MYSTICAL TREASURE.
AND THE ONLY MAN WHO CAN SAVE THE HYBORIAN AGE!
Adrift at sea. No food. No weapons. Death surely awaits him. But the lionhearted CONAN is not so easily subdued, by Crom! When Conan finds himself captured, he unleashes his might on an unsuspecting pirate crew…one whose dark secrets will plunge Conan on the trail of an ancient treasure that may prove to be his undoing!
An all-new age of SAVAGE SWORD OF CONAN begins with a five-part tale of swords and sorcery by Gerry Duggan (DEADPOOL, INFINITY WARS) and illustrated by legendary artist Ron Garney (DAREDEVIL, THOR: GOD OF THUNDER) with covers by the incomparable Alex Ross, and breathtaking variant covers by Garney, Rahzzah, comics legend George Perez, and Teenage Mutant Ninja Turtles co-creator Kevin Eastman!
Welcome to the deadly Hyborian Age-hope you survive the experience!
Parental Advisory In Shops: Feb 13, 2019 SRP: $4.99
Enjoyed this article? Share it!