Perhaps hoping to get ahead of the negative publicity garnered when Marvel announced Marvel Comics #1000 with a roster of creative teams that consisted of more Al Ewings than it did women, the House of Ideas has officially announced the previously reported follow-up, Marvel Comics #1001, by frontloading the listed creators with women, about as many as on the entire massive roster of Marvel Comics #1000. Al Ewing, on the other hand, is only listed once, representing a fall as meteoric as his Marvel Comics #1000 rise.
This September, the mighty magic of MARVEL COMICS #1000 continues with MARVEL COMICS #1001!

The 80th anniversary celebration continues with this magnificent mag as the oversized story from issue #1000 spills over into another super secret and remarkably revelatory tale. Featuring more insights about the Eternity Mask and the person who wears it, this ish features work from some of Marvel's most beloved creators…

Deep breath, True Believers—Al Ewing, Nick Spencer, G. Willow Wilson, Scott Aukerman, ACO, Brian Posehn, Howard Chaykin, Vita Ayala, Humberto Ramos, Audrey Loeb, Dario Brizuela, Ann Nocenti, Kim Jacinto, Jimmy Palmiotti, Amanda Conner, Declan Shalvey, Kaare Andrews, Amy Reeder, Natacha Bustos, Frank Tieri, Dan Panosian, Andre Araujo, Bill Morrison, Trina Robbins, Marc Guggenheim, and more are set to contribute to one of the most momentous individual issues in the history of the hallowed halls of the House of Ideas! Phew!
Of course, this doesn't necessarily mean that Marvel Comics #1001 will feature a higher percentage of women than Marvel Comics #1000. For all we know, the "and more" could be 97 more men, 80 of which are Ewing. There's also no word on whether the comic will feature a variant cover celebrating a gay kiss from rival DC Comics, like Marvel Comics #1000 did until somebody tattled. We'll have to wait for more info when the September solicitations come out, true believers!
Check out a cover by Rod Reis below: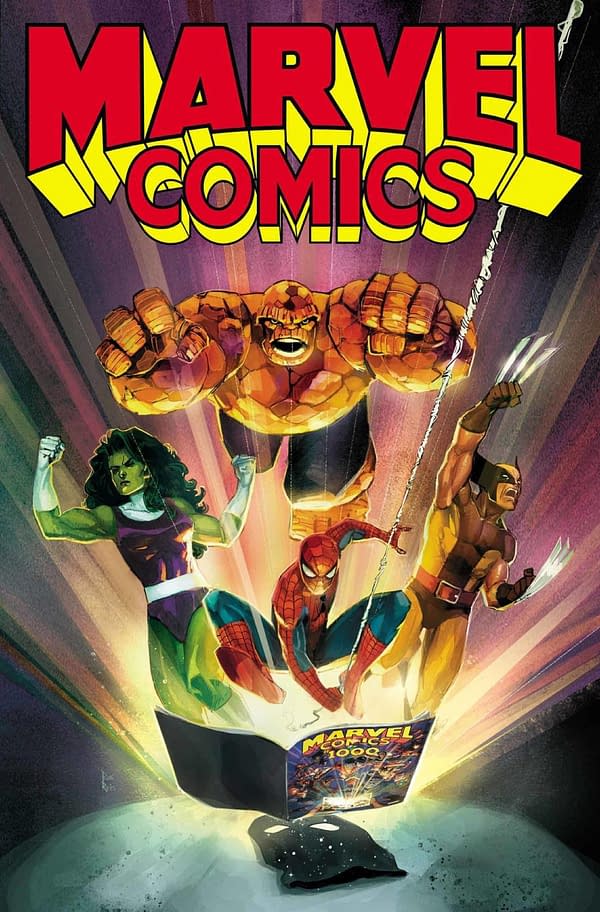 Enjoyed this article? Share it!