Two nights ago, Bleeding Cool told you that X-Men Gold #30, the Wedding Twist issue, had sold out fast and was going to a second printing.
Well, it looks like it will have some friends to accompany it.
The following titles are also going to second printing.
X-Men Gold #29
Infinity Countdown #3
Infinity Countdown #4
Domino #3
Old Man Hawkeye #3
Thor #1 – in both a Wolverine and Christian Ward variant.
Tony Stark: Iron Man #1
WEEKND Presents Starboy #1
Amazing Spider-Man #801
Avengers #3
Champions #21
While the following are going to third printing.
Old Man Hawkeye #1
Old Man Hawkeye #2
Avengers #2
X-MEN GOLD #29
(W) Marc Guggenheim (A) Geraldo Borges (CA) Phil Noto
'TIL DEATH DO US Part 5
• Escape from OUTER SPACE!
• KITTY and the X-MEN must race to safety or die in the cold vacuum of space!
• The only obstacles in their way? Human supremacist LYDIA NANCE and the nanite-based AI SENTINEL 0101!
• Get ready for a fatal confrontation with the GOLD team's newest nemesis!
Rated T+ SRP: $3.99
INFINITY COUNTDOWN #3
(W) Gerry Duggan (A) Aaron Kuder, Mike Hawthorne, Mike Deodato (CA) Mike Allred
As the Guardians' last mission together draws to a close, the war for the Infinity Stones has only just begun! Adam Warlock continues to search for the Soul Stone but encounters an unexpected foe…the SILVER SURFER?! Keep your eyes to the stars as Marvel's biggest cosmic story continues!
Rated + SRP: $4.99
INFINITY COUNTDOWN #4
(W) Gerry Duggan (A) Aaron Kuder, Mike Hawthorne, Mike Deodato, Terry Pallot, Jos? Marzan (CA) Nick Bradshaw
Ultron has long wished to take over all there is and replace it with only Ultron…but now armed with an Infinity Stone, he has never been closer to his goal. With the Guardians falling apart, who can step forward to stop the singularity from overwhelming everything?
Rated T+ SRP: $4.99
DOMINO #3
(W) Gail Simone (A) David Baldeon, Anthony Piper (CA) Greg Land
GIRLS, GIRLS, GIRLS!
• DOMINO's luck is running out, and not just figuratively: Her powers are fading away! What good is our favorite soldier of fortune without the good fortune?
• She's got her back against the wall, but that doesn't mean nobody's got her back: OUTLAW, DIAMONDBACK and a VERY SPECIAL (VERY SECRET) GUEST are in Dom's corner!
• PLUS: Domino's mysterious archnemesis strikes!
Parental Advisory SRP: $3.99
OLD MAN HAWKEYE #3
(W) Sacks, Ethan (A/CA) Marco Checchetto
AN EYE FOR AN EYE Part 3
• HAWKEYE's got a big task ahead of him…
• …and it'll take him back to the carnival – but this time it's ARCADE'S MURDERWORLD!
• If Clint can sneak through this deadly locale, he'll be faced with a foe – and a decision – that will forever alter the course of his destiny.
Parental Advisory SRP: $3.99
THOR #1 WARD VAR
(W) Jason Aaron (A) Michael Del Mundo (A/CA) Christian Ward
JASON AARON & MIKE DEL MUNDO TAKE THE PRINCE OF ASGARD IN A WHOLE NEW DIRECTION!
Thor Odinson has regained his mantle – and with it, a wild new world of trouble on his mighty hands! The artifacts of Asgard have been scattered across the earth, and to reclaim them, Thor will have to face some ugly truths. Like the production cost of hundreds of new hammers! And the Thunder God is going to need every last one of them if he's going to stop the unstoppable Juggernaut. Jason Aaron takes the Prince of Asgard in a whole new direction with YOUNG GUN artist Mike Del Mundo joining him at the helm! And don't miss the latest chapter of the King Thor saga with acclaimed BLACK BOLT artist Christian Ward, as the Thor of the far future encounters an old friend who's undergone some startling changes.
Rated T+ SRP: $5.99
TONY STARK IRON MAN #1
(W) Dan Slott (A) Valerio Schiti (CA) Alexander Lozano
TAKE FLIGHT WITH DAN SLOTT & VALERIO SCHITI!
From the cusp of tomorrow's dreams to the forefront of imagination, one man always soars on the cutting edge of adventure!
You know his name. Tony Stark is Iron Man.
And Iron Man…is an idea. Always changing. Always evolving. An idea without limit!
Take wing with DAN SLOTT (AMAZING SPIDER-MAN) and Valerio Schiti (GUARDIANS OF THE GALAXY) as they propel the ultimate Self-Made Hero to new heights of inventiveness!
Tony Stark is Iron Man. The future is now. Strap in!
Rated T+ SRP: $4.99
WEEKND PRESENTS STARBOY #1
(W) Abel "The Weeknd" Tesfaye, Christos Gage, La Mar Taylor (A/CA) Eric Nguyen
Based on the chart-topping song from the double-platinum album STARBOY by THE WEEKND.
The city of Alphatron is in the grip of a crime wave, as the terrifying Jack "The Chef" Smiley has unified all criminal organizations with his ruthlessness and strategic genius. Not content with brutally murdering his victims, Smiley also feasts upon their flesh. The citizens live in fear and the police have been directly targeted.
The city is in dire need of a hero. It will not get one…
…but it will get what it deserves. STARBOY.
Parental Advisory SRP: $3.99
AMAZING SPIDER-MAN #801
(W) Dan Slott (A) Marcos Martin (CA) Alex Ross
After ten years, Dan Slott's final issue of THE AMAZING SPIDER-MAN is here, and he isn't pulling any punches. Joined by one of the best illustrators in the biz, Marcos Martin, AMAZING SPIDER-MAN #801 is one of the most emotional, heartfelt tales not only in Dan's run, but in all of Mighty Marveldom itself, and is one Marvel fans around the world won't want to miss.
Rated T SRP: $3.99
AVENGERS #3
(W) Jason Aaron (A/CA) Ed McGuinness
THE FINAL HOST PART 3 FROM JASON AARON AND ED MCGUINNESS!
Fate has once again brought together Earth's Mightiest Heroes to face their greatest challenge yet. But with Captain America now taken prisoner by Loki, what hope do these new Avengers have to defeat the Final Host of Dark Celestials? And what startling secrets are still left to be uncovered that will rewrite everything we know about the origin of the Marvel Universe?
Rated T+ SRP: $3.99
CHAMPIONS #21
(W) Jim Zub (A) Sean Izaakse (CA) Stefano Caselli
• The Champions vs. Alpha Flight? Ms. Marvel vs. Captain Marvel?
• 'Nuff said!
• Saving the north just got a whole lot more complicated…
• Plus…Nova no more?!
Rated T+ SRP: $3.99
OLD MAN HAWKEYE #1
(W) Sacks, Ethan (A/CA) Marco Checchetto
AN EYE FOR AN EYE Part 1
The super heroes have fallen. The country has been divided into territories controlled by super villains. Among the wastelands lives CLINT BARTON – one of the few Avengers to survive. But it's been 45 years, and he's no Avenger. Trying to eke out a living anyway he can, the former HAWKEYE is confronted with a startling discovery: the sharpshooter is going blind. With time running short, Clint realizes there's one last thing he wants to see: revenge for his fallen comrades-in-arms.
Rising-star writer ETHAN SACKS and superstar artist MARCO CHECCHETTO take you back to the Wastelands in a story set five years before the original classic OLD MAN LOGAN.
Rated Parental Advisory SRP: $3.99
OLD MAN HAWKEYE #2
(W) Sacks, Ethan (A/CA) Marco Checchetto
AN EYE FOR AN EYE Part 2
• HAWKEYE makes his first move toward his final mission…
• But WHO is he after, and WHAT have they done to warrant such a hunt?
• Clint better be careful if he wants to stay one step ahead of the marshal on his tail-a FAN-FAVORITE villain you won't want to miss in the Wastelands of OLD MAN HAWKEYE!
Rated Parental Advisory SRP: $3.99
AVENGERS #2
(W) Jason Aaron (A) Jay Leisten (A/CA) Ed McGuinness, Mark Morales
• Black Panther and Dr. Strange battle for their lives deep within the earth…
• Captain Marvel battles death and destruction raining down from the skies…
• …while Thor, Iron Man and Captain America lead the valiant (yet hopeless) fight against the Final Host of Dark Celestials.
• And Ghost Rider and the Savage Hulk make brutal war against…each other?
• Plus, you can't have a gathering of Avengers without a certain Prince of Lies, now can you?
Rated T+ SRP: $3.99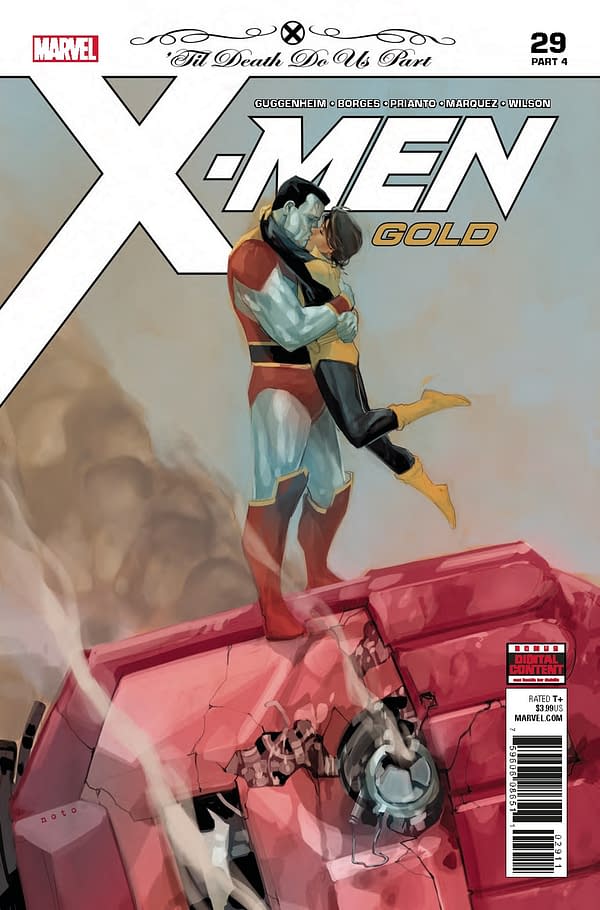 Enjoyed this article? Share it!