The Diamond Summit 2017 is underway in Chicago ahead of C2E2. And Bleeding Cool has eyes and ears on the floor.
The DC Comics panel continued. Dan DiDio had explored the problems. But what was the solution? And what was Dark Matter?
Bringing what makes comics great back to comics…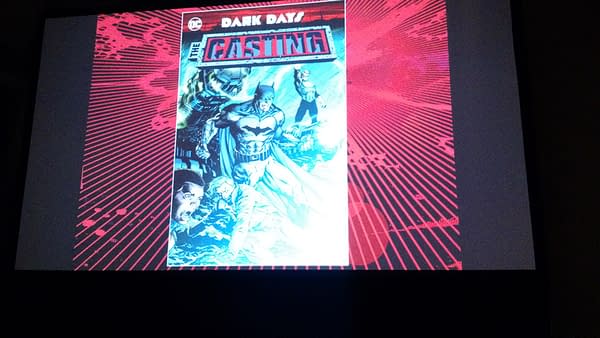 A classic crossover in the DCU in scope, not number of issues…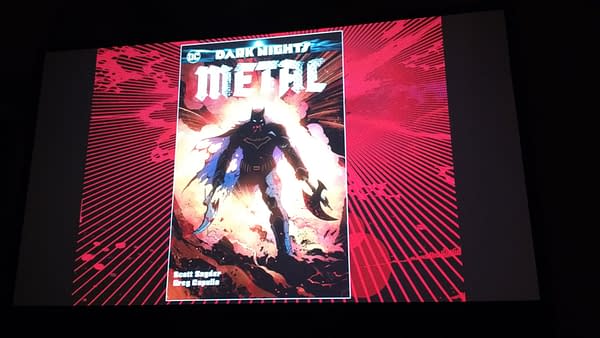 And about introducing new concepts, and ideas to the universe. Not recreating what's already there, but expanding on it.
They realize it's hard to introduce new ideas, back issue bins are full of them. But superheroes are the backbone of the Direct Market.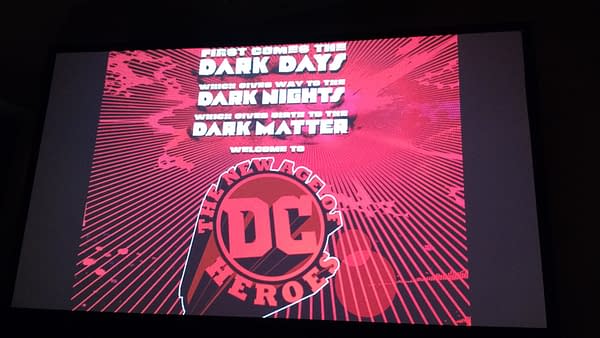 Like the introduction of the Silver Age, the Modern Age, the Rise of Image in the 90's, 3 key moments they have tried to learn from to create Dark Matter.
DC's Master Class – Bringing back the craft to making comics. Using the right people to set the tone and lead the way
Dark matter is about bringing both the artist and writer back together again to create stories. Bringing creators in for summits, etc. Jim Lee, John Romita JR, Greg Cappulo, Andy Kubert – Looking at what they can do to turbocharge the industry. What have they not done before. Bringing the artists back into collaborations. Bring the artists in early, get a view of the entire project, instead of just seeing a couple 3-5 pages at a time. Bringing the writer and artist face to face, eye to eye to create a better collaboration.
Using the best creators to create new characters. Artists start at the inception of the idea from the writer.
Andy Kubert – Still hears his father's voice in his head. Keep things clear, keep them simple. Still uses his dad's drawing board that he got from Infantinoo.
JRJR – could never be as good as his father. He sees his father's art in his head and "my shit" on the paper. (lots of laughter).
Both Kuberts and JR's father told them to learn to draw everything. Backgrounds, phones, trees, etc.
Greg was not "fortunate enough to have a famous artist father. The sunglasses are to "hide his shame". (lots of laughter)
Greg thought he was great when he would pitch to Marvel at the begining of his career, until they informed him otherwise. Larry Hama took him in and like Andy's and JR's father, including JR senior, taught him how to draw comics better. It's like film directing, and they need to know what looks great on a page. They are vital because they take the great ideas of writers, and show those ideas on the page in the best way through collaboration. Todd McFarlane would call him up and explain the story over the phone before the script was made. Greg could then lay out the book they way the story would look best visually, and then Todd could add in the dialog when he was done. Lots of freedom to collaborate and go back and forth, each creator adding their skill together to create something better.
Jim – Trying to harken back to the days of Stan and Jack. Trying to make that process work in todays environment. Trying to move away from full script and allow more free reign for the artists. A new experience for a lot of writers, who are working in plot scripts now instead of full scripts.
They seem really excited about the new process. Greg says its like playing in a band, adds spontenaity, more fun.
Greg explains how him and Scott butted heads at the beginning, because Scott always worked in full scripts. Greg worked in plots. Scott was controlling, and Greg pushed him. Eventually they learned that giving them both room to do their work created a better product. Greg likes his colorist and inker, and doesn't tell them how to do it. He likes their work and wants them to put themselves in it. Work with people you trust, don't call all the shots, and let everyone play their instrument and you will get a better peice of work.
Andy has all the pages on DK3 done.
JrJR – The Man without Fear was an outline for a failed movie project. Was supposed to be 64 pages, turned into over 100, because his ideas grew in his head. Plots allow for more freedom then full scripts. Makes them C0-Creators instead of Writer and Artist.
Neil Gaiman told Andy that he was the Director. He was the Artist. Neil provided the story, Andy got to show it to people. Andy worked the same way on DK3. Constant discussions with the writer all throughout.
Dan jokes that Scott was now terrified of Greg because of how he pushed him. Scott apparently now adds to his scripts "or whatever you want :) " (may be more joke then reality). It was a constant joke thorughout about how Greg "pushed" Scott.
They want EGO last, TEAM first. Micromanging is the death of stories.
Master Class will expand beyond the four.
JrJr is looking forward to telling writers to "Shut up" and let him do his work, much like Greg did with Scott. (more laughter)
Time to find out what the comics actually are…
You can follow more of our Diamond Summit coverage here.
Enjoyed this article? Share it!