Nightwing To Lose His Dick
First, we gave you the big plans going forward for Dick Grayson, Nightwing. It was a shocker.
Then we told you that writer Benjamin Percy wasn't going to be a part of them.
And now we will tell you the most surprising thing of all. Okay, not so surprising if you read this article's headline, but still.
Dick Grayson was created in 1940 as Robin, Batman's chum, when more people were called Dick without everyone finding it instantly hilarious. As the decades rolled it has felt more of an anachronism and where double entendre…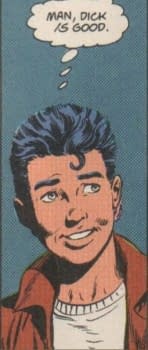 …gave way to single entendre.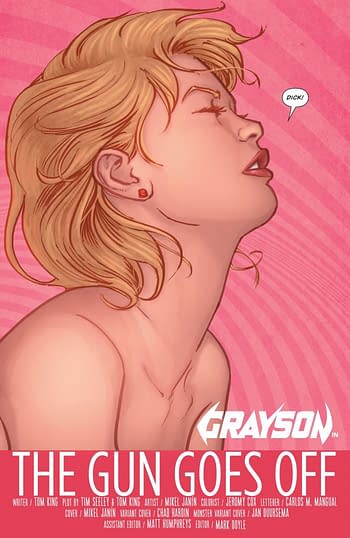 And even the house ads joined in.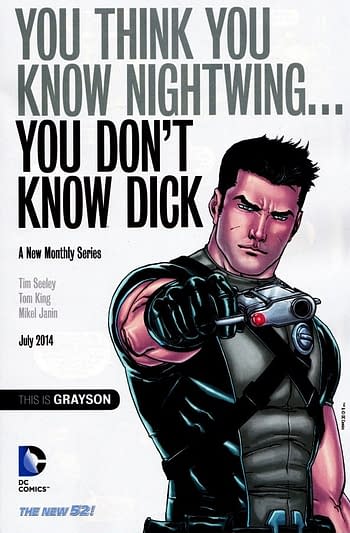 With the coming of the New 52 relaunch it looked as if maybe, just maybe, DC Comics would get rid of their dick problem.

But Nightwing remained a complete Dick.
Well now, alongside the Remaking of Nightwing, I understand that he will no longer be called Dick Grayson. And whatever he is called, we will all have to respect it.
How about Rich Grayson? It has a certain ring to it…
Rich Grayston would be even better.
Rich Gronston.
We're getting there…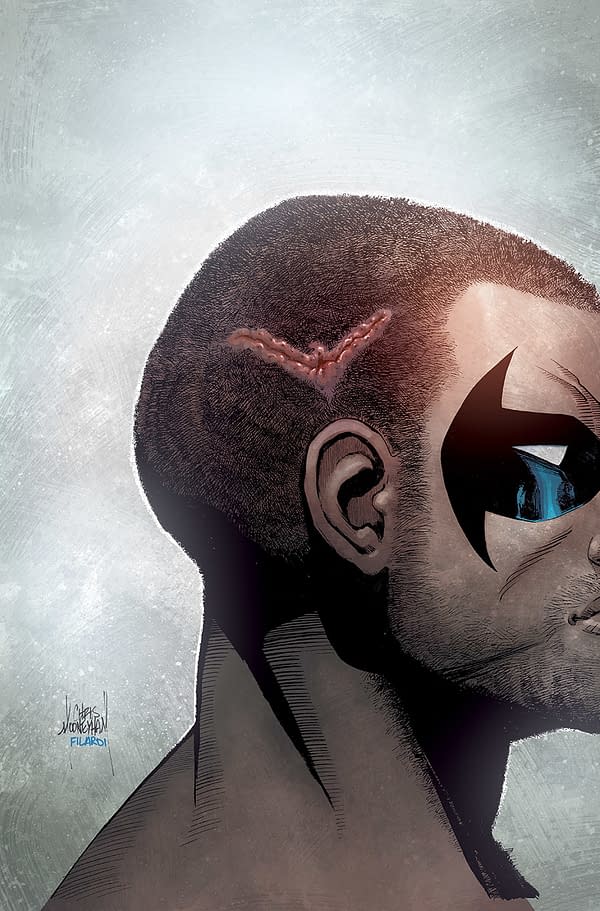 Here are the current solicitations…
NIGHTWING #50
(W) Ben Percy (A) Chris Mooneyham, Travis Moore (CA) Chris Mooneyham
"Knight Terrors" begins here! The big issue #50 kicks off an epic four-part story that brings together critical moments of fear and doubt from the past and the present. A young Dick Grayson hopes to escape the shadow of the Bat and earn the title of Nightwing, while an older Dick Grayson must deal with a blow he did not see coming. A common enemy unites the timelines: the Scarecrow, as you've never seen him before! This story goes deep into the mythology and nightmarish development of Dr. Jonathan Crane. In Shops: Oct 03, 2018 SRP: $4.99

NIGHTWING #51
(W) Ben Percy (A) Chris Mooneyham, Travis Moore (CA) Mike Perkins
And while Nightwing struggles to uncover the truth behind the "fear germ" that is killing people in their sleep, he must also try to overcome his own sudden struggles with heights and vertigo. He has lost his primary skill set as a hero and will have to focus on his brilliance as a detective instead. And a distracting love triangle certainly isn't helping him focus…This new storyline spins out of events in BATMAN #55. Don't miss the start of a new direction in Nightwing's crimefighting career!
In Shops: Oct 17, 2018