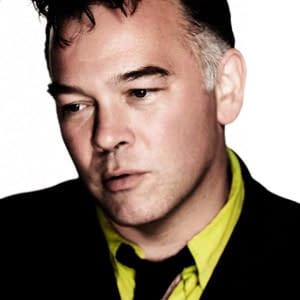 Stewart Lee is one of my favourite stand up comedians. Co-writer and director of Jerry Springer The Opera, one half of Lee and Herring, whose Fist Of Fun and This Morning With Richard Not Judy rocked my twenties, he's become a mix of cerebral, anarchic and insulting as the clips later will demonstrate.
But he's also a comic book fan. And has run at least one routine about the greyness of the Hulk. Interviewed Alan Moore a couple of times for radio and TV, and contributed to Dodgem Logic. And, apparently, has failed to get anywhere with Marvel Comics.
He told Den Of Geek;
I sent proposals to Marvel, but they always got knocked back. I wanted to do one about the teenage years of Agatha Harkness, who you may remember, was the nanny of Franklin Richards. She was an old witch, and she was the nanny of the Fantastic Four's kid. She was meant to be in her 70s in the 60s, and I wanted to do something about her being a teenage girl in occult circles in decadent 1920s London, but they knocked it back.

Agatha Harkness, Princess Of Darkness. That would be pretty good, wouldn't it?

They gave me a very good reason. Nick Lowe was the editor of Marvel Comics and he said they weren't really looking for new titles. Everything now is about cross-platform across all the titles, and every year they try to run an event, like a civil war or whatever. It was a very diplomatic letter.
From the company that puts out SHIELD, Strange Tales, Pride And Prejudice, Pet Avengers and Spider-Ham? Surely not. Any other Marvel editor care to revisit this one? Mark Millar/Titan Magazines are you reading this?
Here's a few examples of the man at work;
Enjoyed this article? Share it!