 It's a debut novel. It"s only been out for a week. But this graphic novel/script/diary/sketchbook/blog fusion is at the top of the book charts for Bliss Magazine, has been picked up as Borders' children's book of the month and is selling out of some shops within minutes of stock arriving. Not so much a comic book as an Event.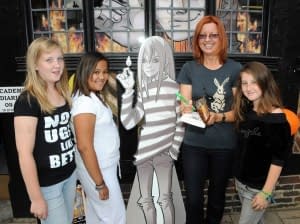 Ember Fury is a story about a pyromaniac teenager on holiday at a boring, humdrum coastal town, the lives she affects, the lessons she learns and, well, the things she burns to the ground. Writer/artist Cathy Brett is a design lecturer at the University for the Creative Arts in London, but has worked as a fashion designer, illustrator, trend forecaster, window display designer and retail consultant. She is finishing her next graphic novel, Scarlett Dedd, which will be published next year and is already writing the first draft of an Ember Fury screenplay.
You can order it here in the UK and here in the USA. And it's already got itself a Motion Comic teaser on YouTube…
You can watch the character being drawn here. And, given the current popularity, may I suggest if you pick yourself up a first print that you don't follow the character's example and burn it?
Enjoyed this article? Share it!