Less than a year after leaving IDW to join Oni Press as Director of Licensed Publishing, Sarah Gaydos has been promoted to the role of Editor-in-Chief at the company, a press release announced Thursday. Gaydos fills a role that's been vacant since last January, when former Editor-in-Chief James Lucas Jones became Publisher. Ari Yarwood took on the role of Executive Editor at that same time and is still listed as such on Oni's website.
Check out the announcement from the press release below:
Oni Press is excited to announce that Editorial Director of Licensed Publishing, Sarah Gaydos, has been promoted to Editor in Chief. Gaydos, the Eisner Award, Ringo Award, and Diamond Gem winner for Love is Love, joined Oni Press in April 2018 following her role as Group Editor at IDW. In her former position, she championed such licensed comic titles as Star Trek and Jem and the Holograms, as well as oversaw original content like Infinite Loop.

In her time at Oni Press, Gaydos has taken on licensed properties such as Adult Swim's Rick and Morty™, as well as acquired exciting new original and licensed content in development. In her new role, she will oversee and guide the editorial department, develop further licensed partnerships, and continue the company's long-time emphasis on groundbreaking creator-owned work.

Gaydos began her comics career at WildStorm, an imprint of DC Comics, in 2006. She began in the administration department, and worked her way into editorial, cutting her teeth on licensed titles like World of Warcraft and titles for younger readers like Batman: Li'l Gotham. After joining IDW Publishing and eventually being promoted to Group Editor, Gaydos has found success editing a wide variety of content, with a special focus on comics for kids. In 2016, Gaydos won the "Best of San Diego People" award for her work in lifting up women in comics, and also received the ComicsAlliance Outstanding Editor award. She has traveled extensively, speaking on licensing, women in comics, and the importance of comics for kids and new readers.

"I'm incredibly excited for the opportunity to lead the stellar Oni Press editorial department into 2019 and beyond," said Sarah Gaydos. "Since starting at Oni last year, I've been consistently impressed with the company's deep love of the comic medium, and its dedication to reaching new fans. I can't wait to lead the department to even greater heights!"

"In less than a year, Sarah has had a profound effect on Oni Press," added publisher James Lucas Jones. "Her taste is impeccable and broad. Her network of colleagues both love and respect her. Her dedication to comics and the people who create them is virtually unmatched. There is no other person better suited to lead our editorial team and oversee the creation of amazing new comics for all types of readers."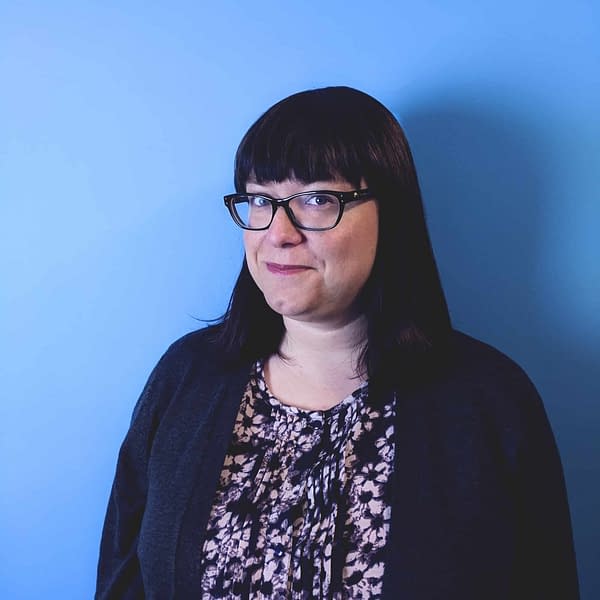 Enjoyed this article? Share it!